An Enduring Legacy
Masterpieces from the Collection of Mr. and Mrs. Paul Mellon
Introduction


Paul Mellon (1907-1999) was one of the most passionate and discerning art collectors of the twentieth century. Dedicated to the mission of the National Gallery of Art, which was founded in 1937 by his father, Andrew W. Mellon, Paul Mellon provided both visionary leadership and magnanimous financial support. Just as Andrew Mellon had underwritten the construction of the original West Building, the East Building came into being through the extraordinary philanthropic support of Paul Mellon and his sister, Ailsa Mellon Bruce. The first president of the Gallery's board of trustees, Mr. Mellon served as a trustee in various key roles from 1938 to 1985, a period of almost fifty years, interrupted only by his military service during World War II. During the many years of his active board leadership, and even after he stepped down and became an honorary trustee, Paul Mellon's intense commitment to the quality of this museum, and his devotion to the idea of the National Gallery as the nation's artistic standard-bearer, assured its position among the first rank of the world's great art institutions.
Mr. Mellon contributed to the National Gallery more than one thousand carefully selected, distinguished works of art--primarily French and American paintings and drawings--originally acquired for his and his wife's private enjoyment, but always with the idea that they would one day be shared with the American public. He cared deeply about creating a gracious and hospitable setting for museum visitors and about providing the opportunity for direct encounters with great works of art. He commented in 1967, "There is no intellectual or emotional substitute for the authentic, the original, the unique masterpiece." Paul Mellon was a sincere and devoted art collector in whose life works of art were integral. The selection of works in this slide show demonstrates that the range and quality of his collection, now a part of the American cultural patrimony, are unparalleled, a loving bequest of beauty to his country.
Paul Mellon viewing Little Dancer Aged Fourteen in the Gallery's West Building, 1983 © Dennis Brack/Black Star, National Gallery of Art, Washington, D.C., Gallery Archives
1 of 13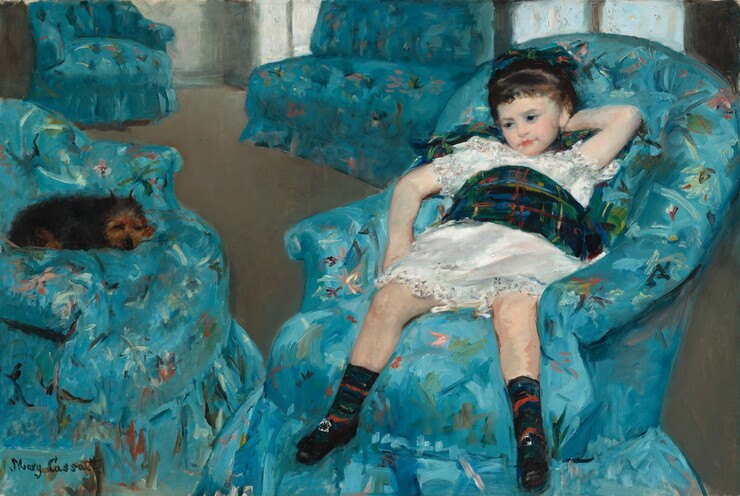 During her travels in Italy, Spain, and The Netherlands Mary Cassatt encountered and was deeply moved by the art of the European old masters—the tenderness depicted in Correggio's Madonna and child paintings, the expressive and sketchy brushstroke of Diego Velázquez, and the realism of the domestic genre scenes of the Dutch Golden Age. By the time she settled in Paris in 1874, she had become a mature artist with more than a decade of experience behind her.
In Paris, Cassatt established her artistic reputation by showing her work in the Salon. Her career would take a dramatic turn, however, following an encounter with a group of pastels by Edgar Degas in a shop window in about 1877. "I used to go and flatten my nose against that window and absorb all I could of his art. It changed my life. I saw art then as I wanted to see it," she later recounted.1 Frustrated by the jury system and well aware of the impressionists' rejection of the Salon and its restrictive standards, Cassatt was ready to join the group when Degas invited her in 1877.
Little Girl in a Blue Armchair stands as a testament to the newly formed relationship between Cassatt and the impressionists, and to her assimilation of a freer style of painting. With a limited palette and vibrant brushstroke, she created a dynamic interplay of forms that is echoed in the captured moment between rest and play. Light enters the picture through the French doors in the background and enlivens the texture and pattern of the inanimate objects in the room. The tilted picture plane draws attention to the haphazard arrangement of the four large blue chairs, and the brownish-gray floor in between them is painted with an energetic brushwork that gives it a life of its own. In contrast, the little girl and small griffon terrier are both in a state of utter repose. "The real theme of the picture," her biographer wrote, "is the pleasure of harmonizing various adjoining blues, arranging them by scales, and deliberately pushing their gradation and variety to the extreme."2 Cassatt used a diverse range of hues throughout the composition, from the peacock blue of the chairs, to the deep, cobalt blue of the sash, socks, and bow of the little girl, to the slightest hint of light blue in the whites of the windows and dress. Even the areas that appear to be black in color are actually a very dark blue.
This painting has been known by a variety of titles throughout the years, including Cassatt's original and somewhat generic Portrait of a Little Girl. Although Cassatt would later identify the sitter as the child of Degas' friend, in this painting she omitted any overt clues to the model's identity, eschewing the formal devices traditionally associated with portraiture.3 More interested in the psychology of the sitter than in merely recording a likeness, Cassatt captured her young subject flopped on a big blue armchair in a moment of boredom or exhaustion. Such immediate observation was a distinguishing feature of impressionist painters.
Cassatt submitted this painting to the Paris Exposition Universelle in 1878, and its rejection infuriated her. She reworked the painting with the help of her friend Degas and exhibited it along with ten other paintings in her debut exhibition with the impressionists in 1879. Its acceptance signaled her break with the Salon and cemented her connection to this radical group of independents.
(Text by Michelle Bird, Impressionist and Post- Impressionist Masterpieces from the National Gallery of Art, National Gallery of Art / DelMonico Books·Prestel, 2010)
Notes
1. Louisine Havemeyer, "A Tribute to Degas and Cassatt," April 6, 1915. Quoted in Nancy Mowll Mathews, ed., Cassatt: A Retrospective (New York, 1996), 312.
2. Achille Segard, on Little Girl in a Blue Armchair, in Mary Cassatt: Un Peintre des enfants et des mères (Paris, 1913). Quoted in Mathews 1996, 101.
3. Letter from Cassatt to Ambroise Vollard, 1903. Mathews 1996, 101.
Mary Cassatt, American, 1844 - 1926, Little Girl in a Blue Armchair, 1878, oil on canvas, Collection of Mr. and Mrs. Paul Mellon, 1983.1.18
2 of 13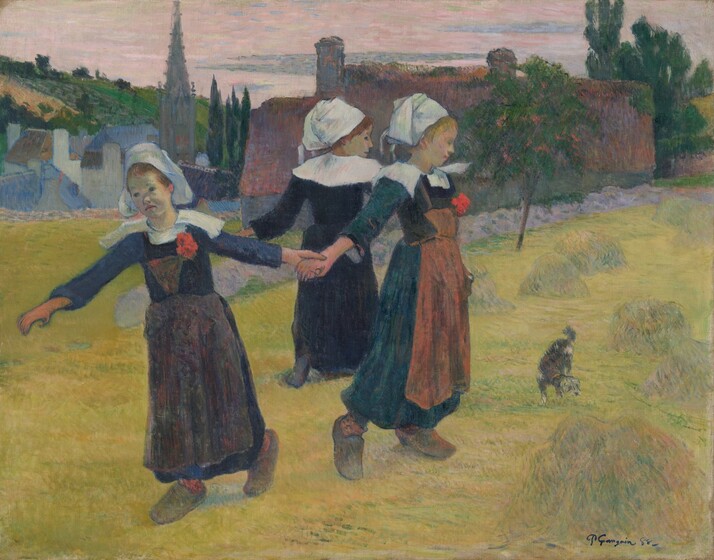 In 1886, Gauguin made his first excursion to Brittany, spending three months in Pont-Aven, a small farming village near the southern coast that was home to a lively artists' colony. He returned there in 1888, staying for close to nine months. Gauguin enjoyed the relative isolation and uncomplicated existence of Brittany. He wrote to his friend and disciple Emile Schuffenecker: "I like Brittany, it is savage and primitive. The flat sounds of my wooden clogs on the cobblestones, deep, hollow, and powerful, is the note I seek in my painting."1 He was equally fascinated by the vibrancy of its local traditions: costume, language, and religious practices all appeared staunchly rooted in the past, making them seem all the more alien and exotic to the cosmopolitan Gauguin.
Breton Girls Dancing, Pont-Aven was painted in June 1888 during Gauguin's second stay. "I am doing a gavotte bretonne," Gauguin wrote to his dealer Theo van Gogh, "three little girls dancing in a hayfield. I think you'll like it. The painting seems original to me, and I am quite pleased with the composition."2 Bucolic in character and steeped in local custom, this painting is representative of Gauguin's Breton works. The setting is the Lollichon field that overlooks Pont-Aven, a locale that appears in a number of these works.3 Thatch-roofed cottages and the spire of the village church rise in the background while the slopes of Mount Saint-Guénolé can be viewed in the distance on the far left. To the right, the small piles of hay scattered across the field are evidence of an ongoing harvest, which is consistent with the painting's execution during the early summer months.
The three girls are shown dancing a gavotte, a distinctive form of folk dance performed by Breton peasants. Gauguin approached his subject with an almost ethnographic sensibility, particularly in his careful depiction of the girls' traditional costumes. He even went so far as to depict the choukenn, a piece of copper that was affixed to the inside of the wooden sabot to protect the ankle, as can be seen on the girl on the right.4 Such elements give the work an air of authenticity and add to its inherent picturesque charm.
Gauguin arranged for the completed painting to be sent to Theo van Gogh, who included it in an exhibition of the artist's recent work at the Boussod and Valadon Gallery in Paris in November 1888. Van Gogh informed the artist that he had found a buyer for the painting, but on one condition: "I could also sell the dance of the little Breton girls, but you would have to change it slightly. The hand of the little girl originating near the edge seems to have an importance which one does not notice when one sees the picture without a frame. The buyer would like you to alter the hand a little, without otherwise modifying the rest of the painting. It does not seem to me to be a difficult request. . . . See if you can make him happy and if you want to do this deal."5
With some reluctance, Gauguin agreed to make the requisite change. However, despite Gauguin's efforts and Van Gogh's assurances, the painting remained unsold. Gauguin included it along with sixteen other works at the Exhibition of Paintings by the Impressionist and Synthetist Group held in Paris at the Café Volpini during the Exposition Universelle of 1889, but was disheartened by the lack of both critical attention and sales. It would not be until September 1889 that the painting was finally sold for five hundred francs.
(Text by Kimberly Jones, Impressionist and Post- Impressionist Masterpieces from the National Gallery of Art, National Gallery of Art / DelMonico Books·Prestel, 2010)
Notes

1. Letter from Gauguin to Emile Schuffenecker, February 1888. Victor Merlhès, ed., Correspondance de Paul Gauguin (Paris, 1984), no. 141.
2. Letter from Gauguin to Theo van Gogh, late June 1888. Merlhès 1984, no. 151. See also Claire Fréches-Thory in The Art of Paul Gauguin (exh. cat., National Gallery of Art, Washington, 1988), 94-96.
3. Daniel Wildenstein, Gauguin, premier itineéraire d'un sauvage: catalogue de l'oeuvre peint (1873-1888), vol. 2 (Milan and Paris, 2001), 414.
4. Fran&ccdeil;ois Coulon, La Ronde des petites Bretonnes: une évocation de l'art de Pont-Aven autour du chef-d'oeuvre de Washington (exh. cat., Musée des Beaux-Arts, Rennes, 1996-1997), 13.
5. Letter from Van Gogh to Gauguin, November 13, 1888. Merlhès 1984, xciii.
Paul Gauguin, French, 1848 - 1903, Breton Girls Dancing, Pont-Aven, 1888, oil on canvas, Collection of Mr. and Mrs. Paul Mellon, 1983.1.19
3 of 13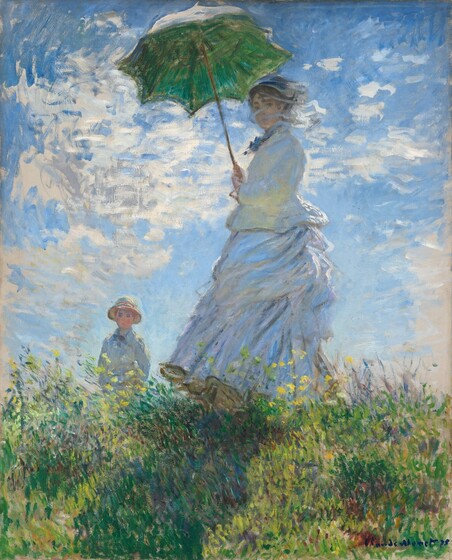 Woman with a Parasol—Madame Monet and Her Son belongs to a series of paintings executed by Monet during the summers of 1875 and 1876, and depicting the garden of his second home at Argenteuil and the poppy-covered fields of nearby Colombes and Gennevilliers. The human figure, which had played a negligible role in his paintings in recent years, took on renewed importance, with his wife Camille serving as his constant model. While all of his paintings share the same fascination with capturing the fleeting effects of sunlight (the hallmark of his impressionist style), this particular painting is exceptional owing to the prominent role that Monet accords to the figure within the landscape.
Camille, dressed in white and wearing a veiled hat, stands on a hill, her body placed slightly off center but balanced visually by the green and white parasol she carries. Her gaze and the angle of her body suggest that she has suddenly become aware of the viewer's presence and has turned in response, creating a convincing illusion of movement frozen in time. Behind and to the left of Camille is the much smaller form of their son Jean, who was almost eight years old at the time. The low horizon line and the juxtaposition of her form against the sky give the figure a feeling of monumentality that is unusual in Monet's paintings of the mid-1870s.
Boldly and rapidly executed out of doors, this painting was probably created in a single sitting. Monet's depiction of the arrested moment in time is accentuated by the spontaneity of the brushwork and bold color. The sky was painted quickly, with strokes of varying size and direction, and large patches of ground left exposed. Although he painted the sky first, he retouched it after adding the figures—drawing the brush around their shapes, he further defined them. The grass is painted with short comma-like strokes in various shades of green, blue, yellow, and red: broad passages of bluegreens were used to indicate shadow and lighter greens, to indicate sunlit areas.
This painting was one of eighteen that the artist contributed to the second impressionist show (held in April 1876). Exhibited under the title La Promenade, it received relatively little notice at the time, but the few comments were favorable. Georges Rivière, an ardent supporter of the impressionist group, singled this painting out for praise: "A young woman and a little boy on a hill surrounded by brambles and tall grasses gaze around while the wind pushes the clouds and the sun appears from behind them. This painting creates an effect that is both singular and extremely accurate."1
Monet returned to this motif—a woman with a parasol standing on a hill—for a pair of paintings that he executed in the summer of 1886 (Musée d Orsay, Paris). The inspiration for these paintings was the image of Suzanne, a daughter of his friends Alice and Ernest Hoschedé, walking along an embankment on the île aux Orties at Giverny; upon seeing her silhouetted against the sky, Monet is said to have remarked: "But it's like Camille at Argenteuil! Well, tomorrow we'll come back and you'll pose here."2 While Monet effectively duplicated the basic composition of his earlier work, Woman with a Parasol retains a magic all its own.
(Text by Kimberly Jones, Impressionist and Post-Impressionist Masterpieces from the National Gallery of Art, National Gallery of Art / DelMonico Books·Prestel, 2010)
Notes

1. Georges Rivière, "Les Intransigeants de la peinture," L'Esprit Moderne (April 13, 1876), 7-8. Quoted in Pierre Dax, "Chronique," L'Artiste (May 1, 1876), 348.
2. Jean-Pierre Hoschedé, Claude Monet, ce mal connu: intimité familiale d'un demi-siècle à Giverny de 1883 à 1926, vol. 2 (Geneva, 1960), 126.
Claude Monet, French, 1840 - 1926, Woman with a Parasol - Madame Monet and Her Son, 1875, oil on canvas, Collection of Mr. and Mrs. Paul Mellon, 1983.1.29
4 of 13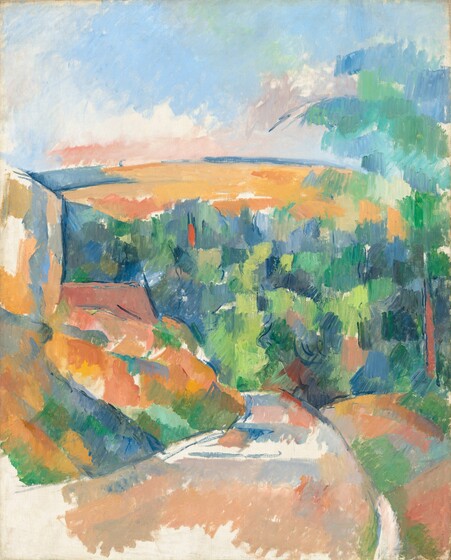 Paul Cézanne, French, 1839 - 1906, The Bend in the Road, 1900/1906, oil on canvas, Collection of Mr. and Mrs. Paul Mellon, 1985.64.8
5 of 13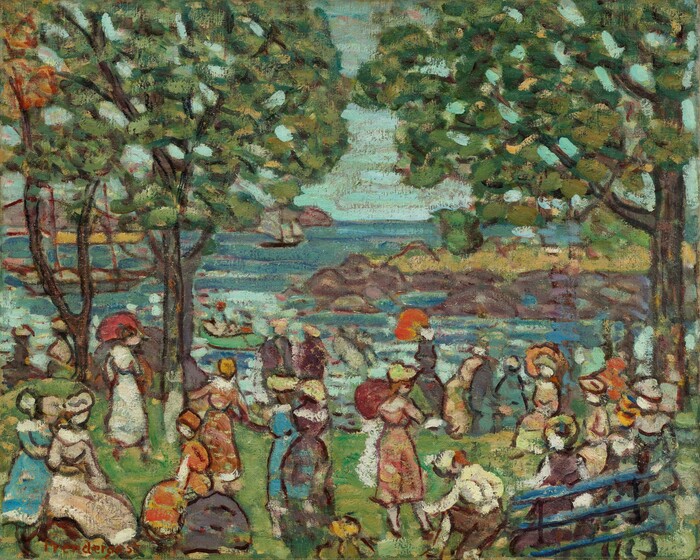 Maurice Prendergast's optimistic temperament lends Salem Cove a fairy-tale quality that belies its location at an industrial port near Boston. The work environment is avoided except for two distant schooners ferrying passengers and goods along the coast. Instead of shipyards, Prendergast concentrated on summer parasols and a park bench, children's games, and adult pleasure-seekers in a green rowboat.
Prendergast's avant-garde style, with its colorful patches of paint outlined in darker shades, has been compared to Byzantine mosaics and Gothic tapestries. These emphatic decorative patterns owe as much, or more, to the Art Nouveau posters and book illustrations he designed in his youth as a graphic artist. Although Prendergast has been called a naive or untutored artist, his background included six extended trips to Europe, where he studied in Paris and sketched at museums and landmarks throughout France, Britain, and Italy. Moreover, he was conversant about the most radical trends, from the "art for art's sake" theories of James McNeill Whistler to the postimpressionism of Paul Cézanne.
Born in Newfoundland, Canada, Maurice Prendergast had moved as a child to Boston. This shy artist, especially acclaimed for his technical experiments with monotype prints, worked in the studio of his younger brother, Charles Prendergast, a successful picture framer.
Maurice Brazil Prendergast, American, 1858 - 1924, Salem Cove, 1916, oil on canvas, Collection of Mr. and Mrs. Paul Mellon, 1985.64.33
6 of 13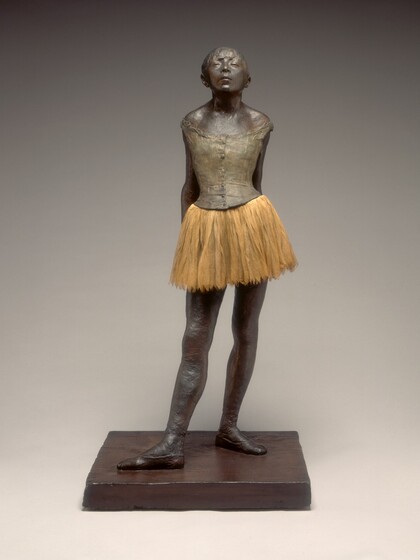 Edgar Degas, French, 1834 - 1917, Little Dancer Aged Fourteen, original wax 1878-1881, plaster cast possibly 1920/1921, plaster, Collection of Mr. and Mrs. Paul Mellon, 1985.64.62
7 of 13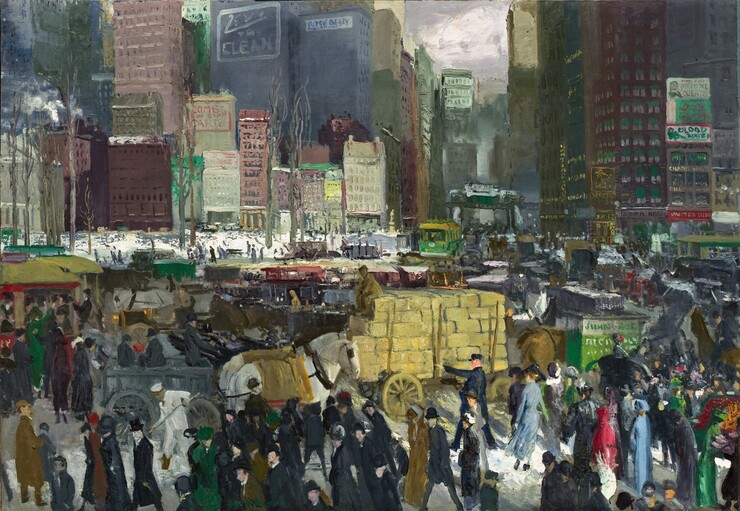 George Bellows, American, 1882 - 1925, New York, 1911, oil on canvas, Collection of Mr. and Mrs. Paul Mellon, 1986.72.1
8 of 13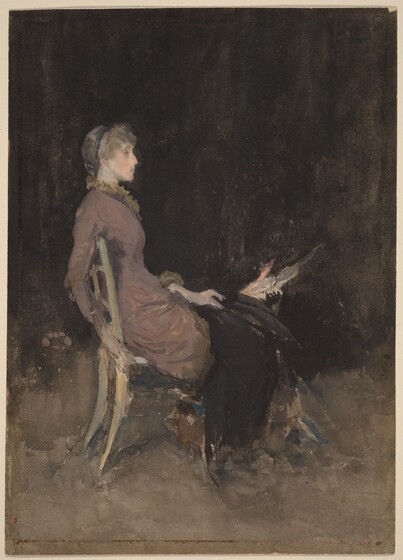 James McNeill Whistler, American, 1834 - 1903, Study in Black and Gold (Madge O'Donoghue), 1883/1884, watercolor on white laid paper mounted on paperboard, Collection of Mr. and Mrs. Paul Mellon, in Honor of the 50th Anniversary of the National Gallery of Art, 1991.7.5
9 of 13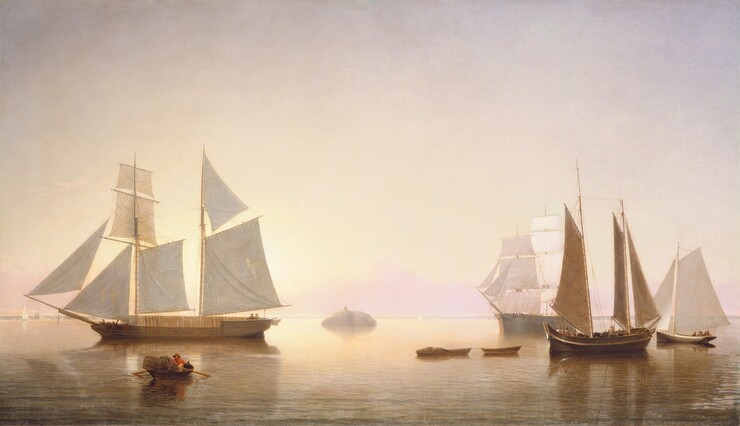 Fitz Henry Lane, American, 1804 - 1865, Becalmed off Halfway Rock, 1860, oil on canvas, Collection of Mr. and Mrs. Paul Mellon, in Honor of the 50th Anniversary of the National Gallery of Art, 1992.51.8
10 of 13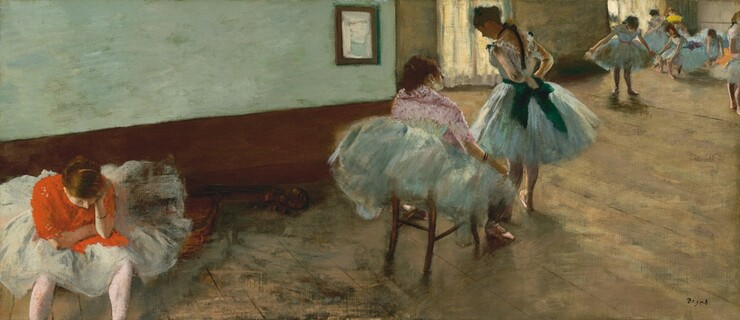 Degas' best-known works are those inspired by the ballet. For an artist committed to the depiction of modern life, the theater in all of its forms--the ballet, the opera, even the more raucous café-concerts--held a special appeal. What intrigued him the most, however, was not the formal, polished performance, but rather the behind-the-scenes, casual, candid moments of dancers rehearsing or resting. It is a theme that the artist was to explore time and again, not only in his ballet paintings but also in his horse-racing scenes.
Painted c. 1879, The Dance Lesson is the first ballet scene in a distinctive group of some forty pictures, all executed in an unusual horizontal format. Degas had already begun to experiment with this format in some of his racing scenes in order to create an almost panoramic sense of space. In the ballet scenes, the setting was transformed into an oblong rehearsal room populated by dancers in various states of activity and exhaustion. This format, which has been likened to a frieze, has a decidedly decorative quality. Degas' fascination with the unexpected views and flattened forms of Japanese prints is also apparent: figures are sharply cropped and placed off center, while the floor, which dominates the scene, seems tipped upward, an illusion that is accentuated by the elongated format.
Like most of his ballet scenes, The Dance Lesson is a deceptively straightforward image. Although the overall effect seems spontaneous, the picture was carefully orchestrated from start to finish. Degas produced a compositional sketch in one of his notebooks (possibly after he had already started the painting), laying out several crucial components: the seated figure at the center, the window at the far right, and the double bass and open violin case at the far left. Into this basic framework he then introduced the figures of other dancers. Pulled from a number of his drawings and other paintings, these figures, like mannequins, were moved and arranged in artful configurations. The dancer adjusting her bow, for example, appears not only in a number of pastels but also in several paintings from this group of friezelike compositions (The Detroit Institute of Arts, The Metropolitan Museum of Art, New York). Even after the forms had been placed within the composition, they were subject to change. Degas altered a number of details, many still visible to the naked eye: the angle of the seated dancer's foot; the positioning of the legs and back of the chair; and the violin case, which the artist painted out at an early stage.
When shown in the fifth impressionist exhibition in 1880, The Dance Lesson passed largely unnoticed, and what commentary it elicited was equivocal. The critic Joris Karl Huysmans admired other works Degas exhibited and praised the artist's keen observational skills. Nevertheless, he characterized this painting as "dismal," though more in response to the mood than to the execution. Paul Mantz, troubled by the artist's tendency to slip into caricature, was less enthusiastic, though he did praise its "transparently fine atmosphere."
(Text by Kimberly Jones, published in the National Gallery of Art exhibition catalogue, Art for the Nation, 2000)
Edgar Degas, French, 1834 - 1917, The Dance Lesson, c. 1879, oil on canvas, Collection of Mr. and Mrs. Paul Mellon, 1995.47.6
11 of 13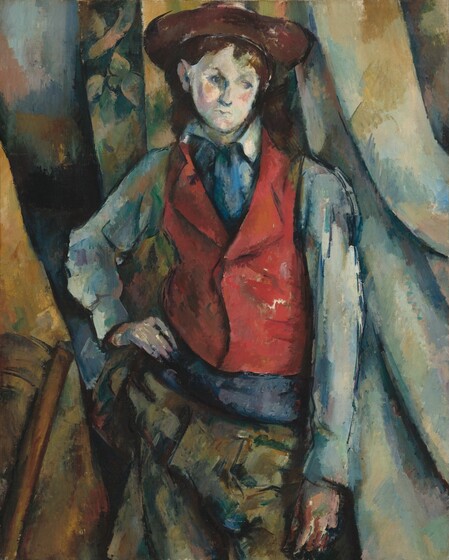 Cézanne's stylistic development was spurred by constant investigation, as he took up various motifs and themes and modified the techniques he used to build compositions. In the 1870s, under the influence of the impressionists, Cézanne introduced lighter colors and abandoned the coarse, agitated handling that characterized his work from the previous decade in favor of smaller, less forcefully applied brushstrokes. He also became an avid outdoor painter. Yet the artist never wholly adopted the impressionists' goal of capturing pure optical sensation. Instead, he began to sharpen his focus on form and structure. Composing works in the studio, especially figural subjects such as this one, remained an integral part of his practice.
Boy in a Red Waistcoat is the largest of four paintings of an Italian boy named Michelangelo di Rosa that Cézanne completed while living in Paris between 1888 and 1890. It was one of the few times the artist hired a professional model—he could finally afford one after receiving a generous inheritance upon his father's death in 1886. (He seemed, however, to prefer painting family and friends, for he continued to rely primarily on them for his subjects.) In each painting of di Rosa, as well as in two watercolors, the youth wears the same bright red vest, a pictorial accent that contrasts sharply with the more muted tones surrounding it. The subject here is simple enough: a single figure standing in a room with few props. Yet the composition seems monumental and timeless, perhaps because of its evocation of the art of the past. On the one hand, the boy's stance—weight shifted onto one leg, hips at a diagonal, one arm bent with hand resting on his flank, and the other arm hanging down—recalls a pose used by models in the obligatory figure drawing classes at art academies.1 On the other hand, the youth's bearing, wistful gaze, and lithe frame find precedent in Italian Renaissance portraits; the drapery behind him is also a common feature of sixteenth-century portraiture.2
As so many of Cézanne's paintings do, Boy in a Red Waistcoat draws on art historical precedent at the same time that it seems to anticipate the stylistic breakthroughs of future generations. This is true of the flattened space of the room and especially of the near abstraction of the background: the drapery shifts between being legible (as large folds of fabric) and dissolving into shapes and touches of color. A band of material patterned with foliage slips out from behind the larger mass of blue, green, and yellowish-brown curtain (and is recognizable from its later inclusion in paintings that Cézanne made in Provence; see Still Life with Apples and Peaches). It adjoins a patchwork of blues, mauves, and ochers whose role is particularly difficult to determine. This variegated stripe may represent a window or wall (revealed by the drapes opened to the left and right of it) or even another swath of fabric.
Dispensing with traditional means of building volume, such as modeling through light and shade, Cézanne relied instead on harmonious applications of color to build up a rich tapestry of form. The nineteenth century witnessed a lively debate over whether line or color should act as the artist's primary tool. Cézanne himself observed: "Drawing and color are not separate and distinct, as everything in nature has color. When one paints, one draws; the more the color harmonizes, the more precise becomes the drawing. When the color is rich, the form is at its height."3
(Text by Margaret Doyle, Impressionist and Post- Impressionist Masterpieces from the National Gallery of Art, National Gallery of Art / DelMonico Books·Prestel, 2010)
Notes

1. Charles S. Moffett, "Boy in a Red Waistcoat," in Art for the Nation, Gifts in Honor of the 50th Anniversary of the National Gallery of Art (exh. cat., National Gallery of Art, Washington, 1991), 236.
2. Meyer Schapiro, Paul Cézanne (New York, 1952), 92.
3. John Rewald, Paul Cézanne, a Biography (New York, 1948), 199.
Paul Cézanne, French, 1839 - 1906, Boy in a Red Waistcoat, 1888-1890, oil on canvas, Collection of Mr. and Mrs. Paul Mellon, in Honor of the 50th Anniversary of the National Gallery of Art, 1995.47.5
12 of 13
Henri de Toulouse-Lautrec, French, 1864 - 1901, Fashionable People at Les Ambassadeurs (Aux Ambassadeurs: Gens Chic), 1893, oil à l'essence over black chalk on wove paper, mounted on cardboard, Collection of Mr. and Mrs. Paul Mellon, 1995.47.67
13 of 13