Scenographic Design
Antonio Basoli
Castel Guelfo (Bologna), 1774–Bologna, 1848
Temple of Neptune in a Lake (Tempio di Nettuno in un lago), plate XCIV in Collection of Noble, Rustic, and Landscape Perspectives (Raccolta di prospettive serie, rustiche, e di paesaggio), 1810
etching
Mark J. Millard Architectural Collection, David K. E. Bruce Fund, 1985.61.384
1 of 6
Luigi Tasca
Padua (?), active 1813–1814
A Monumental Vaulted Hall with a Smoking Altar, 1813/1814
pen and ink with wash over graphite
William B. O'Neal Fund, 2011.122.2
2 of 6
Francesco Inghirami
Volterra, 1771–La Badia di Fiesole (Florence), 1846
Interior of a Prison (Interno di un carcere), after Luigi Tasca, 1814
etching and aquatint
Ailsa Mellon Bruce Fund, 2012.51.2
3 of 6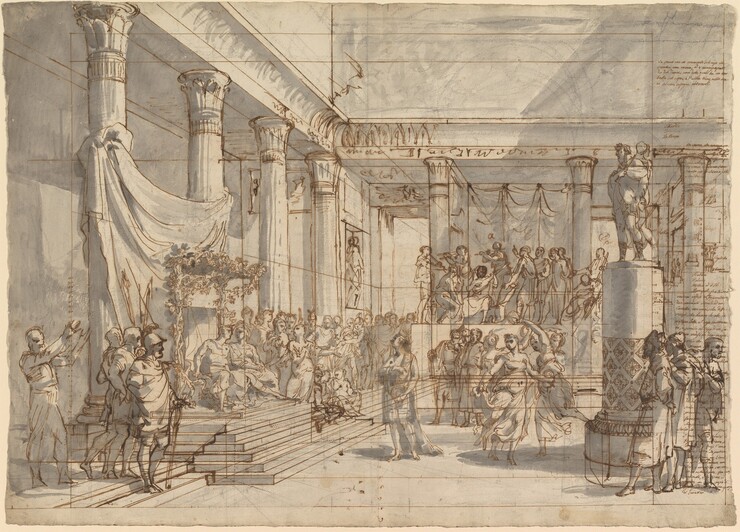 Pietro Fancelli
Bologna, 1764–1850
Timotheus Playing the Lyre before Alexander and Thaïs in the Hall of the Palace at Persepolis, c. 1820
pen and ink with wash over chalk and graphite, squared for transfer
Gift of William B. O'Neal, in Honor of the 50th Anniversary of the National Gallery of Art, 1991.150.21
This unusually large and detailed study shows the celebration following Alexander the Great's defeat of the Persians. The king and his consort, Campaspe, sit enthroned on the left as the court musician, Timotheus, performs before them. Fancelli, a professor at Bologna's academy, plotted the scene's perspective, the poses of individual figures, and even architectural ornament with equal precision, writing extensive notes about them on the right. Fancelli's late work included painting theater curtains. The large size of this drawing and its musical theme suggest that it was a preparatory study for such a project.
4 of 6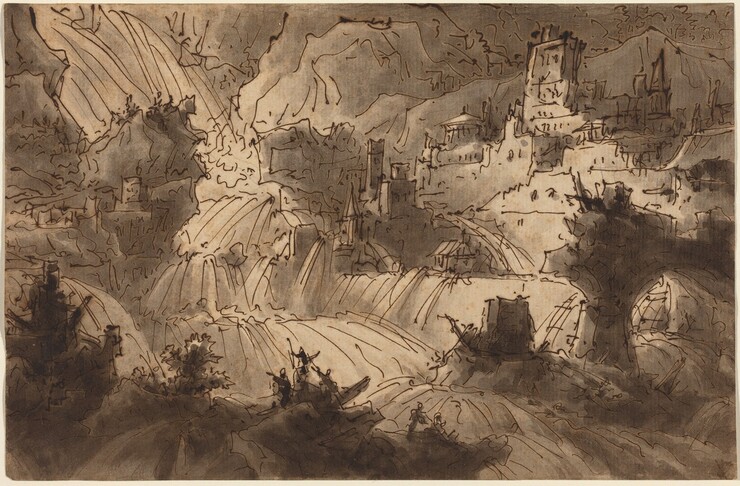 Antonio Basoli
Castel Guelfo (Bologna), 1774–Bologna, 1848
Mountain Torrents Flooding a City, before 1839
pen and ink with wash over graphite
Ailsa Mellon Bruce Fund, 1994.9.3
Basoli specialized in imaginary landscapes and architectural fantasies, which frequently served as set designs for theatrical productions. Here, at the early stage of such a design, a cascade sweeps through an imaginary city and, it seems, collapses a bridge in the foreground at right, leaving tiny figures gesturing in amazement. Darting pen strokes and bold washes further enliven the scene and intensify its drama. Basoli's prints are typically classical in inspiration and polished in appearance. This drawing captures a more restless, romantic aspect of his art.
5 of 6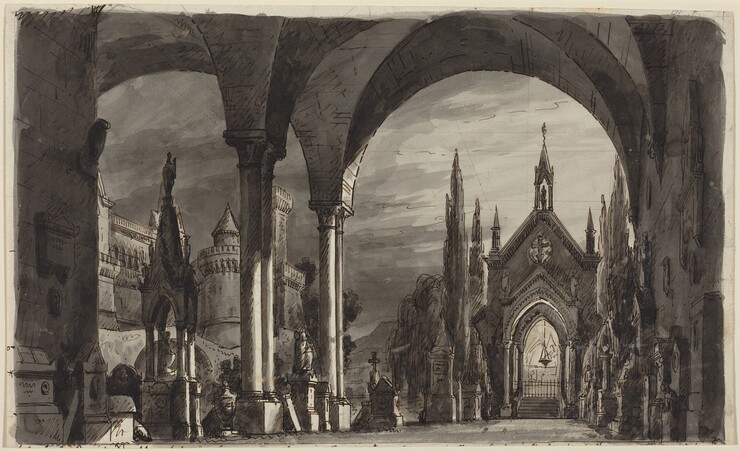 Romolo Liverani
Faenza, 1809–1872
Graveyard of the Ravenswoods from Lucia di Lammermoor, 1868
pen and ink with wash over graphite, pricked for transfer
William B. O'Neal Fund, 1999.65.1
Gaetano Donzetti's opera Lucia di Lammermoor (1835) comes to its tragic conclusion when the protagonist Edgardo learns of the death of his beloved Lucia and takes his own life. Liverani, the leading scenographer in the Romagna region of northern Italy, created the designs for the opera's performance in Faenza in 1868. The complex architecture and pronounced perspective of this study for the stage set maintain the tradition of eighteenth-century Italian stage design while introducing an appropriately somber mood through neo-Gothic architecture and dark tones.
6 of 6