ASR, TNC, uff. 11, 1591, pt. 3, vol. 20, fols. 49r-v
Summary
1591/07/07
Archivio di Stato di Roma (ASR)
Giovanni Barili, while working on the church of San Luca, broke a historic marble relief, and he has to pay 65 scudi. The document contains the agreement regarding the compensation.
Transcription
[fol. 49r]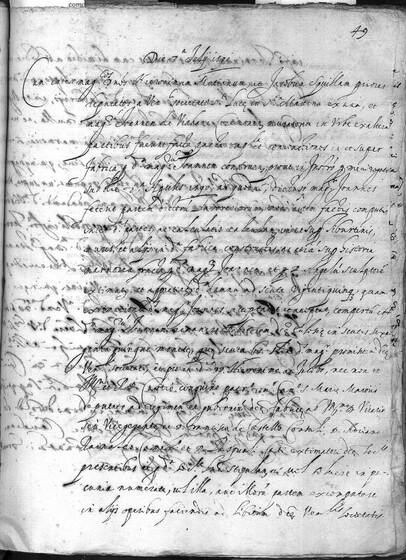 Die septua Iulii 1591
Cum inter mag.cos D'nos Girolamo Muziano, et Giacomo Squillo priores
deputatos à Venerabili societate Sancti Lucae in Sancta Martina ex una, et
mag. rum Ioannem de Viadana Cremonensem muratorem in Urbe ex altera
partibus fuerint facta pacta capitula et convenctiones in et super
Fabrica pro dictum magistrum Ioannem construentem, prout in Instrumento per me notarium rogato
sub die secunda Aprilis 1590, ad quod etc.; dictusque mag.r Ioannes
fecerit partem dictorum Laborerioum, modo autem factis computis
inter dictas partes, ac calculatis calculandis in et super Tiburtinis,
muris, et aliis in dicta fabrica constructis, ac etiam super historia
marmorea fracta per dictum mag.m Ioannem, et pro D. Angelum sculptorem
extimatum, et appretiatum dictum damnum ad scuta vigintiquinque quam
extimationem d. mag.r Ioannes acceptav[i]t [1] [1]
Brackets denote illegible passages due to ink spots on paper. et acceptat, compertum est
dictum mag. rum Ioannem remanere Debitorem dictae Ecclesiae in scutis sexa-
ginta quinque monetae, quae scuta 65 etc. dictus mag.r promisit etc. dictae
Venerabili societate, et pro ea dictis DD. Hieronimo ac Iacobo, nec non et
Ill.ri et R.D. Curzio Cinquino patrono romano Canonico S. Mariae Maioris
deputato ad regimen et gubernium dictae fabricae ab Ill.mo D. Vicario
seù Vicegerente, et D. Francesco Castello (da) Consuli, D.Adriano
Rainaldo Camerario et D.Pasquali Cati extimatori dictae Societatis
presentibus et pro dicta societate legitime stipulantes etc. vel solvere in pe-
cunia numerata, vel illa, aut illorum partem excomputare
in aliis operibus faciendis ad libitum dictae Venerabilis Societatis
[fol. 49v]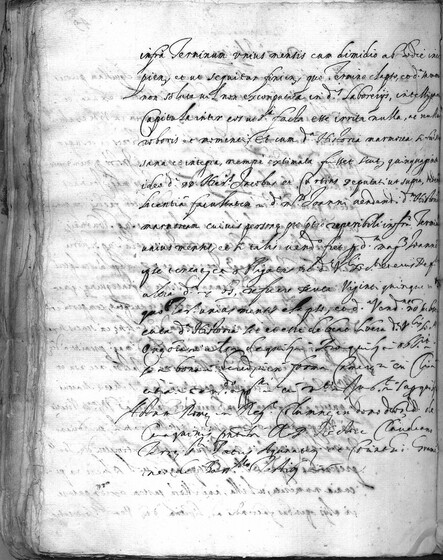 infrà Terminum unius mensis cum dimidio ab hodie inci-
piendo et ut sequitur finiendo quo Termino clapso, et dicta summa
non soluta vel non excomputata in dictis laboreriis, intelligant[ur][2] [2]
Brackets at end of lines denote illegible passages due to words cut off at margins.
Capitula inter eos ut supra facta esse irrita nulla, ac nullius
roboris et momenti; Et cum dicta Historia marmorea si fuisse[t]
sana et integra, nempè extimata fuisset scuta quinquaginta
ideo dicti DD. Girolamo Muziano et Curtius Deputati ut supra ceden[dam]
licentiam facultatem in dicto m.ro Ioanni vendendi dictam Historiam
marmoream cuivis personae pro pretio reperibili infrà Terminum
unius mensis, et si talis venditio fiet per dictum mag. rum Ioannem
ipse teneatur et obligatus sit dictae Venerabili Societati et eius Deputatis
ultra dicta scuta 65 reficere scuta Viginti quinque monete
quo Termino unius mensis clapso, et dicta Venditione non subse-
cuta dicta Historia sit et esse debeat libera dictae Venerabilis Societatis
Quae omnia etc. alias etc. de quibus etc. Pro quibus obligavit etc.
se etc. bona etc. heredes etc. in forma Camerae etc. cum Clausulis etc.
citra etc. renunciando appellationi etc. cum [...][3] [3]
Unclear. etc. Iuravit etc. super quibus etc.
Actum Romae in Regione Columnae in domo dictorum DD de
Cinquinis presentibus R.D.Hectore Claudiano
Terrae Sancti Patris Aquinatense et Corinzio Gramineo Testibus etc.