ASR, TNC, uff. 11, 1593, pt. 1, vol. 25, fol. 522r
Summary
1593/03/24
Archivio di Stato di Roma (ASR)
Transcription
[Fol. 522r]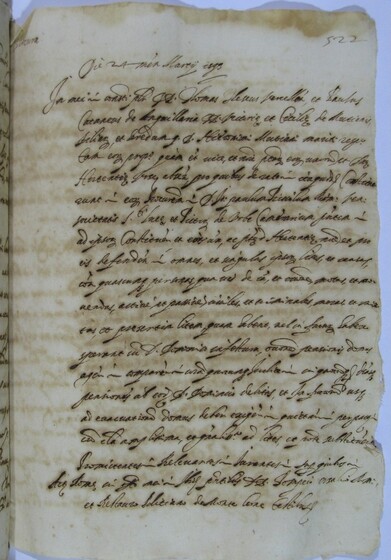 Procura
Die 24 mensis Martii 1593
In mei etc. constituti personaliter DD. Thomas Theseus Vercellens, et Paulus
Cataneus de Anguillaria DD. Victoriae et Ceciliae de Mutianis,
filiarum, et heredum q. D. Hieronimi Mutiani mariti respective
tam eorum proprio quam etiam vice, et nomine praedictarum eorum uxorum, et D'nae
Hortensiae Ursae absentis, pro quibus de rato etc. ita quod etc. Constitue-
runt etc. eorum Procuratorem etc. D. Io: Paulum Picciolum Romanum Venerabilis
societatis Sancti Lucae, et Pictorum de Urbe Camerarium presentem etc.
ad ipsorum Constituendum et eorum uxorum, ac predictae Hortensiae nomine et pro
eis defendendum etc. omnes, et singulas ipsorum lites, et causas,
contra quascunque personas, quavis de causa, et occasione, motas, et mo-
vendas, active, et passive, civiles, et criminales, meras, et mix-
tas, et presertim litem, quam habent, vel in futurum habere
sperant cum D. Domenico Infestura, occasione pensionis domus
agendum etc. comparendum etc. coram quocunque Iudice etc. in quocunque etc. dictasque
pensiones ab eodem D. Dominico debitas, et In futurum usque
ad evacuationem domus debendum exigendum etc. quietandum etc. per pactum etc.
cum clausula amplissima, et generalissima ad lites, et potestate substituend[i][1] [1]
Brackets denote illegible passages due to holes in the paper.
Promittentes etc. Relevantes etc. Iurantes etc. Super quibus etc.
Actum Romae in officio mei etc. Ibidem presentibus DD. Pompeio Orsalio Romano
et Restauro Politiano de Monte Leone testibus etc.