ASR, TNC, uff. 11, 1593, pt. 3, vol. 27, fol. 443r
Summary
1598/12/23
Archivio di Stato di Roma (ASR)
Transcription
[Fol. 443r]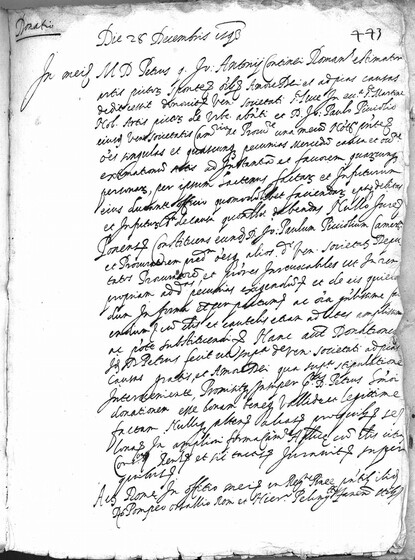 Die 28 Decembris 1593
Donatio
In mei etc. M D Petrus q. Io: Antonii Continei Romanus estimator
artis pictorum sponte etc. omnibus etc. Amore Dei et ad pias causas
dedit cessit donavit etc. Venerabili Societati Sancti Luce In ecclesia Sancte Martine
Nobili Artis pictorum de Urbe absenti et D. Io: Paulo Picciolio
eiusdem Venerabilis Societatis Camerario ac Procuratore una mecum Notario presente etc.
omnes singulas et quascunque pecunias Mercedem causa et occasione
extimationum Artis ad Instantiam et favorem quarumcunque
personarum, per ipsum hactenus factarum et In futurum
eius durante officio quomodolibet faciendarum ipsique debitas
et In futurum dicta de causa quomodolibet debendas Nullo Iure etc.
Ponens etc. Constituens eundem etc. D. Io: Paulum Picciolium Camerarium
et Procuratorem predictum omnesque alios dicte Venerabilis Societatis Depu-
tatos Procuratorem, et procuratores Inrevocabiles ut In rem
propriam ad dictas pecunias exigendum etc. et de eis quie[tan]-[1] [1]
There is damage to the document. Brackets at end of lines denote illegible passages due to words cut off at margins.

dum In forma etiam per pactum etc. ac omnia generalissime fa[ci]-
endum etc. cum clausulis et cautelis etiam ad lites amplissim[a]
ac potestate substituendi etc. Hanc autem Donatione[m]
Idem D. Petrus fecit ut supra dictae Venerabili Societati ad pias
causas gratis, et Amore Dei qua supra stipulatione
Interveniente, Promisitque, Insuper predictus D. Petrus huismodi
donationem esse bonam beneque Vallide et legittime
factam Nullique alter etc. alias etc. pro quibus etc. se etc.
bona etc. In ampliori forma Camerae Apostolicae cum clausulis citra etc.
Constituens etc. Renuncians etc. et sii tactis etc. Iuravit etc. Super
quibus etc.
Actum Romae In offitio mei etc. in Regione Pinee presentibus ibidem etc.
DD Pompeo Orsallio Romano et Hieronimo Peling.tto Fanense testibus etc.