ASR, TNC, uff. 11, 1608, pt. 1, vol. 76, fols. 818r-v, 847r
Summary
1608/03/13
Archivio di Stato di Roma (ASR)
The document is the inventory of the maps and books existing in the house of Domenica Mascherino (Ottaviano's widow). The goods are listed and then consigned to the Accademia di San Luca.
Transcription
[Fol. 818r]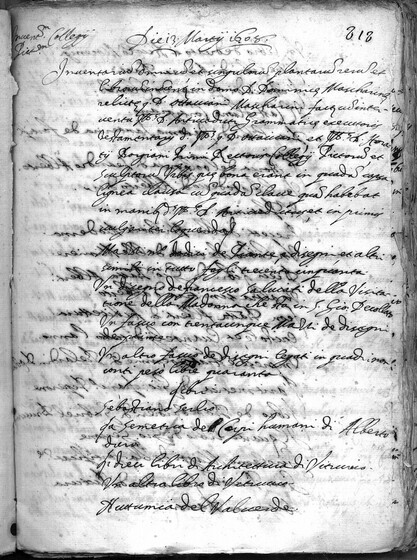 Inventarium Collegii Pictorum
Die 13 Martii 1608
Inventarium Omnium, et singulorum plantarum rerum et
librorum inventorum in domo D. Dominicae Mascharinae
relictae q. D. Ottaviani Mascharini factum cum inter-
ventu Ill.s D. Antiveduti Grammaticae executoris
testamentarii dicti Ill.s q. D. Ottaviani, et Ill.s D. Hora-
tii Borgiani Primi Rectoris Collegii Pictorum, et
Sculpturum Urbis quae bona erant in quadam capsa
lignea clausa cum quadam clave quam habebat
in manibus dictus Ill.s D. Antivedutus, et in primis
vulgariter loquendi etc.Mazzi numero dodici de Piante, e disegni, et altri
simili in tutto fogli trecenta cinquanta
Un disegno de Francesco Salviati della Visita-
tione della Madonna che sta in S. Gio: Decollato
Un fascio con trentacinque Mazzi de disegni
de piante.
Un altro fascio de disegni legati in quadri non
conti pesò libre quaranta.
Libri
Sebastiano Serlio.
La Geometria de Corpi humani di Alberto
Duro.
Li dieci libri di Architettura di Vitruvio.
Un altro libro di Vitruvio.
Nuttumia del Valverde[1] [1]
Juan Valverde de Amusco. Anatomia del corpo humano. Rome, 1559.
[Fol. 818v]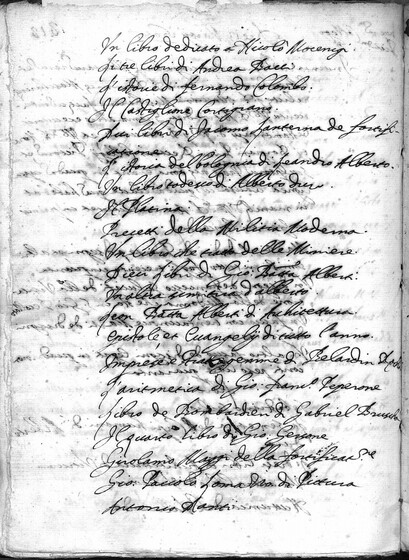 Un libro dedicato a Nicolò Mocenigi.
Li tre libri di Andrea Bacci.
L'istorie di Fernando Colombo.
Il Castiglione Cortigiano.
Dui libri di Iacomo Lanterna de fortifi-
catione.
L'istoria del bolognia di Leandro Alberto.
Un libro todesco di Alberto Duro.
Il Platina.
Precetti della Militia Moderna.Gio:
Un libro che tratta delle Miniere.
Dieci Libri di Gio: Bat'ta Alberti.
Un altra simitria d'Alberto.
Leon Bat'ta Alberti di Architettura.
Epistole, et Evangelii di tutto l'anno.
Imprese e stra[ta]gemme di Belardin Rocha
L'aritmetica di Gio: Franc.o Peperone
Libro de Bombardieri di Gabriel Bruscha[2] [2]
Cut off. Gabriello Busca. Instruttione de bomdardieri. Turin, 1598.
Il quarto libro di Gio: Gersone[3] [3]
Giovanni Gersone. Dell' imitatione di Christo, et del dispregio del mondo. Diuiso in quattro libri... Venice, 1604.

Gerolamo Maggi della fortificatione
Gio: Pavolo Lomazzo di Pittura
Antonio Nanti
[Fol. 847r]
La descrittione del Asia et Europa di Papa
Pio secondo
Tre libri di disegni di schizzi diversi
Un libro della volta di Michel Agnolo inta-
gliato di mano di Diana Mantovana
Un libro bianco
Un libro dove è la passione di Alberto
Duro et altre stampe
Un altro libro di schizzi d'architettura
Quae Bona sic ut supra inventa fuerunt translata
ad Accademiam Sancti Lucae et posita in Arma-
rio quodam cum clavis duobus quorum altera
habuit D. Horatius Borgianus Altera vero
D. Lactantius Agucchius ad effectum consignandi
Ill. D. Paulo Guidotti Principe Accademiae
absenti etc. presentibus D. D. Lactantio Agucchio Bo-
noniense et Baldassare Zuchella testibus etc.