ASR, TNC, uff. 11, 1609, pt. 2, vol. 81, fols. 213r-v
Summary
1609/06/03
Archivio di Stato di Roma (ASR)
Giuseppe Cidoni, procurator of the Accademia e Congregazione di San Luca, receives 9 scudi and 45 baiocchi from the Società. The sum is owed to him because of Lorenzo Torri's patronage of the Accademia, following the decision of the judge Guazzino Guazzini. Giuseppe Cidoni gives quittance to the Congregazione.
Transcription
[Fol. 213r]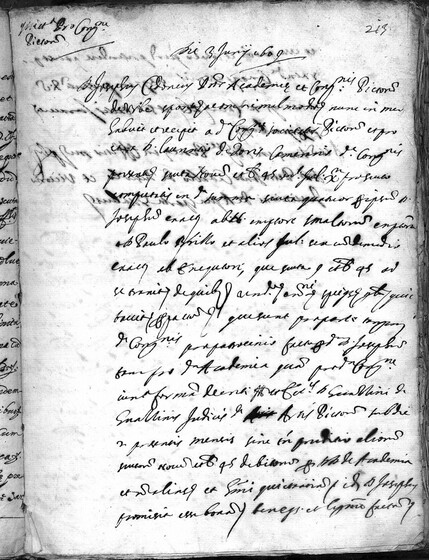 Quietantia Pro Congregatione
Die 3 Iunii 1609
Pictorum D. Iosephus Cidonius Procurator Academiae et Congregationis Pictorum
de Urbe sponte etc. ac omni meliori modo etc. nunc in mei
habuit et recepit a dicta Congregatione societatis Pictorum et pro
ea a D. Laurentio de Toris Camerario dictae Congregationis
presenti etc. scuta Novem et ba. 45 monetae Iuliorum decem pro scuto
computatis in dicta summa scuta quatuor per ipsum D.
Iosephum exacta ab N. emptore smaltorum emptorum
a D Paulo Brillo et alios Iulios sex cum dimidio
exactos ab Exequtori, que scuta 9 et baiocca 45 ad
se traxit etc. de quibus etc. renunciando etc. exceptioni etc. speique etc. generaliter etc. quie-
tavit etc. per pactum etc. qui sunt proparte tamquam
dictae Congregationis pro patrocinio facto per dictum D. Iosephum
tam pro dicta Academia quam pro dicta Congregatione
iuxta formam decreti Ill. et Ecc.is D Guazzini de
Guazzinis Iudicis dictae Artis Pictorum sub die
2 presentis mensis sine tamen preiuditio aliorum
scutorum Novem et baioccorum 45 debitorum pro DD de Academia
et non alias etc.et huismodi quietantiam etc. idem D. Iosephum
promisit esse bonam etc. beneque et legitime factam etc.
[Fol. 213v]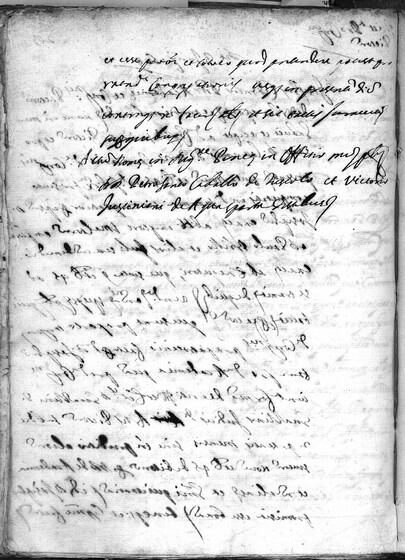 et esse pro omni et toto eo quod pretendere potest pro
rata dictae Congregationis usque in presentem diem
contraque non facere etc. alias etc. et sic tactis Iuravit etc.
superquibus etc.
Actum Romae in Regione Pineae in Offitio mei etc. presentibus etc.
DD Petro Santo Caballo de Tuscolo et Victorio
Iustiniani de Aqua Sparta testibus etc.