ASR, TNC, uff. 15, 1612, pt. 3, vol. 55, fols. 859r-v
Summary
1612/12/06
Archivio di Stato di Roma (ASR)
Cesare Rossetti receives 8 scudi and 30 baiocchi from Gaspare Celio. The money is the remainder of the sum owed to Rossetti by Celio, and in particular of a quittance made by Celio for money that did not belong to him.
Transcription
[Fol. 859r]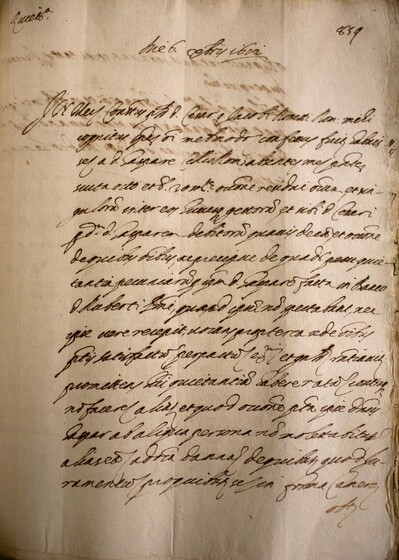 Quietantia
Die 6 decembris 1612
IN Mei etc. Constitutus personaliter d. Cesar q. Iacobi Rossetti Romanus mihi
cognitus sponte etc. omni meliori modo etc. confessus fuit etc. habuis-
se etc. a d. Gaspare Cellio Romano absente etc. me etc. presente etc.
scuta octo et baioccos 30 monetae occasione residui omnium, et sin-
gulorum inter eos huiusque gestorum, et sibi d. Cesari
per dictum d. Gasparem debitorum quavis de causa, et occasione
de quibus omnibus, ac precipue de quadam quie-
tantia pecuniarum per ipsum Gasparem facta in Banco
d. Ruberti Primi [1] [1]
Uncertain. , quas ad ipsum non spectabant, nec
ipse vere recepit, vocans propterea se de omnibus
predictis satisfactum etc. per pactum etc. exceptioni etc. et generaliter etc. renuntiavit etc.
promittens huiusmodi quietantiam habere ratam etc. contraque
non facere etc. alias etc. et quod occasione predicta ipse dominus
Gaspar ab aliqua persona non molestabitur etc.
alias et etc. ad omnia damna etc. de quibus etc. quod Iu-
ramentum etc. pro quibus etc. se etc. in forma Camerae
obligavit etc.
[Fol. 859v]