ASR, TNC, uff. 15, 1620, pt. 1, vol. 83, fols. 300r-v, 301r
Summary
1620/01/31
Archivio di Stato di Roma (ASR)
Antonio Mancini, executor of the Curia Capitolina, has a writ of execution to allow the Confraternita di San Luca to take possession of the church of Santa Martina. The church of Santa Martina, together with all its goods, has been given over to the Confraternita. Consequently, Marco Antonio Amati, procurator, takes possession of a house by performing the acts of possession. Santi Ghetti, tenant, recognizes the Confraternita as possessor and promises to pay the rent.
Transcription
[fol. 300r]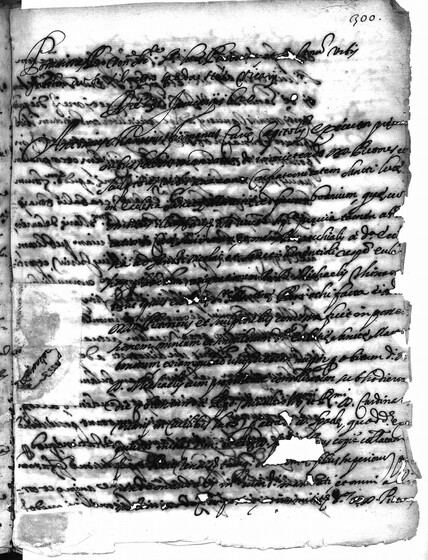 Possessiones Pro Venerabile Societate Sancti Lucae Pictorum, et [Scul]torum Urbis
Insolidum cum D. Silvestro Spada Notario Vicarii
Die 31 Ianuarii 1620
Antonius Mancinus Firmanus Curiae Capitolii exécutor prae[ ...][1] [1]
Brackets denote illegible passages due to holes in the document or ink spots on paper. -
onibus habens mandatum de immictendo DD. Pictores et
Sculptores Urbis, vice eorum Confraternitatem Sancti Lucae
in Ecclesia Sanctae Martinae ad forum boarium, quae cum
omnibus illius bonis etc. alias auctoritate Apostolica praevia tamen ab[di]-
catione Curae Animarum, et oneris P[a]rrocchialis à dicta Ecc[le]-
sia ad Sancti Nicolai, et Sancti Laurentioli respective eccle-
sias per liberam resignationem R. D. Michaelis Thimot[...]
tunc ipsius ecc[le]siae Sanctae Martinae Parrochi facta eis[dem]
DD. Pictoribus, et Sculptoribus concessa fuit in posses-
sionem omnium, et singulorum dictae Ecclesiae Sanctae Mar[tinae]
bonorum etiam quo ad usumfructum nuper pro obitum dicti [R.]
D. Michaelis cum proprietate consolidatum sub hodiern[a]
die obtentum à R. p. D. Trivultio Ill.mi, et R.mi D. Cardina[lis]
Vicarii in Civilibus locumtenente per acta [dicti] D. Spadae, quod dictae ex[e]-
quutor mihi etc. d[...]m[...] et eidem D. Sp[adae ill]ius copiam collatam
fact[...] dedit Tenoris etc. tamque o[...]m[...] filius Superioru' pa-
rendo mandatis in vim dicti mandati, et omni ali[o]
m[e]l[i]ori modo etc. imp[os]it, [e]t immisit etc. dictos D.D. Pi[ct]or[es]
[fol. 300v]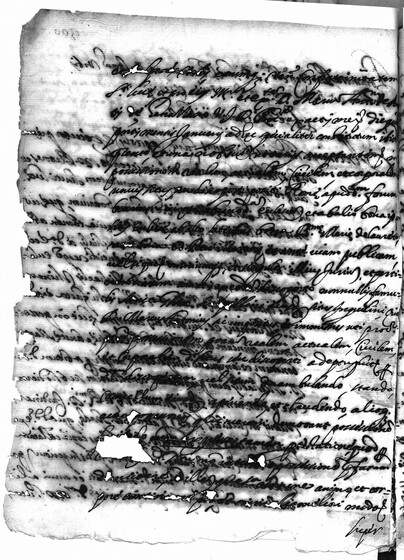 et [Scu]lptor[e]s Urbis, eorumque Venerabilem Confraternitatem
Sancti Lucae, et pro eis Ill. rem et Ex. tem D. Marcum Ant.m de Ama-
tis de Genazzano V.I.D. Procuratorem ex actis mei etc. die quinta
presentis mensis Ianuarii ad haec specialiter constitutum ibidem
presentem, et una nobiscum notariis acceptantem etc. in
possessionem realem, actualem, Civilem, et corporalem
unius situs, seu discoperti positi Romae apud dictum forum
boarium iuxta ad uno dictam ecclesiam, et ab alio bona ip-
sius Ecclesiae, ab alio lateribus bona Beatissimae Mariae de laureto,
retro bona D. Petri Martiris, et ante viam publicam,
vel si qui etc. omniumque, et singulorum illius Iurium, et perti-
nentiarum amotis exed[...] discoperto nonnullis famu-
lis Sancti Ghetti Scarpellini eiusdem situs Inquilini, Qui
D. Marcus Antonius sic impositus, et immissus uti prourator
predictus possessionem predictam realem, actualem, Civilem,
et Corporalem dicti Situs, seu discoperti adeptus fuit etc. per
dictum discopertum, vel situm deambulando, stando,
Cancellum eiusdem apriendo, et claudendo, aliosque
actus possessorios, qui veram denotant possessionem
f[acien]do, cum expressa tamen protestatione, quod pro
[...] dicto situ non intendit possessionem prefatam
d[i]mictere, sed illam quo supra nomine animo, et cor-
pore cont[i]n[uare] p[redicto], et [omni alio meliori] modo etc.
Super
[fol. 301r]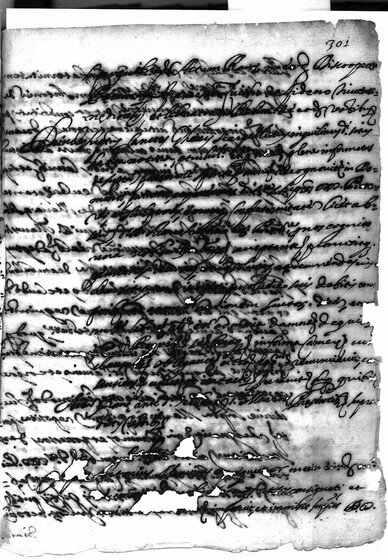 Super quibus etc. Actum Romae in eodem etc. Discoperto
Presentibus etc. Francisco Zuccho de fideno Triventi-
nae diocesis, et liberatore q. Paulini de eodem testibus etc.
Deinde Supradictus Sanctes Ghettus Scarpellinus inquilinus dicti situs
habita notitia, et nihilominus etiam per nos etc. plene informatus
de Supradictam possessionem Sponte etc. omni etc. recognovit etc. in Do-
minos, patronos, et possessores dicti situs supradictos D.D. Pict[o]-
res, et Sculptores, eorumque Confraternitatem licet ab-
sentem, dicto D. Marco Antonio eorum Procuratore per nos cognito
una nobiscum [n]otariis[2] [2]
Uncertain. etc. acceptante etc. promisitque
pensiones decursas, et non solutas, et decurrendas eius-
dem situs, seu discoperti persolvere suis debitis tem-
poribus ad annuam rationem Scutorum d[e]cem, et [...]
monetae libere etc. alias etc. etiam ad omnia damna etc. de qui[bus etc.]
quod etc. Proquibus etc. se etc. bonaque etc. in forma Camerae etc. cu[m]
clausulis etc. obligavit etc. citra etc. appellationi etc. renunciavit, c[on]-
sensiens etc. unica etc. et ita tactis etc. Iuravit etc. Super quibus etc.
Actum Romae ante dictam ecclesiam Sanctae Martinae, Presentibus etc. Supra-
dictis Testibus etc.