ASR, TNC, uff. 15, 1620, pt. 3, vol. 85, fols. 144r-v
Summary
1620/07/27
Archivio di Stato di Roma (ASR)
Orazio Gentileschi, according to the statutes of the Accademia e Società di San Luca dei Pittori e Scultori, promises to pay 5 gold scudi to the Accademia e Società, owed because of an appraisal of 250 gold scudi.
Transcription
[Fol. 144r]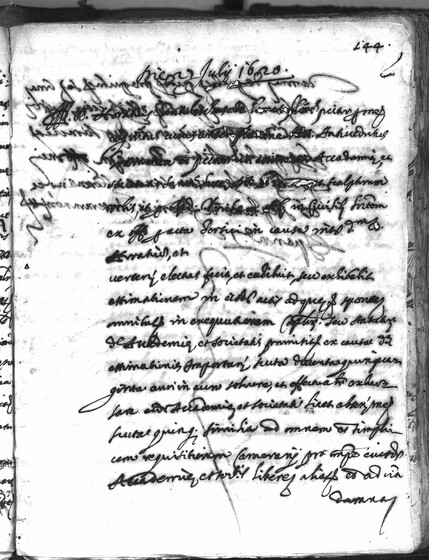 Die 27 Iulii 1620
Ill. D. Horatius Gentileschus de l[...]nis [1] [1]
Brackets denote illegible passages due to holes in the document or ink spots on paper. florentinae pictor per me etc.
cognitus cuius conte[m]pla[ti]one Ill. D. Antivedutus
Gramatica etiam pictor uti estim[a]tor Accademiae , et
Societatis Sancti Lucae DD. Pic[torum, e]t Sculptorum
Urbis, et per Rpd. [...]nilem AC. in Civilibus locumtenentem
ex officio per acta Persici in causa inter dictum D.
Horatium, et . . .
vertente elect[...] fecit, et cuhibuit, seu exhibebit
estimationem in eisdem actis ad quae etc. sponte etc.
omnibus etc. in exequutionem Capitulorum Seu Statutorum
dictae Accademiae et Societatis promisit etc. ex causa dictae
estmationis Importante scuta ducenta quinqua-
ginta auri in auro solvere, et effectualiter exbur-
sare eidem Accademiae et licet absenti me etc.
scuta quinque Similia ad omnem et simpli-
cem requisition[e]m Camerarii pro tempore eiusdem
Accademiae et Societatis libere etc. alias etc. etiam ad omnia
damna etc.
[Fol. 144v]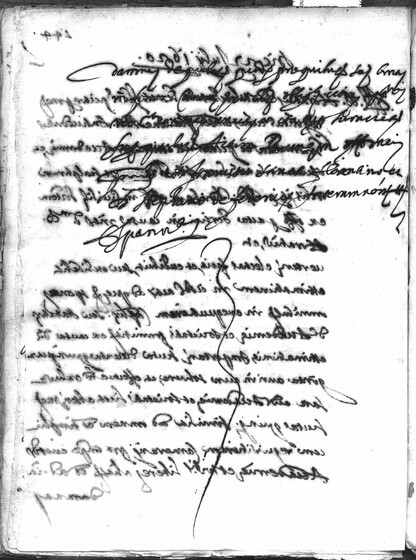 damna etc. de quibus etc. quod etc. proquibus etc. se etc. bona etc.
in forma Camerae etc. cum clausulis etc. obligavit etc. citra etc. appellationi etc.
re[nunciav]it c[onsentie]ns etc. unica etc. et ita tactis Iuravit etc.
Superquibus etc. Actum Romae in officio mei etc.
[presentibus] D Francisco Sancti florentino, et
D Stephano de Federicis Interamnense testibus etc.
E Spann.a