ASR, TNC, uff. 15, 1621, pt. 4, vol. 90, fols. 938r-v
Summary
1622/09/17
Archivio di Stato di Roma (ASR)
The document is the marginalia of the act of December 22, 1621. Antiveduto Gramatica, treasurer of the Società di San Luca, gives his consent to the annulment of the act. He receives 34 scudi from Giacomo Galli, and gives quittance.
Transcription
[Fol. 938r]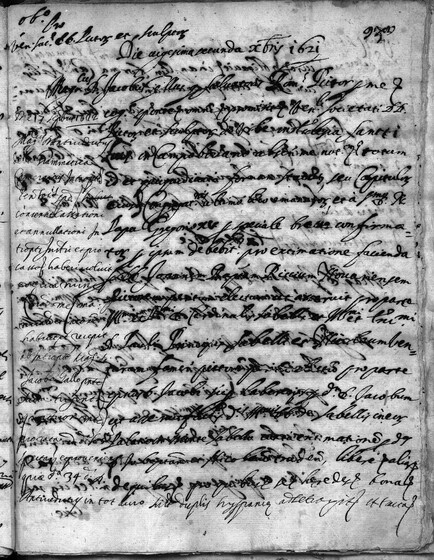 Die 17 Septembris 1622
Mag.cus D Antivedutus
della Grammatica
Camerarius Introscriptae
Venerabilis Societatis sponte etc. habut
consensit Cassationi
et annullationi In-
troscripti Instrumenti et pro
cassa etc. haberi voluit
eo quia nunc
Coram me etc. ma-
nualiter et incontanti
habuit, et recepit
ab Introscripto Mag.co D.
Iacobo Gallo presente etc.
Scuta triginta
quattuor monetae
pro rata ad dictam Societatem
Spectantem et provenientem etc.
quae scuta 34 dictus D.
Antivedutus in tot auro […] duplis hyspaniae ad se traxit etc. et tracta etc.
[Fol. 938v]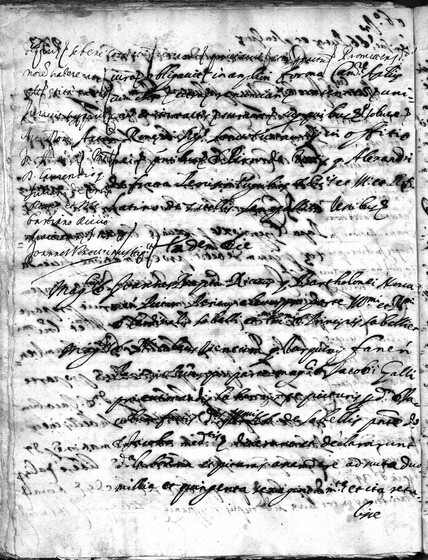 dequibus etc. se bene contentum etc. vocavit etc. quietavit etc. etiam per pactum etc. Promittens dicto
nomine habere rata etc.
alias etc. et ità tactis etc.
Iuravit superquibus etc.
Actum Romae
In offitio mei etc. Presentibus etc.
D. Laurentio quondam
Iuliani de Corsis
Romano et D. Se-
bastiano Riccio
Maceratense I.V.D. testibus etc.
Ioannes Venturinus stipulavit etc.