ASR, TNC, uff. 15, 1622, pt. 4, vol. 94, fols. 512r-v
Summary
1622/11/20
Archivio di Stato di Roma (ASR)
At a private meeting of painters, those congregated decide to copy the painting of Saint Luke made by Raphael and to bring the original into the Accademia, to dismiss the chaplain, and to give 6 scudi to Pasquale de Benedetti for his services.
Transcription
[Fol. 512r]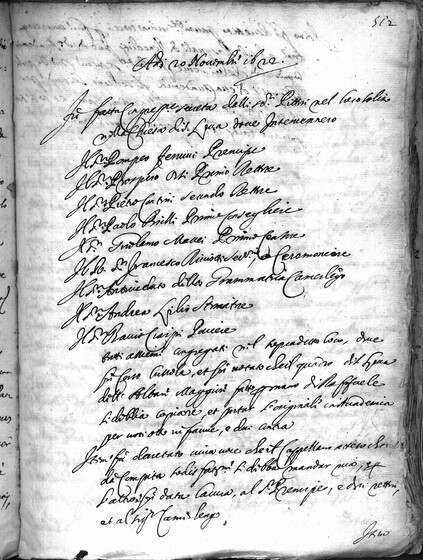 Adi 20 Novembre 1622
Fu fatta Congregatione secreta dalli signori Pittori nel loco solito
nella Chiesa di S. Luca dove Intervennero
Il s.r Pompeo Ferrucci Prencipe
Il s.r Prospero Orsi Primo Rettore
Il s.r Pietro Contini secondo Rettore
Il s.r Paolo Brilli Primo Consegliere
Il s.r Girolamo Massei Primo Censore
Il s.r Francesco Ricciotti Secretario, et Ceremoni[e]re [1] [1]
Ink spot.
Il s.r Antiveduto della Grammatica Camerlengo
Il s.r Andrea Lilio Stimatore
Il S.r Baccio Ciarpi Paciere
tutti assieme congregati nel sopradetto loco, dove
fu Corso bussola [2] [2]
Uncertain. , et fù notato che il quadro di S. Luca
dell'Altare Maggiore fatto per mano di Raffaele
si debbia copiare, et portar l'originale in Accademia
per voti otto in favore, e dui contra
Item fu decretato viva voce che il Cappellano atteso che [non] [3] [3]
Brackets at end of lines denote illegible passages due to words cut off at margins.
da Compita sodisfatione si debba mandar via, e per
l'altro ne fù data la cura, al S.r Prencipe, e dui rettori,
et al Sig.r Camerlengo.
[Fol. 512v]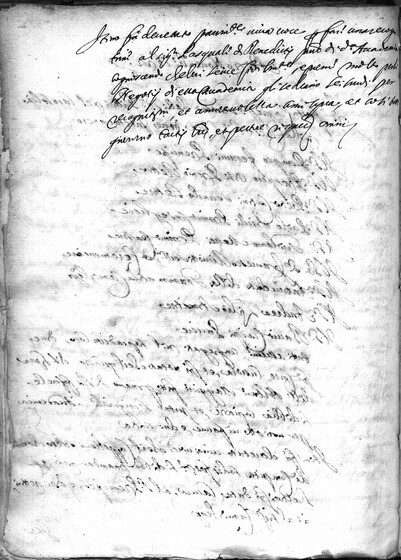 Item fù decretato parimente viva voce per fare una recogni-
tione al sig.r Pasquale de Benedictis p[…] [4] [4]
Uncertain. di detta Accademia
conoscendo che lui serve fidelmente, e preme molto per li
Negotii d'essa Accademia gli se diano sei scudi per
recognitione, et amorevolezza come sopra, et cosi tutti
giurorno tactis licteris, et pectore respective etc. omni etc.