ASR, TNC, uff. 15, 1623, pt. 1, vol. 95, fols. 321r-v, 326r
Summary
1623/01/29
Archivio di Stato di Roma (ASR)
At a private meeting, the Società di San Luca decides to pay 15 scudi to the notary (Erasto Spannochia) for the time he served the Accademia. The notary must hand over all the acts promulgated by the Congregazione. The Congregazione affirms that the former principe has given the pencil holder of Michelangelo Buonarroti to the new principe, Agostino Ciampelli; and it appoints as procurator Francesco Grigiotti, who will obtain all the sums that pertain to the Accademia. Antiveduto Gramatica declares that he is the creditor of Luca Ciamberlano for 3 scudi, given as a loan. Gramatica appoints Francesco Grigiotti as his procurator for the return of the money.
Transcription
[Fol. 321r]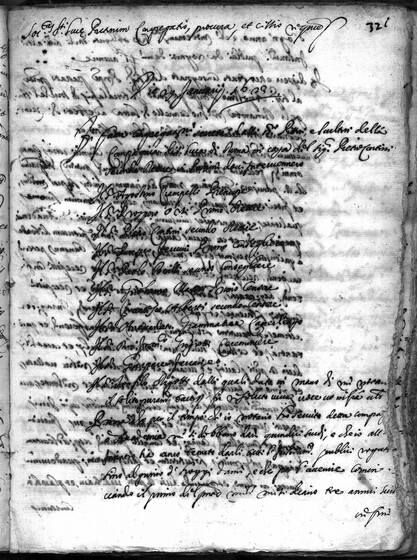 Societas Sancti Lucae Pictorum Congregatio, procura, et cessio [...] [1] [1]
Unclear.
Die 29 Ianuarii 1623
Fu fatta Congregatione secreta dalli SS.ri Pittori, e Scultori della
Compagnia di S. Luca di Roma in casa del Sig.r Pietro Contini
Secondo Rettore in Parione dove Intervennero
Il S.r Agostino Ciampelli Prencipe
Il S.r Prospero Orsi Primo Rettore
Il S.r Pietro Contini secundo Rettore
Il S.r Pompeo Ferrucci Primo Consegliere
Il S.r Paolo Brilli secondo Consegliere
Il S.r Girolamo Massei Primo Censore
Il S.r Francesco Alberti secondo Censore
Il S.r Antiveduto Grammatica Camerlengo
Il S.r Don Fran.co Grigiotti Ceremoniere
Il S.r Gaspare Ferrari, et
Il S.r Teofilo Rigotti dalli quali dato in mano di me notari[o] [2] [2]
Brackets at end of lines denote illegible passages due to words cut off at margins.
il solito giuramento tactis etc. fu resoluto viva voce ut infrascripta videlicet
Prima che per il tempo che io notario hò servito detta compa[gnia]
ò Accademia me si debbano dare quindici scudi, e che io all'
Incontro sia anco tenuto darli tutti l'[Instro]menti [3] [3]
Hole in paper. publici rogat[i]
sino al giorno d'hoggi da me, e che per l'avenire comin-
ciando il primo del presente mese me si diano tre annui scu[di]
in fine
[Fol. 321v]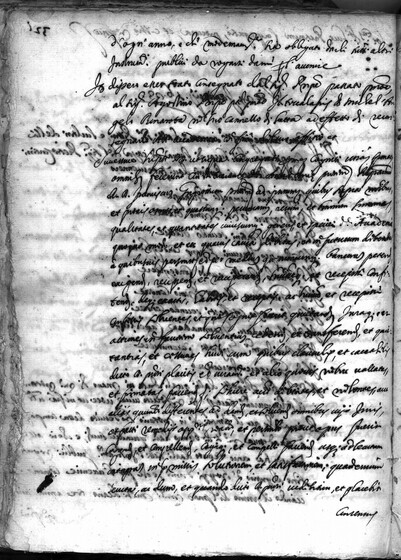 d'ogn'anno, e che medemamente sia obligato darli tutti altri
Instrumenti publici da rogarsi da me per l'avenire
Item dissero esser stato Consegnato dal Sig.r Principe passato presente,
al Sig.r Agostino Principe predetto presente Il toccalapis di Michel'An-
gelo Bonarota nel suo cannello di latta ad effetto di recon-
segnarlo All'Accademia in fine del suo offitio, et
Successive suprascripti DD. ut supra Congregati per me etc. Cogniti citra etc. sponte etc.
omnibus etc. fecerunt constituerunt etc. dictae Accademiae procuratorem etc. supradictum
R. D. Franciscum Grigiottum presentem etc. ad ipsorum etc. quibus supra nominibus,
et pro eis omnes, et quascumque pecuniarum, rerum, et bonorum Summas,
qualitates, et quantitates cuiuscunque generis, et speciei dictae Accademiae
quoquo modo, et ex quavis causa debitas, et in futurum debendas
à quibusvis personis etc., etiam per medius qu[or]umcunque [4] [4]
Hole in paper. bancorum petendum,
exigendum, recipiendum, et recuperandum, huiuscumque, et recepisse confi-
tendum, deque exactis, habitis, et receptis, ac huiu[smodi] [5] [5]
Uncertain. , et recepisse
confessis solventes, et quos opus fuerit quietandum Iuraque, et
actiones in favorem solventius cedendum, et transferendum et quie-
tantias, et cessiones huiusmodi cum quibus clausulis, et cauthelis
dicto D. procuratori placitis etiam iuramento, et alio quovis robore valeatas,
et firmatas faciendum etc.; solvere autem debentes, et nolentes, aut
alias quomodolibet differentes ad dandum,et solvendum omnibus viis Iuris,
et facti remediis opportunis raliter, et personaliter prout opus fuerit
Cogendum [6] [6]
Uncertain. , et Compellendum, Cogique, et Compelli faciendum usque ad Secutam
integram in premissis solutionem, et satisfactionem; quade[…] [7] [7]
Unclear.
secuta, ac dum, et quando dicto D. procuratori videbitur, et placebit
Consensus
[Fol. 326r]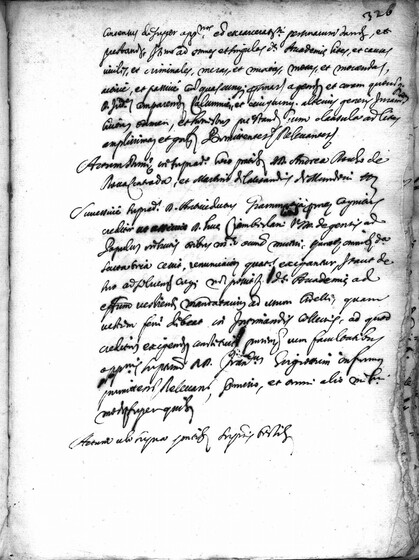 Consensus de super appositionis [8] [8]
Uncertain. et excarcerationi personarum dandum, et
prestandum, Item ad omnes et singulas dictae Accademiae lites, et causas
civiles, et criminales, meras, et mixtas, motas, et movendas,
active, et passive Contra quascunque personas etc. agendas et coram quocumque
D. Iudice comparendum Calumniae, et cuiuscunque alterius generis Iuramentum
licitum tamen, et honestum prestandum cum clausula ad lites
amplissima etc. et generaliter Promittentes etc. Relevantes etc.
Actum Romae in supradicto loco presentibus DD. Andrea Raccho de
Rocca Contrada, et Martino del Alisandris de Mondovi testibus etc.
Successive supradictus D. Antivedutus Grammatica per me etc. cognitus
creditor ut asseruit D. Lucae Ciamberlani […] [9] [9]
Unclear. degentis ad
Populum in Scutis tribus monetae occasione mutui, sponte etc. omnibus dicta
scuta tria cessit, renunciavit etc. quatenus exigantur, Ita ut de
suo ad solvendum cogi non possit etc. dictae Accademiae ad
effectum vestiendi mandatarium ad usum livelli, quam
vestem ferri debeat in Intimandis collectis, ad quod
creditum exigendum constituit etc. p[…] [10] [10]
Unclear. etc. cum facultatibus
opportunis supradictum RD. Fran.cus Grigiottum infrascriptum
promittentes, Relevantes, promissio et omni alio meliori
modo etc. super quibus etc.
Actum ubi supra presentibus supradictis testibus etc.