ASR, TNC, uff. 15, 1623, pt. 2, vol. 96, fols. 427r-v
Summary
1623/05/01
Archivio di Stato di Roma (ASR)
The priest Francesco Grigiotti borrows 25 scudi as a loan with interest (società d'ufficio) from Antiveduto Gramatica. Grigiotti is the guarantor of the loan and commits himself to pay the interest (12 percent of the sum annually) as well as to repay the money to Gramatica at the end of the loan period.
Transcription
[Fol. 427r]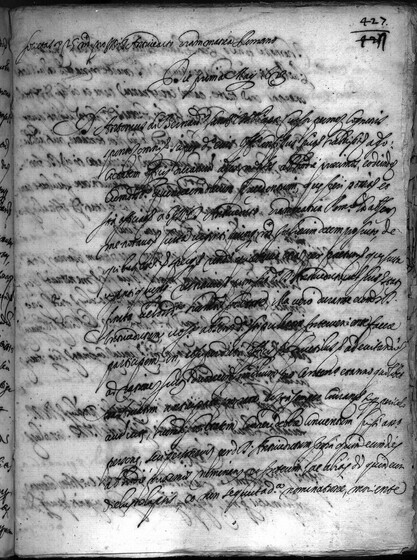 Societas scudi 25 monete pro Ill.ri D. Antiveduto Grammatica Romano
Die prima Maii 1623
D. Antonius di Bernard.is Santissimi Domini Nostri Papae Cursor per me etc. Cognitus
sponte etc. omni etc. super dicto eius Officio Confessus fuit etc. habuisse etc. ad So-
cietatem officis duraturam ad Sex menses ab hodie proximos, et deinde etc.
Cum disdicta quindecim dierum precedentium, quae fieri possit etc. et
Ita officiat etc. ab Ill.ri D. Antiveduto Grammatica Romano [...] [1] [1]
Unclear. absente
me notario etc. Scuta viginti quinque monete Iuliorum decem pro Scuto, de
quibus, exceptioni etc. speique etc. rendunciando quietavit etiam per pactum etc. quae Scuta
viginti quinque restituire etc. promisit dicto D. Antiveduto, vel Suis etc. statim
finita vel disdicta huismodi Societate, illa verò durante eumdem D.
Antivedutem, ut supra absentem dicta Stipulatione Interveniente facere
participem, in, et Super dicti officii Sui fructibus etc. ad evitandum
ad rationem Scutorum duodecim Similium pro centenario et anno quolibet
Semestrautim anticipatè pro rata, et Ita semper Currant etc. super periculo
autem vitae, huiusmodi Societatem Curreri debere Conventum fuisse asseruit
personae, seu personarum per dictum D. Antivedutum Infrà quindecim dies
ab hodie proximos nominans, et Interim, ac alias dictis quindecim
diebus elapsis, et non sequuta dicta nominatione, moriente
[Fol. 427v]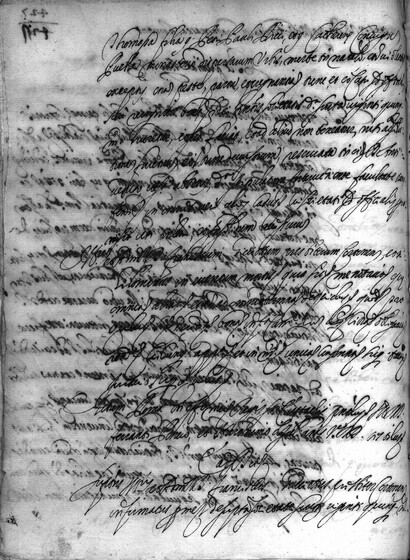 Thomassa filia q. Petri Pauli Ricci, et q. Catherinae Coniugum
Puella monasterio dispersarum Urbis, morte tam naturali, etiam violenta etc.
exceptis etiam peste, partu, et pregnantia etc. tunc, et eo Casu Id officialis
seù recognitae bonae fidei presentis Societatis dicta Scuta viginti quinque
monetae lucretur, et Sit faciat, et ad aliud non teneatur, nisi ad Solu-
tionem fructuum et tunc decursorum, reservata tamen eidem D. Anti-
veduto, ut Supra absenti, dicta Stipulatione Interveniente facultate trans-
fendi etc. in omnes verò alios Casus etc. Cui Societati Id officialis pro-
misit uti personalem, et Insolidum accessurum
Ill.re et A[…]m [2] [2]
Unclear. RD. Francescum Gricciottum presbiterum Cortonensem, et ni-
hilominus in eventum mortis etc. quia Sic etc. me notario etc. quae
omnia etc. alias etc. etiam ad omnia damna etc. de quibus etc. quod etc. pro
Quibus etc. Se etc. heredes etc. bona in forma Camerae etc. Cum clausulis etc. Citra etc. obligavit etc.
rendunciando etc. CuiCunque appellationi etc. et in mandatum etc. unica etc. Consentit etc. Sique tactis etc.
Iuravit super quibus etc.
Actum Romae in officio mei etc Regionis Sancti Eustachii presentibus etc. Ill. DD.
Ferranti Poncio, et Hieronimo de Iulianis V. DD. testibus etc.