ASR, TNC, uff. 15, 1624, pt. 1, vol. 99, fol. 86r
Summary
1624/01/05
Archivio di Stato di Roma (ASR)
Transcription
[fol. 86r]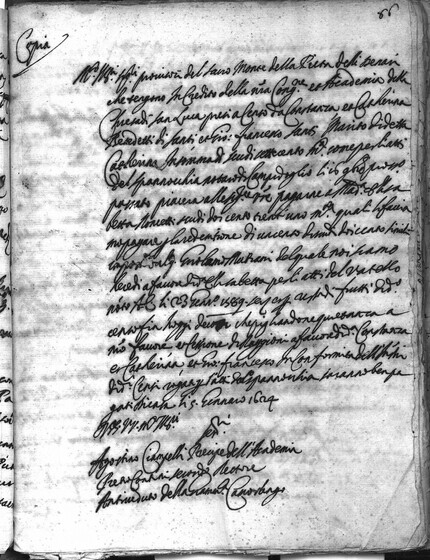 Copia[1] [1]
It refers to document 1624/01/05.
Molto Ill.ri Sig.ri provisori del Sacro Monte della Pieta delli Denari
che tengono In Credito della nostra Congregatione et Academia della
Chiesa di San Luca presi a Censo da Constanza, et Catherina
Benedetti di Santi, et Gio: Francesco Santi Marito di detta
Catherina In somma di scudi settecento moneta come per li atti
del Spannocchia notaro di Campidoglio li 16 novembre prossimo
passato piacera alle Signorie Vostre pagarne a Madonna Elisa-
betta Roncetti scudi doi cento trent'uno moneta quali li faccia-
mo pagare per la redentione di un censo di scudi doi cento simili
impos[to dal q.][2] [2]
Brackets denote illegible passages due to holes in the document or ink spots on paper. Girolamo Mutiani del quale noi siamo
heredi a favore di detta Elisabetta per li atti del Vatello
notario Auditoris Camerae li 23 Gennaro 1589 seu etc. et per resto di frutti di detto censo
fin hoggi deco[rsi][3] [3]
Ink spot. che pigliandone quietanza a
nostro favore, et Cessione di Raggioni a favore di detta Constanza
et Catherina, et Gio: Francesco In Conformita dell'Instrumenti
di detti Censi rogati per l'atti del Spanocchia saranno ben pa-
gati Di casa li 5. Gennaro 1624
D SS. VV. Molto Ill.ri
Ser.ri
Agostino Ciampelli Precipe[4] [4]
Sic. dell'Academia
Pietro Contini secondo Rettore
Antiveduto della Grammatica Camorlengo[5] [5]
Sic.