ASR, TNC, uff. 15, 1624, pt. 4, vol. 102, fols. 209r-v, 221r
Summary
1624/10/24
Archivio di Stato di Roma (ASR)
At a private meeting, the Congregazione dei Pittori e Scultori decides to appoint as procurator Pompeo Lazzari, to obtain papal permission (beneplacito apostolico) for the admittance of the embroiderers to the Congregazione and for their protection, and to implore Cardinal del Monte to intercede with the pope regarding the Congregazione's interests, and in a related vein, to ask that a brief address expanded powers for their cardinal protectors. In addition, it is decided to create a book in which all the past notable actions of the Accademia are recorded and to make an inventory of the goods contained in the large cabinet (credenzone).
Transcription
[fol. 209r]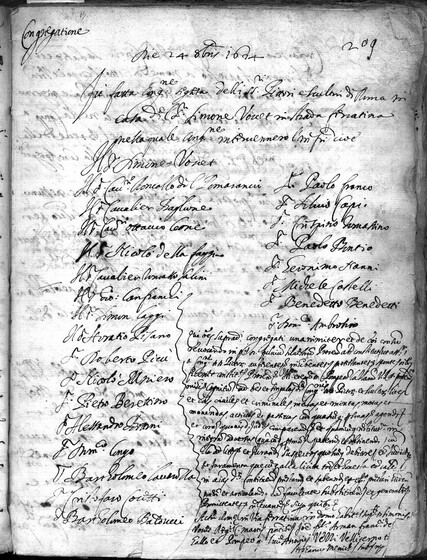 [fol. 209v]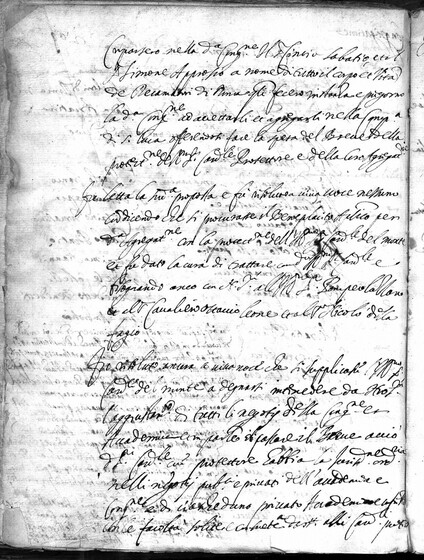 Comparsero nella detta Congregatione Il s.r Cintio Labatio, et il
S.r Simone Approsio a nome di tutto il corpo et Vita
de Recamatori di Roma quali fecero instanza e pregorno
la detta Congregatione ad accettarli et agregarli nella Compagnia
di S. Luca offerendosi fare la spesa del Breve della
protectione de R.m S.r Card.le Protettore e della loro Agregatione
Fu letta la sudetta proposta e fù resoluto viva voce nessuno
cum dicendo che si procurasse il Beneplacito Apostolico per
detta Agregatione con la protectione dell'Ill.mo S.r Card.le del Monte
et fu dato la cura di trattare con d.o. Ill.mo S.r Card.le e
bisognando anco con N. S.re all'Ill.re S.r Pompeo Lazzaro
al S.r Cavaliero Ottavio Leone et al S.r Nicolò della
Fagio
Fù resoluto ancora a viva voce che si supplicasse l'Ill.mo S.r
Card.le del Monte a degnarsi intercedere da Nostro Signore
l'aggiustamento di tutti li negotii della Congregatione et
Accademici et in particolare il passare il Breve acciò
detto S.re Card.le c[...][5] [5]
Unclear. protettore habbia la Iurisditione ordinaria
nelli negotii publici e privati dell'accademia e
Congregatione e di ciascheduno privato Accademi[co][6] [6]
Brackets denote illegible passages due to holes in the document or ink spots on paper. e confratello
con le facoltà solite e consuete a darsi alli Card.li protettori
[fol. 221r]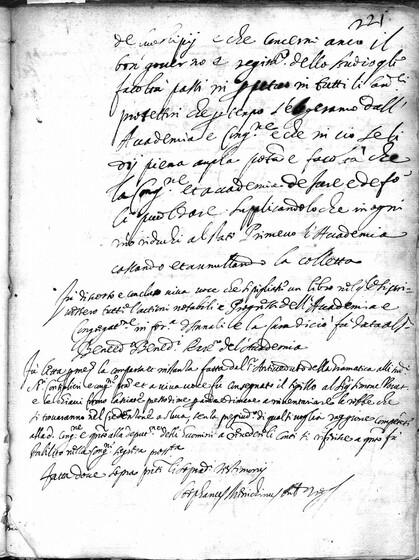 de luoghi pii e che concerni anco il
bon governo e regimento dello Studio quale
facoltà passi in perpetuo in tutti li Car.li
protettori che protempo l'elegeranno dall'
Accademia e Congregatione e che in cio se li
dii piena ampla potesta e facoltà che
la Congregatione et accademia de Iure e de facto
li puol dare Supplicandolo che in ogni
modo riduchi al stato Prime[r]o l'Accademia
cascando et annullando la colletta
Fù discorso e conclu[so] viva voce che si pigliasse un libro del quale si scri-
vessero tutte l'actioni notabili e Progresse dell'Accademia e
Congregatione in forma d Annali e la Cura di ciò fù data al S.r
Bened.o Bened.i Secretaro del'Accademia
Fù letta per me etc. la comparsa et instanza fatta dal S.r Antiveduto della Gramatica alli sudetti
S.ri Consiglieri e congregatione predetta et a viva voce fu consegnato il sigillo al Sig.r Simone Vouet.
e le chiavi furono lasciate presso di me per andare dimane a inventariare le robbe che
si troveranno nel Credenzone a S Luca, senza pregiuditio di qualsivoglia raggione Competente
alla detta Congregatione e quanto alla deputatione delli huomini a rivedere li Conti si riferisce a quanto fù
stabilito nella Congregatione Segreta prossima passata
Fatta dove sopra presenti li sopradetti testimonii
Stephanus Menichinus Sub rog etc.