ASR, TNC, uff. 15, 1633, pt. 1, vol. 135, fols. 563r-v
Summary
1633/02/25
Archivio di Stato di Roma (ASR)
Transcription
[fol. 563r]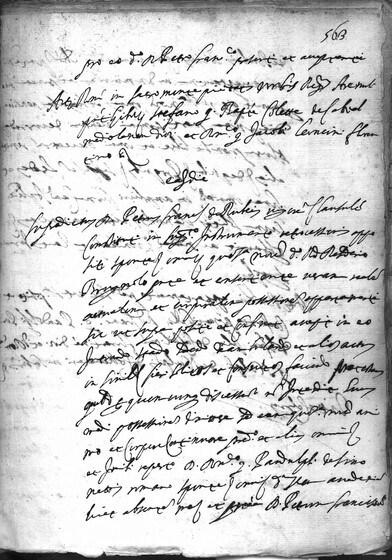 eadem die[1] [1]
See document 1633/02/25.

Supradictus D. Petrus Franc.s de Rubeis vigoré Clausulé
Constituti in Supradicto Instrumento retrocessionis appo-
siti sponte etc. omni etc. quo supra nomine dicto Rd Desiderio
Brugnolo presente et consentiente veram realem
actualem et corporalem possessionem appartamenti
sic ut supra positi et Confinati accepit in eo
Intrando stando sedendo deambulando et alios actus
in similibus fieri solitos et Consuétos faciendo protestando
quibus per quemcumque discessum non Intendit huius-
modi possessionem dimittere sed eam quo supra nomine ani-
mo et Corpore Continuare predicto et alias omnia etc.
et I[…]li[2] [2]
Unclear. reperto D. Dom.co q. Pandulphi de Simo-
nettis romano sponte etc. omni etc. dictam Venerabilem accademiam
licet absentem me etc. et pr[o][3] [3]
Brackets denote illegible passages due to holes in the document or ink spots on paper. èa D. Petrum Franciscum
[fol. 563v]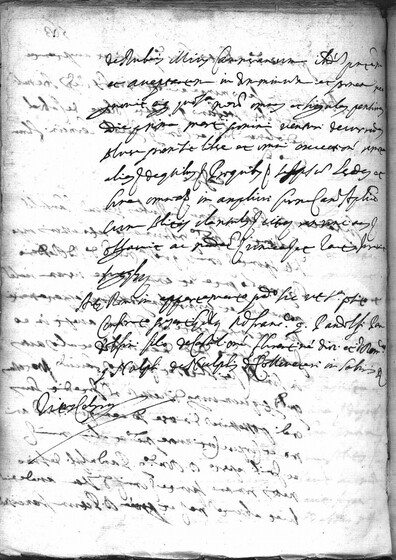 de Rubeis illius Cammerarium ibidem presentem
et acceptantem in dominum et patronem reco-
gnovit eique quo supra nomine omnes et Singulas pensiones
a die prima martii proximi venturi decurrendas
solvere promisit libere et omni excettioné remota
alias etc. dequibus etc. Pro quibus etc. se [ip]sum heredes et
bona omnia etc. in ampliori forma Camere Apostolice
cum solitis clausulis etc. citra etc. renuncians etc.
obligavit ac mandatum etc. unica etc. et tactis Iuravit
Super quibus etc.
Actum Rome in appartamento predicto sic ut supra posito et
Confinato presentibus ibidem etc. Rd Franc.co q. Pandolfi Pan-
dolfini filio de Castilioné florentiné diocesis et d. Dom.co
q. Nulphi de Nulphis de Colleveteri in Sabinis testibus etc.
Titus Cel' rogavit etc.