ASR, TNC, uff. 15, 1634, pt. 1, vol. 139, fols. 727r-v, 728r
Summary
1634/03/02
Archivio di Stato di Roma (ASR)
Giovanni Battista Soria, treasurer of the Accademia dei Pittori e Scultori, rents a house to Cesare Vannuzio. The annual rent is 21½ scudi. The document contains the agreement between the two contractors.
Transcription
[fol. 727r]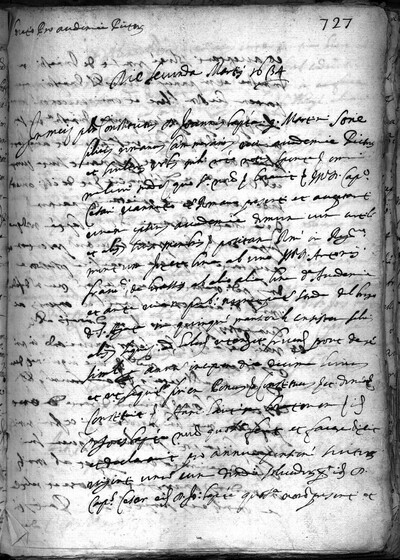 Locatio Pro accademia Pictorum
Die Secunda Martii 1634
In mei etc. personaliter Constitutus D. Ioannés Bap'ta q. Martini Sorie
filius romanus Cammerarius venerabilis accademie Pictorum
et Scultorum Urbis mihi notario notus sponte etc. omni
meliori modo etc. quo Supra nomine etc. locavit etc. Ill. D. Cap.o
Cesari Vannutio etiam Romano presenti et acceptanti
unam ipsius accademie domum cum cortilé
et aliis suis membris etc. positam Romé in Regione
montium Iuxta bona ab uno Ill. D. Antonii
Franc.ci de Grassis ab alio bona dictae Accademie
et ante viam publicam nuncupatam strada del borgo
di S. Agata in quinqué mansionibus consistentem salvis[1] [1]
Uncertain.
aliis Siqui etc. ad habendum utendum et fruendum prout de ré
simili per annum incipiendo die decima Junis
et ut sequitur finiendo Ponens etc. Constituens etc. et donéc etc.
Constituit etc. Hanc hautém locationem etc. idem
D Io'es Bap'ta nomine quo supra fecit et facere dixit
et declaravit pro annua pensioné scutorum
viginti unum cum dimidio solvendorum prout idem D.
Cap.s Cesar eidem D. Io: Bap'ta quo supra nomine presenti et
[fol. 727v]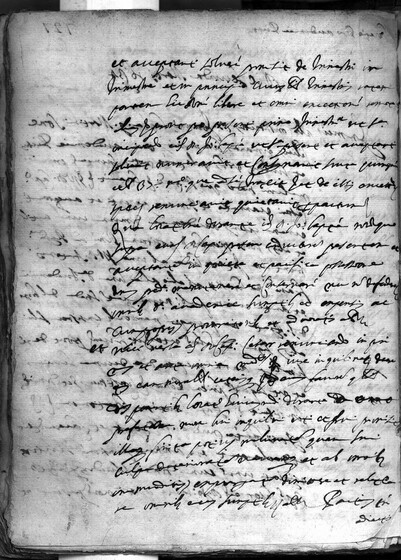 et acceptanti solveré promisit de trimestri in
trimestre et in principio cuius libet trimestris ratam
partem hic Romé libere et omni excettioné remota
alias etc. prout pro presenti primo trimestre ut supra
incipiendo eidem D. Io: Bap'ta ut supra presenti et acceptanti
soluit numeravit et Consignavit scuta quinque
et baioccos 37 ½ monete que ad sé traxit etc. et de illis excettioni etc.
spei etc. renunciavit quietavit per pactum etc.
Qua locationé durante idem D. Io: Bap'ta nomine quo
supra eumdem D Cap: conductorem presentem et
acceptantem in quieta et pacifica possessione
domi predicte manuteneré et Conservare nec non defendere
omnibus dicte accademie sumptibus et expensis ac
cum propriis procuratoribus et advocatis alias etc.
Et vice versa idem D Cap: Cesarr renunciando in pri-
mis et ante omnia medio iuramento tactis [etc.][2] [2]
Brackets denote illegible passages due to holes in the document or ink spots on paper. iure inquilinatus decre-
tis cammeralibus ceterisque etc. ad eius favorem quomodolibet
disponentibus locatione huiusmodi durante [domo]
prefat[a] more boni inquilini uti et frui promisit
illaque finita potius melioratam quam sui
culpa deterioratam vacuamque et ab omnibus
immunditiis expurgatam dimittere et relaxa-
re omnibus eius sumptibus etc. alias etc. Partis tamen
adiectis
[fol. 728r]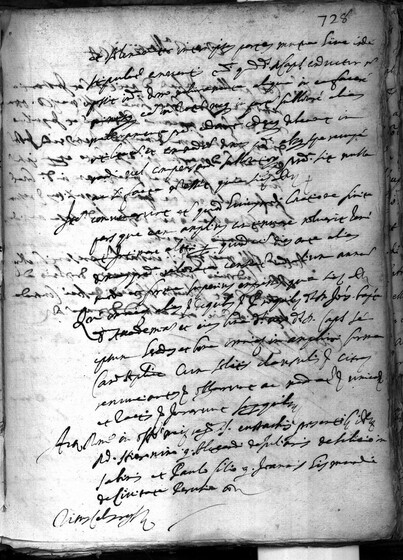 et Solemniter inter ipsas partes mutua hinc indé
stipulatione conventis videlicet quod dictus D Cap.s conductor non
possit in dicta domo melioramenta aliqua in ea faceré
minusque eam in totum necque in partem sublocaré alias
melioramenta predicta cadant cadereque debeant in
utilitatem et commodum domus predicte absque spe recupé-
randi vel compensandi sublocatione predicta sit nulla
ac si facta non esset quia sic alias etc.
Item convenerunt etiam quod huiusmodi locatione finita
pars que eam amplius continuare noluerit tenéatur
etiam Intimare alteri per quindecim dies ante alias
domus predicta relocata censeatur ad alium annum
modo et forma superius expressis quia sic etc. alias etc.
Que omnia etc. alias etc. de quibus etc. Pro quibus dictus D. Io'es Bap'ta
dictam Accademiam et eius bona dictus vero dictus D. Cap.s sé
ipsum heredes et bona omnia etc. in ampliori forma
Camere Apostolice Cum solitis clausulis etc. citra etc.
renunciantes etc. obligarunt ac mandatum etc. unica etc.
et tactis etc. Iurarunt Super quibus etc.
Actum Rome in officio mei etc. regionis S. Eustachii presentibus ibidem etc.
Rd. Hieronimo q. Alexandri de Iulianis de Silicio in
Sabinis et Paulo filio q. Ioannis Gismundie
de Civitate Perusie testibus etc.
Titus Cel' rogavit etc.