ASR, TNC, uff. 15, 1625, pt. 1, vol. 103, fols. 462r, 467v
Summary
1625
Archivio di Stato di Roma (ASR)
Ippolito Gualtieri writes to the principe and the officials of the Accademia di San Luca. He declares that he rents a house owned by the church of Santa Martina for which he must pay ground rent of 7 scudi each year. He wishes to discharge the house of the rent, or at least to have a perpetual lease.
Transcription
[fol. 462r]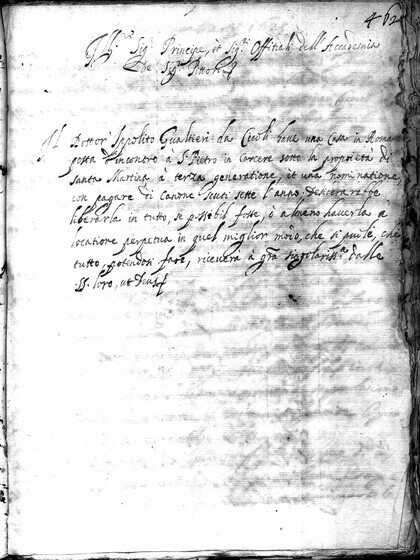 Ill.re Sig.r Principe, èt Sig.ri Offitali dell'Accademia de Sig.ri Pittori etc.
Il Dottor' Ippolito Gualtieri da Cicoli lasce[1] [1]
Uncertain. una Casa in Roma
posta d'incontro à S. Pietro in Carcere sotto la proprietà di
Santa Martina à terza generatione, èt una nominatione,
con pagare di Canone scuti sette l'anno; Desiderarebbe
liberarla in tutto, se possibil fosse, ò almeno haverla à
locatione perpetua in quel miglior modo, che si puole, che
tutto, potendosi fare, riceverà à grazia singolarissima dalle
·S·S· loro, ut Deus etc.
[fol. 467v]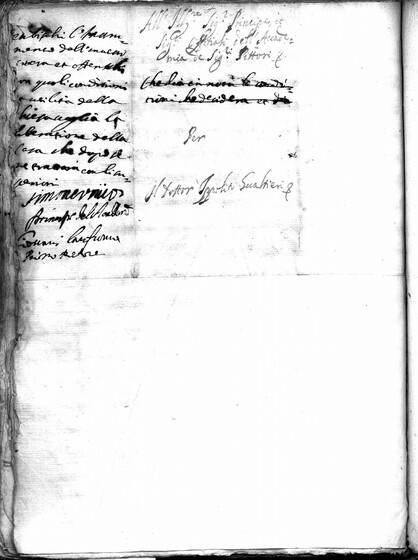 All'Ill.re Si.gr Principe, èt
Sig.ri Offitiali dell'Accade-
mia De Sig.ri Pittori etc.
Per
Il Dottor 'Ippolito Gualtieri etc.
[...] esibischi l'Instrum-
ento dell'investi-
tura et ostenschi
in quali conditioni
[e]t utilità della
[C]hiesa voglia la
liberatione della
Casa che dopo se
ne trattarà con li su-
periori Simone Vouet
Principe del Academia Giovanni Lanfranco
Primo Rettore