Regesto
1624/01/05
Archivio di Stato di Roma (ASR)
ASR, TNC, uff. 15, 1624, pt. 1, vol. 99, fols. 84r-v, 85r-v, 110r
Il documento ha alcune parti estremamente deteriorate, non è dunque possibile stabilirne l'esatto contenuto. Elisabetta Roncetti retrovende un censo di 200 scudi, acquistato nel 1589 da Girolamo Muziano (quondam). A causa delle parti mancanti non è chiaro a chi. In seguito Elisabetta costituisce suo procuratore Bartolomeo Parente, il quale riceve 31 scudi dall'Accademia di San Luca.
Trascrizione
[fol. 84r]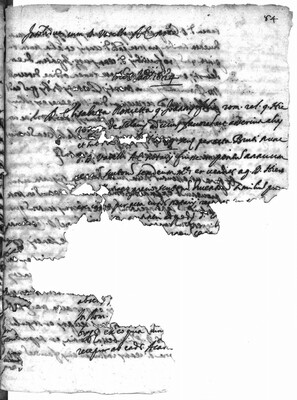 Insolidum cum D. V[a]tello[1] &nbsp[1]
Il documento è danneggiato gravemente. The damage continues to folio 84v, where only the upper half of the page is legible. Brackets denote illegible passages.
Auditoris Camerae notario
[Di]e 5 Ianuarii 1624

[D.] Elisabetta Roncetta q. Ioannis filia romana relicta q. Hie-
ro[nymi] de Sclavis ad cuius favorem ut asseruit alias
et su[b die] [...] [15]89 seu etc. per acta Bruti nunc
dicti D. Vatelli Auditoris Camerae notarii fuisse impositum annuum
[censum] scutorum sexdecim monetae et venditum a q. D. Hiero
[nymo Mu] tiano precio scutorum ducent[orum] similium pr[out]
ex in[strumento] per acta eiusdem notarii, rec[...]
[…]
[…] ad quod etc. dicta
[…]
abse[n] […]
In Rom. […]
[...]busque etc. ex eo quia […]
recepir[...] ab eodem Acad[…]
[fol. 84v]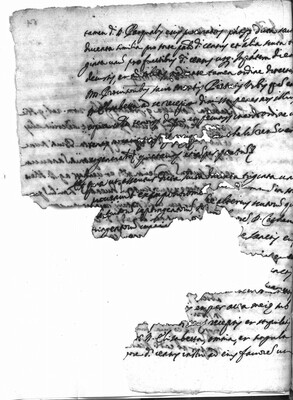 tamen dicti D. Pasqualis eius pro[c]uratoris presentis etc. dicta scuta
ducenta similia pro sorte personali dicti census et alia scuta tri-
ginta unum pro fructibus [d]icti census usque In presentem diem
decursis, et non solutis, [media]nte tamen ordine directo Ill
DD. Provisoribus Sacri M[o]ntis Piet[a]tis Urbis quem eadem
D. Elisabetta ad se recepit dimissa penes nos illius
copia collata tenoris etc. de quo, et penuniis in eodem ordine con-
tentis voca[vit] [renunciav]it […]
et generaliter etc. quietavit etc. etiam per [pactum] etc.
[E]t quia ut asseritur dicta scuta ducenta triginta unum
proveniunt ex impositioni[bus] [...] [censuum] in sorte [...]
scutorum septingentorum, n[…] [...] alterius scutorum qua [...]
[...]vorem, D. Catherinae
[...] Sanctis eius
[...]
[...]
[...]
[...] et per ac[t]a mei etc. sub
[...] [seu] etc. receptis et stipulatis
[...] D. Elisabetta, omnia, et singula
[...] [...]ore dicti census instrumenti ad eius favorem ut
[fol. 85r]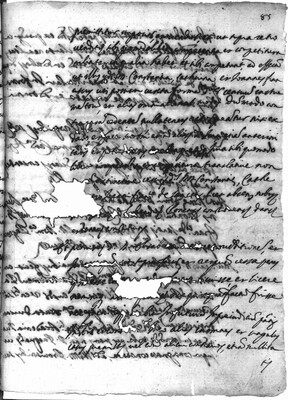 premittitur impositi, et venditi, et ut supra retro
venditi etc. sibi quomodolibet competentia et competitura
t[a]lia tamen qualia habet, et sibi competunt, ad effectum
ut illis iidem DD. Constantia, Catherina, et Ioannes Fran-
ciscus uti possint iuxta formam dictorum censuum instru-
mentorum, et alias omnia alio meliori modo etc. dummodo con-
tra [ip]sa c[e]dente nullatenus retorqueantur nisi ex
dato, et [f]acto suo tamen et non alias etc. dicta Iura etiam anteriori-
tatis et po[…]tatis, [et] alia quaecumque Iura sibi quomodo-
libet competentia, et competitura translative non
[…] evictione cessit dictis DD. Constantiae, Cathe-
[rinae e]t Ioanni Fran.co de Sanct[is] licet absentis nobis etc.
[…] etc. [ad] habendum etc. Ponens consti[tu]ens dare etc.
et donec etc. constituit etc.
Et promissit etc. dicta D. Elisabe[t]ta d[i]c[tarum] re[t]rovenditionem, et
Iur[a] [respective], ut supra factarum, et respective cessa penes
ipsam esse […] [facere] licuisse, et licere
neminique act[...] [...] etc., nec quicquam factum fuisse
nec factum op[pone]bit In futurum In preiudicium presenti etc.
Instrumenti et cons[...] In eo alias in omnes et singulos
casus premissi[s] vel eorum alicui contrarios, etiam nullita-
tis
[fol. 85v]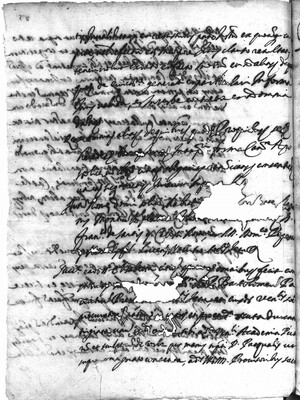 Invaliditatis, et rescissionis presentis Instrument ex quocumque ca-
pite, vel defectu etiam Incorpore Iuris clauso resultans
teneri voluit[2] &nbsp[2]
O "noluit". ex dato, et facto suo tamen, et non alias de
quo etc. de evictione genera[l]i [e]t parti[cu]lari In forma
Iuris valida, et In Urbe co[n]sueta, et ad omnia
damna etc.
Que omnia etc. alias dequibus etc. [q]uo[d] etc. Proqui[b]us etc. se etc.
heredes etc. bon[a] etc. Iur[a] etc. In ampliori forma Camerae Apo-
stolicae cum clausulis etc. citra etc. obligavit etc. renuncians etc. consentiens etc.
unica etc. sicque tactis etc. Iuravit Sup[er quibus etc.]
Actum Romae domi solitae habitationi[s] [Regio]-
nis Montium In pla[tea] [Co]lu[mnae] […] D.
Fran.co de Sartis q. Calisti Romano, et DD. Dom.co Papesco
[q. Hercu]lis [fi]lio Lucense Novitio Societatis Iesu testibus etc.
Successive eadem D. Elisabetta citra etc. s[ponte] etc. omnibus etc. fecit con-
stitut[uit] etc. su[...] Ad.m R [P.] Bartholomeum Pa-
rentum Presbiterum Societatis Iesu, et eiusdem Venerabilis Societatis
procuratorem presentem etc. [ad ip]sius, et pro ea dicta scuta ducenta
triginta unum in[...] [...] sibi a dicta Venerabili Academia Pict-
orum et Sculptorum de Urbe per manus supradicti D. Pasqua[li]s ut
supra [co]nsignato conte[nt]a, a dictis Ill.is DD. Provisoribus Sacri
[fol. 110r]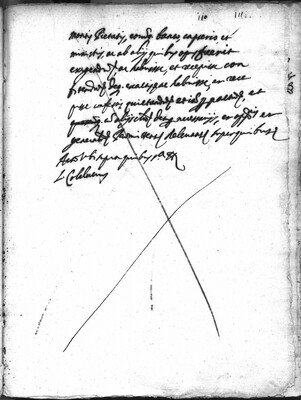 Montis Pietatis[3] &nbsp[3]
L'ingiunzione di pagamento si trova nel ultimo documento del 1624/01/05. , eorumque banco, capserio, et
ministris, ac ab aliis quibus opus fuerit
exigendum etc. ac habuisse, et recepisse con-
fitendum etc. deque exactis etc. ac habuisse, et rece-
pisse confessis quietandum etc. etiam per pactum etc. et
cum aliis clausulis etc. necessariis, et opportunis et
generaliter etc. Pr[o]mittens etc. Relevans etc. Super quibus etc.
Actum Ubi supra quibus supra testibus
L. Colalucius
Note
Il documento è danneggiato gravemente. The damage continues to folio 84v, where only the upper half of the page is legible. Brackets denote illegible passages.

L'ingiunzione di pagamento si trova nel ultimo documento del 1624/01/05.