Vermeer, to a greater extent than any other Dutch artist, was able to capture the delicate equilibrium between the physical stillness of a setting and a transient moment of an individual arrested within it. As in Woman Holding a Balance, he has focused here on a psychological moment by subordinating all physical action. A woman, dressed elegantly in a lemon-yellow morning jacket bordered with ermine trim, sits before a table. She holds a quill pen loosely in her right hand, while her left hand secures the paper. She looks up from her writing and regards the viewer with a slightly quizzical expression. As in so many of his masterpieces, Vermeer gives no explanation for the significance of her gaze. This characteristic has led to criticism that his paintings lack psychological penetration, but it is also an essential ingredient in the poetic suggestiveness of his images.
A Lady Writing is signed with a monogram on the lower frame of the picture on the back wall, but like most Vermeer paintings, it is not dated. The painting style and technique, as well as the woman's costume and hairdo, however, relate to other works that appear to belong to the artist's mature phase, in the mid-to-late 1660s. The woman's elegant yellow jacket is almost certainly the one mentioned in the inventory of household effects made after Vermeer's death.[1] [1]
John Michael Montias, Recent Archival Research on Vermeer, Studies in the History of Art (Washington, DC, 1998), 339, doc. 364: "a yellow satin mantle with white fur trimming." It is found in three other of his paintings from this period: Young Lady Adorning Herself with a Pearl Necklace in the Staatliche Museen zu Berlin; Lady with a Lute in the Metropolitan Museum of Art, New York; and Mistress and Maid in the Frick Collection, New York [fig. 1]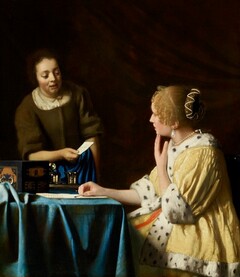 [fig. 1] Johannes Vermeer, Mistress and Maid, c. 1667–1668, oil on canvas, Frick Collection, New York. Photo © The Frick Collection, New York.[2] [2]
See inventory no. 912B from the Staatliche Museen, Berlin; inventory no. 25.110.24 from the Metropolitan Museum of Art, New York; and inventory no. 19.1.126 from the Frick Collection, New York. For the dating of the Frick painting, see The Frick Collection: An Illustrated Catalogue: Paintings, American, British, Dutch, Flemish and German (New York, 1968), 296–297. The inkwells and the decorated casket on the table are similar to those in the Frick painting. The hairstyle, with the braided chignon on the back of the head and the ribbons tied in bows formed like stars, was popular in the third quarter of the seventeenth century, particularly after the early 1660s.[3] [3]
This information was kindly supplied by A. M. Louise E. Mulder-Erkelens, keeper of textiles, Rijksmuseum, Amsterdam (see her letter of May 7, 1974, to A. B. de Vries, copy in NGA curatorial files).
Conceptually, this painting relates to Woman Holding a Balance, for in both works Vermeer has explored a moment in which the central figure has paused in the course of her activity. The woman's image in A Lady Writing, however, is weightier. The delicate equilibrium between stillness and implied movement found in Woman Holding a Balance has shifted toward stillness. Likewise, Vermeer's concern for the woman's physical appearance—for her costume, hairstyle, and expression—has taken on greater importance. Such differences may be relevant chronologically, for they are characteristics found in a number of Vermeer's later works. Seen in conjunction with the refined elegance of the woman's appearance, they suggest that A Lady Writing dates slightly after the Woman Holding a Balance.
Vermeer has here significantly reduced the number of compositional elements and focused intently on the woman's figure and a few objects in her environment. Not only is she proportionally larger and fuller than the woman holding the balance, she and the table on which she writes are quite close to the picture plane, a proximity emphasized by the directness of her gaze. Although in both paintings light enters from the left, no light source is shown in A Lady Writing. The light illuminating the tabletop, the woman's face, and her rich lemon-yellow morning jacket is softer and more diffused than that of Woman Holding a Balance.
Vermeer limited his composition here to a few select elements that reinforce the central motif of a woman writing. He has clustered all the small objects in the painting on the table. This concentration of small shapes contrasts with the broad forms of the rest of the composition, which create a geometric framework for the figure. The picture on the back wall, for example, covers two-thirds of the width of the composition. The width of the wall to the right of the picture is equal to the height of the table, or one-half the distance from the bottom of the picture to the bottom edge of the painting itself. The width of the table, moreover, is approximately one-half the width of the painting. Such proportional relationships help balance and harmonize the essentially asymmetrical composition.
In much the same manner that Vermeer has refined his composition by eliminating extraneous elements, so has he eliminated anecdotal elements that give clues to the meaning of the painting. While he has depicted a woman, pen in hand, looking directly at the viewer, he has not indicated whether she is contemplating her message or directing her attention outward. Unlike other of Vermeer's depictions of letter writers such as the Mistress and Maid (Frick Collection, New York), no maid delivers a letter or awaits a reply. One possible indication of the general theme of the painting may be given by the picture hanging on the back wall. This dark and barely distinguishable image appears to be a still life with musical instruments.[4] [4]
Keil Boström, "Jan Vermeer van Delft en Cornelis van der Meulen," Oud-Holland 66 (1951): 117–122, suggests that the painting depicted may be one by Adam Frans van der Meulen (French, born Flanders, 1632 - 1690). The evidence, however, is not sufficient to sustain an attribution. A painting depicting "a bass viol with a skull" is listed in the inventory of Vermeer's possessions after his death in 1676. See John Michael Montias, Vermeer and His Milieu: A Web of Social History (Princeton, 1989), 340, doc. 364. The only recognizable instrument is a bass viol. Musical instruments often carry implications of love, and thus it may be understood that the letter is directed to an absent lover.[5] [5]
This thematic association was first suggested by Albert P. de Mirimonde, "Les Sujets musicaux chez Vermeer de Delft," Gazette des Beaux-Arts 57 (January 1961): 40. For emblematic literature relating musical instruments to love see Eddy de Jongh, Zinne- en Minnebeelden in de schilderkunst van de zeventiende eeuw (Amsterdam, 1967), 50–51. Such an interpretation is supported by relating A Lady Writing to the iconographic tradition found in the works of many of Vermeer's contemporaries, particularly Gerard ter Borch the Younger (Dutch, 1617 - 1681), Gabriel Metsu (Dutch, 1629 - 1667), and Frans van Mieris (Dutch, 1635 - 1681). Many of these paintings of letter writers have explicit love connotations and can be related to emblematic literature. Metsu, for example, in his painting A Young Woman Composing Music in the Mauritshuis [fig. 2]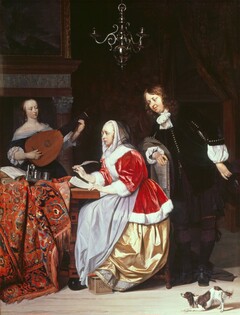 [fig. 2] Gabriel Metsu, A Young Woman Composing Music, c. 1662-1663, oil on panel, Mauritshuis, The Hague, has depicted a woman sitting at a table contemplating the music she is writing.[6] [6]
See Gabriel Metsu, A Young Woman Composing Music, c. 1662–1663 (Mauritshuis, inventory no. 94). Franklin W. Robinson, Gabriel Metsu (1629–1667): A Study of His Place in Dutch Genre Painting of the Golden Age (New York, 1974), 64–65, dates this painting to around 1667. Behind her stands an attentive man, before her another woman playing a lute. Above the fireplace hangs a painting of a ship in a stormy sea. Aside from the sensuous connotations of the man and the music of the lute, the painting above the fireplace relates to emblems commenting upon the perils of love.[7] [7]
Eddy de Jongh, Zinne- en Minnebeelden in de schilderkunst van de zeventiende eeuw (Amsterdam, 1967), 50–51.
Vermeer must have known Ter Borch's Letter Writer (c. 1655, Mauritshuis, The Hague), the first Dutch depiction of this subject, as well as Metsu's slightly later adaptation, Elegant Lady Writing at Her Desk (c. 1662–1664, Leiden Collection).[8] [8]
Arthur K. Wheelock Jr., "Pen to Paper," in Vermeer and the Masters of Genre Painting (Dublin, 2017), 122–127. Ter Borch's model, his half-sister Gesina (also depicted in The Suitor's Visit), is clearly absorbed in her writing, while Metsu's writer stops mid-gesture as she lifts her quill from the ink well, turning to meet the viewer's eye.[9] [9]
On Ter Borch's approach to temporality see Alexandra Libby, Time and Temporality in 17th-Century Dutch Genre Painting, National Gallery of Art, Washington, https://www.nga.gov/research/in-depth/themes-ideas-dutch-genre-painting/time-temporality-17-century-dutch-genre-painting.html (accessed Mar. 22, 2019). The narrative immediacy of those images seems qualitatively different from the motionless moment of Vermeer's painting. Technical examination with x-radiography and infrared reflectography has clarified Vermeer's process. He first painted the quill pen in an upright position—his writer, like Ter Borch's, was actively engaged in writing—but he later altered the quill so it would rest at an angle as the writer pauses, lost in thought.[10] [10]
E. Melanie Gifford, public lecture at symposium for the exhibition Johannes Vermeer, January 20, 1996.
One possible explanation for the woman's striking pose is that A Lady Writing is a portrait. The letter-writing theme would have allowed Vermeer to achieve a convincing sense of naturalism that formal portraits often lack. Although no documentary evidence confirms that Vermeer painted portraits, certain compositional characteristics in this work seem to reinforce this hypothesis. He has posed the woman in the foreground of the painting, thereby enhancing her physical and psychological presence. Her distinctive features—a large forehead and a long, narrow nose—are portraitlike characteristics that resemble those of Study of a Young Woman (c. 1666–1667, Metropolitan Museum of Art, New York), and are not as idealized as those of women in his other genre scenes of the same period. Finally, her form is modeled with delicate brushstrokes and subtle nuances of color that articulate her features with unusual clarity.
The identity of the sitter has not been established. One possibility is that she is Vermeer's wife, Catharina Bolnes. Born in 1631, she would have been in her early-to-mid thirties when Vermeer painted this work. Although it is difficult to judge the age of models in paintings, such an age does seem appropriate for this figure, and she does wear Catharina's yellow jacket.[11] [11]
John Michael Montias, Recent Archival Research on Vermeer, Studies in the History of Art (Washington, DC, 1998), 339, doc. 364: "a yellow satin mantle with white fur trimming." Her physical features, however, differ from those of the model for Woman Holding a Balance, who is likely Catharina Bolnes.[12] [12]
See Ernst Gunther Grimme, Jan Vermeer van Delft (Cologne, 1974), 54. For my identification of the model in Woman Holding a Balance as Catharina Bolnes, Vermeer's wife and the mother of his fifteen children, see Arthur K. Wheelock Jr., Johannes Vermeer (1632–1675): Sainte Praxède–Saint Praxedis (Monaco, 1998), 28.
Original entry by Arthur K. Wheelock Jr., April 24, 2014.
Revised by Alexandra Libby to incorporate information from a technical examination.
December 9, 2019