The Artist's Vision: Romantic Traditions in Britain
November 19, 2006 – March 18, 2007
West Building, Ground Floor, Outer Tier Galleries G23, G24, G25

The Artist's Vision
Romantic Traditions in Britain

The Artist's Vision
Romantic Traditions in Britain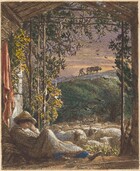 The Artist's Vision
Romantic Traditions in Britain

The Artist's Vision
Romantic Traditions in Britain

The Artist's Vision
Romantic Traditions in Britain

The Artist's Vision
Romantic Traditions in Britain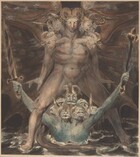 The Artist's Vision
Romantic Traditions in Britain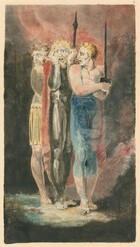 The Artist's Vision
Romantic Traditions in Britain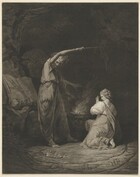 The Artist's Vision
Romantic Traditions in Britain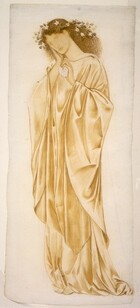 The Artist's Vision
Romantic Traditions in Britain

The Artist's Vision
Romantic Traditions in Britain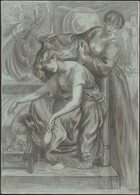 The Artist's Vision
Romantic Traditions in Britain
This exhibition is no longer on view at the National Gallery.
Overview: 67 prints and drawings by British artists from the late 18th to the early 20th century were shown in this exhibition, which explored themes in romantic art, including landscapes, supernatural and horrific subjects, and Pre-Raphaelite works that evoked early Italian painting. Included were Dante Gabriel Rossetti's drawing Desdemona's Death Song and works by Samuel Palmer, J. M. W. Turner, William Blake, and John Constable, among others. The works were drawn from the prints and drawings collection of the National Gallery, and augmented by loans from private collections.
The National Gallery Vocal Arts Ensemble performed music of British composers in a Sunday concert in honor of the exhibition. A special Sunday afternoon tea menu was available in the West Building Garden Café. The exhibition was part of the 2007 citywide festival, Shakespeare in Washington.
Organization: The exhibition was organized by the National Gallery of Art, Washington. Exhibition curator was Stacey Sell, assistant curator of old master drawings.
Sponsor: The exhibition was supported by the Thaw Charitable Trust.

Attendance: 55,959
View Related Collection Tours:
Audio, Released: November 14, 2006, (34:42 minutes)