In the Tower: Mark Rothko
February 21, 2010 – January 9, 2011
East Building, Tower Gallery
In the Tower
Mark Rothko
Introduction
Mark Rothko (1903–1970) was a leader of the abstract expressionists, a loose-knit group of painters who by midcentury had made New York the center of the art world. Unlike Jackson Pollock and Willem de Kooning, who wielded the brush with great energy, Rothko painted soft-edged rectangles of color, at once veiled and radiant.
Black was a frequent, sometimes imposing presence in Rothko's early work (nos. 1–9)—from his expressive figures of the 1930s to the surrealist-inspired canvases of the mid-1940s to the abstract "multiforms" of the late 1940s. Interestingly, black did not play a major role in Rothko's classic works of the 1950s. Thus his dramatic turn to black in 1964, with the black paintings featured in this exhibition (nos. 10–16), was something of a return, but one whose significance remains mysterious.
Some critics have seen these paintings as Rothko's pointed reminder that there was more to his work than lyric color—that his real subject was (as he had declared in 1943) the "tragic and timeless." Others have seen them as tokens of the illness and depression that began to plague Rothko in the 1960s, even as harbingers of his suicide at the end of the decade.
But does black = tragedy and despair? While it does absorb more light than any other color, it is not just a void. Depending upon the quality of paint and its application, as well as shifting angles of light, the blacks here can look like steel or velvet, silver screens or black holes. Other colors lie in wait under a surface or peek around an edge. But to notice all this takes time: unless we look at the paintings slowly, we will not see what Rothko called their "inner light."
That phrase is almost religious, and indeed these works led directly to eighteen monumental dark canvases that Rothko painted for a non-denominational chapel in Houston. To recall that connection, this exhibition includes music composed for it by Morton Feldman (Rothko Chapel, 1971). The result is an experiment, or at least a set of questions. Do the paintings fulfill Rothko's ideal of an abstract art that reflects the range of human passions? Does the music deepen or dilute their effect? Is their blackness brooding? Or are they euphoric in their passage from black to light?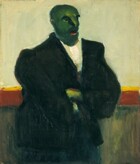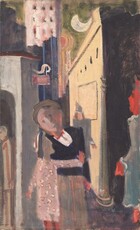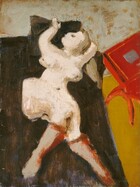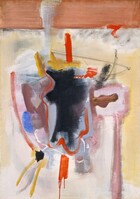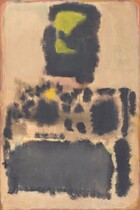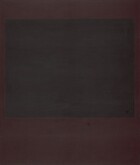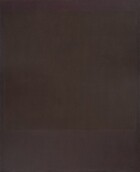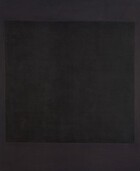 This exhibition is no longer on view at the National Gallery.
Overview: 7 black-on-black paintings created by Mark Rothko in 1964, together with 9 earlier paintings in which black was an important element, were shown in this exhibition that explored the works as predecessors to the Rothko Chapel in Houston, Texas. Rothko Chapel, a musical composition composed in 1971 by Morton Feldman for the opening of the chapel, was played in the installation. The exhibition was drawn largely from the collection of the National Gallery of Art, with one work on loan from the collection of Robert and Jane Meyerhoff.
An 8-minute video produced by the National Gallery of Art was shown in the exhibition.
Organization: The exhibition was organized by the National Gallery of Art. Harry Cooper, curator of modern and contemporary art, was curator.
Sponsor: The exhibition was made possible by the Aaron I. Fleischman Foundation. The film was supported by the HRH Foundation.
Attendance: 150,940 (323 days)
Brochure: In the Tower: Mark Rothko, by Harry Cooper. Washington: National Gallery of Art, 2010.
Video, Released: April 16, 2019, (2:47 minutes)
Video, Released: May 4, 2010, (8:30 minutes)