Activity: Activism through Photography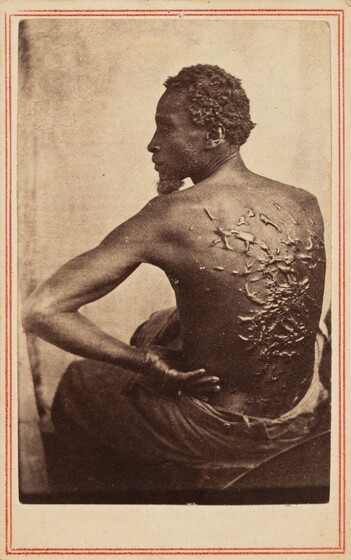 Observation and Discussion
Have students reflect individually on this image in writing: What one word would you use to describe this image? Why? What message or feeling does this image communicate to you?
In pairs, ask students to consider the viewpoint of the photographer—what might have motivated them to photograph this individual, and what choices do you see the artist making in photographing the subject in this way?
As a class, discuss: Do you find this 19th-century image to be provocative or shocking? Why or why not?

Research
A reproduction of this image was published in a special Independence Day edition of Harper's Weekly in 1867 with an account of the subject, Gordon's, escape from slavery.
Have students read the text of the Harper's Weekly article that included this image. How does this image compare to the other images of Gordon included in the article? After reading the text, who do you imagine was the intended audience for the publication, and why?
Ask students to research other 19th-century photographers of the Civil War era (e.g., Alexander Gardner, Mathew Brady, Timothy O'Sullivan) to observe the subject matter chosen by these artists working in a new medium. Which or whose stories are primarily told through their photographs?

Discuss as a class: What images that are widely circulated today might be considered shocking? How might art be used to advocate for a cause or raise awareness of injustice? As an extension to this exercise, have students consider what contemporary social issue or injustice they would choose to address by creating a work of art.
Connections
Depending on student age level, ask them to research the public discussion and reaction to the image of Emmett Till's casket, an image his mother wanted the world to see. What differences do they observe in the context of creation for that image versus McPherson & Oliver's photo?
Pair a discussion of this image with a reading of Colson Whitehead's 2016 novel The Underground Railroad. Does this image connect to a particular chapter or character in the book?