Diego Rivera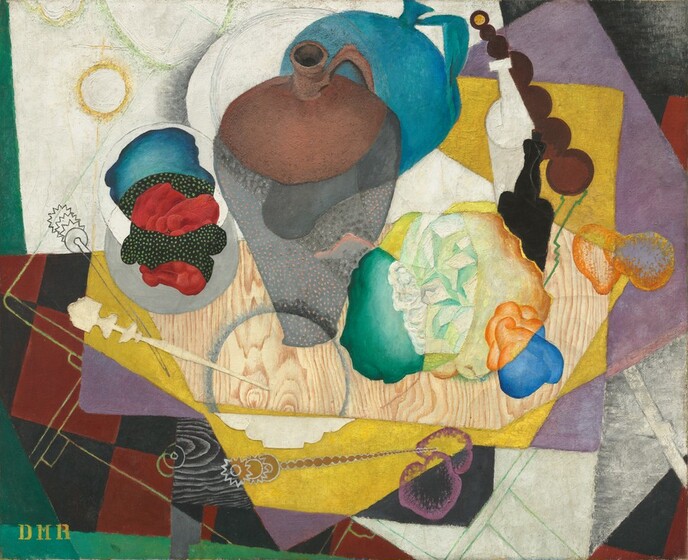 When Diego Rivera was a young artist, he traveled to different countries and explored new ways of painting. After his travels, Rivera returned to his home country of Mexico, where he combined new techniques from the places he visited with the traditions of his homeland. This still life includes objects that reminded him of his home in Mexico.
What shapes do you see? Look for circles, triangles, and rectangles.
Do you recognize any of these objects? Which ones?
Which objects can you see from above? Which can you see from the side? Which can you see through?
Pretend you can reach inside this painting and pick up one thing. Which would you choose? What might it feel like?
Not a Box (Spanish language version: No es una caja)
by Antoinette Portis
A bunny explores how a box is not always just a box.
MAKE: Create a still life collage
You will need:

Heavyweight paper
Colored pencils
Assorted colored or patterned papers
Scissors
Glue stick
First, gather three to five objects from around your home. To make your still life more interesting, try to choose objects with different colors, patterns, shapes, and textures. Like Diego Rivera, you might want to include some objects that are special to you. Arrange the objects on a low table so you can see them from all sides.
One by one, draw each object. Focus on simple shapes such as circles, triangles, rectangles, and squares. Try standing in a different spot and drawing some of the items from different viewpoints—from above, below, or another side. You might draw one object on a colored piece of paper and another object on a patterned piece of paper.
Cut out all of your drawings and arrange them on a sheet of heavyweight paper. Once you're happy with your arrangement, glue the drawings down to create a still life collage.
homeland

object
pattern
still life
viewpoint
Send images of your students' projects that follow these activities - email [email protected]