A Look at Judith Leyster
Grade Level: 5–8
Students will identify clues and adjectives to describe Judith Leyster's personality and then develop and refine her characterizations through poetry writing. Using Leyster's monogram as their inspiration, they will then shift the focus to themselves by creating their own monogram and then writing a self-reflective poem about themselves.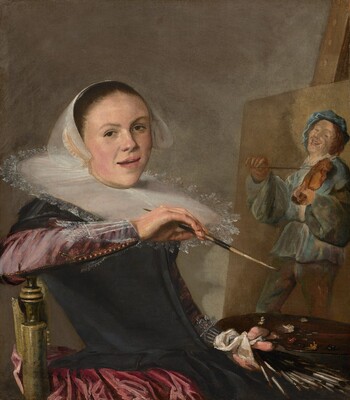 Judith Leyster, Self-Portrait, c. 1630, oil on canvas, Gift of Mr. and Mrs. Robert Woods Bliss, 1949.6.1
Curriculum Connections

Materials
Warm-up Questions

What can you tell about this woman? How do you want people to see you?
Background
Judith Leyster
The Concert
c. 1633
oil on canvas
National Museum of Women in the Arts, Wallace and Wilhelmina Holladay Collection, Gift of Wallace and Wilhelmina Holladay
For a woman living in the seventeenth century, Judith Leyster was remarkable. She was a successful artist, who liked to paint energetic scenes with one or two figures—sometimes children—engaged in merrymaking: music, dance, and games. She worked for several years around Utrecht and Amsterdam in the Netherlands, before returning to Haarlem where she entered the painters' guild in 1633.
She also had her own studio and taught several students. In 1636 Leyster married painter Jan Miense Molenaer; the couple had five children. Scholars believe that Leyster made few paintings after her marriage, though she may have collaborated with her husband.
Infrared photograph of Judith Leyster's Self-Portrait
National Gallery of Art, courtesy of the conservation lab
This infrared photograph shows what is underneath the top layer of paint. The painting on the easel was originally a self-portrait of Leyster. But she changed her mind and painted the violin player over it because her most successful and profitable paintings were scenes of merrymakers, a type of picture very popular with customers.
She must have decided that this painting could advertise several messages at once: I am a successful, sought-after painter; I can paint great portraits; and I'm skilled at painting lively scenes of people.
Judith Leyster died in 1660. By the end of the 1800s her work was virtually unknown, often attributed to other artists. Now rediscovered, Leyster's reputation is secure as a highly skilled, successful female in a field dominated by men.
Guided Practice

Students may want to jot down notes during the discussion to help them with their poems in the activity section. In responding to the following questions, remind students to refer to specific details in the painting to support their answers.
How old is she?
What does she do?
When did she live?
Was it unusual for a woman to earn a living as a painter at that time? What does this tell you about Judith Leyster?
How do you see Judith Leyster from looking carefully at her self-portrait? See the adjectives in bold below to help guide students:
Shy? Not Leyster. Try self-confident or self-assured. She looks us straight in the eye as she turns toward us, her elbow on the back of the chair—as if we've surprised her at her work. Although she is obviously busy, she welcomes us with a warm smile. Her self-confidence and pride in her work are clear.
Leyster was neither rich nor poor: she was a hardworking professional artist. Here she shows herself well-dressed, seventeenth century-style (not modern), probably to show off her success to potential patrons. (Do you think she could really work in that stiff collar and keep those delicate cuffs clean?)
Happy? She's smiling, something new for a portrait of a woman in the seventeenth century. Up to that time, artists had portrayed women with serious expressions. Outspoken? Absolutely. Some people even think the artist made this painting as an advertisement for her work. To the seventeenth-century viewer, it said: "I'm a highly skilled, talented, and successful painter, and I'm happy and ready to work for you."
Was she musical? There is no record that Leyster herself was a musician . . . but she was obviously artistic and creative. The lively violin player on her easel is her way of showing off another painting type—besides portraiture—that interested her customers: scenes of people having fun, making merry. Pretty clever!
An artist who can wield eighteen brushes at once must be skilled. While she was not academically educated in today's sense, Leyster may have trained in the workshop of Frans Hals, the great Dutch portraitist.
Activity
An "I Am" poem is a way to study the subject of a self-portrait by putting yourself in the painter's head. Tell students to think about everything they've learned about Leyster from looking at her self-portrait and to reconsider the adjectives and phrases that best described her. Now, using their imaginations, students will pretend they are Judith Leyster to complete the "Write an 'I Am' Poem" worksheet. Then, have students print out their poems and post them for each other to read, or share them aloud in class.
Extension
Judith Leyster's monogram
Leyster had a clever way of signing her paintings. Leyster means "lode star" or "polestar" in Dutch, and she was described as a "leading star" in art. She used this play-on-words to create a special signature: a monogram of her initials with a shooting star.
Students will create their own special monogram to represent themselves, like Leyster's lone star signature. Then, using the "Write an 'I Am' Poem" worksheet students will write a self-reflective poem about themselves.
National Core Arts Standards
VA:Cn11.1.7 Analyze how response to art is influenced by understanding the time and place in which it was created, the available resources, and cultural uses.
VA:Re7.1.6 Identify and interpret works of art or design that reveal how people live around the world and what they value.
VA:Re7.2.6 Analyze ways that visual components and cultural associations suggested by images influence ideas, emotions, and actions.
VA:Re8.1.7 Interpret art by analyzing art-making approaches, the characteristics of form and structure, relevant contextual information, subject matter, and use of media to identify ideas and mood conveyed.
Download or borrow the teaching packet Painting in the Dutch Golden Age with the accompanying Classroom Guide

View the exhibition feature Judith Leyster, 1609–1660 to learn more about the artist and her work
Listen to an audio tour about Leyster's Self Portrait