Symbolism and Place: Linda Lomahaftewa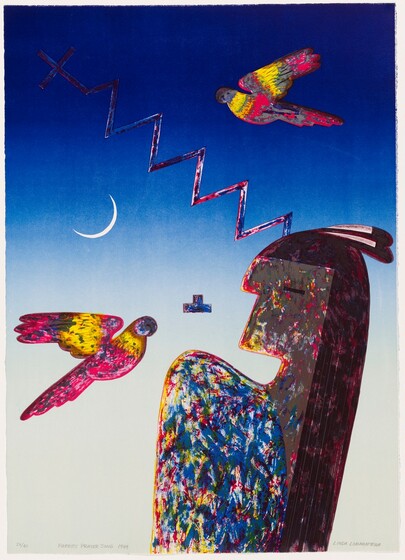 About the Artist 
Linda Lomahaftewa (Hopi/Choctaw) was born in 1947 in Phoenix, Arizona. At the age of 15, she moved away from home to join the first group of Native American art students at the Institute of American Indian Arts (IAIA) in Santa Fe, New Mexico. She later attended San Francisco Art Institute on a full scholarship and earned her BFA and MFA degrees in painting. In addition to being a printmaker, painter, and mixed-media artist, Lomahaftewa taught at California State University, Sonoma, and the University of California, Berkeley. She was an instructor at IAIA for more than 40 years. Lomahaftewa lives and works in Santa Fe. 
About the Artwork 
Colorful parrot feathers have long been an important part of Hopi ceremonies. Centuries ago, the Hopi traded with Indigenous people in Mexico for the highly prized birds. In Linda Lomahaftewa's print, parrots fly on either side of a zigzag of lightning in a blue sky. As the artist works, she prays—as her father taught her—for her creative efforts to come out well.   
Discussion Questions and Activity 
See 
Take a deep breath in. As you relax, let your eyes look slowly and carefully around this picture. 
Take a moment to notice all of its different parts. 
What colors do you see? How would you describe them?  
What lines and shapes do you notice? 
What kind of animals do you see? What do they make you think about?  
Wonder 
The title of this work is Parrots Prayer Song. What does that mean to you?  
What do you think that song might sound like? 
What might the prayer song be about? 
If you could write the song, what would it sound like? 
Reflect 
Linda Lomahaftewa's work combines figures with symbols. A figure is something that is recognizable as a living thing such as a human or animal.  A symbol is a drawing, shape, or object that represents something else, such as an idea or another object. For example, a heart might be a symbol for love. Lomahaftewa included symbols inspired by her Hopi heritage and the desert landscapes of Arizona she remembers from her childhood. 
After Lomahaftewa moved away from Arizona, she sometimes felt homesick. She commented on her feelings and how they influenced her art, stating, "I would think about the desert, Arizona, and the Southwest. I began thinking about Hopi, then I started including Hopi symbols and the vegetation of the desert in my work." 
Think about the world around you. What would you want to remember or include in an artwork about your surroundings or the place where you're growing up? 
What do you think is beautiful about the world around you? 
What about the world around you makes you curious? 
Create 
Sketch symbols of nature's beauty and your curiosity of the world around you. For example, if you like the ocean, you might draw a wave. If you like the night sky, you might sketch a moon or the stars. Fill a sheet of paper or a page in your notebook with symbols of the world around you. Use these images in a drawing that shows your view of your surroundings.   
Register for evening and weekend teacher professional development workshops and apply to participate in the summer teacher institute