Release Date: September 13, 2019
National Gallery of Art Presents Special Installation of Photographs by Robert Frank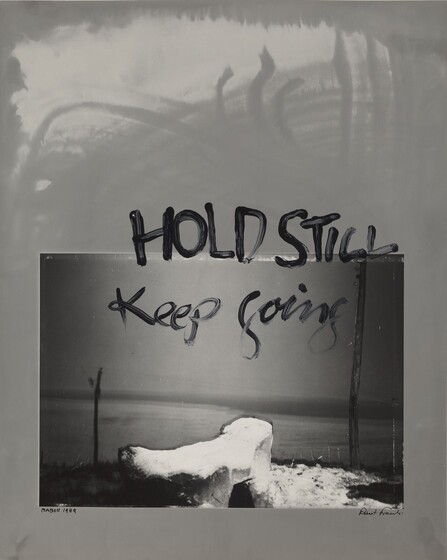 Robert Frank, Hold Still–Keep Going, 1989, gelatin silver print with acrylic paint, National Gallery of Art, Washington, Robert Frank Collection, Gift of the Collectors Committee. © Robert Frank
Washington, DC—In memory of Robert Frank, who died at age 94 on September 9, 2019, the National Gallery of Art has organized a special installation of five of the influential artist's photographs in the East Building, Concourse, on view beginning September 17. Drawn from the Gallery's collection of his work, the largest in the world, the installation presents photographs made between 1952 and 1993 that show the evolution of Frank's art—from his groundbreaking early images that evocatively captured his response to the world around him to his later diaristic pictures that pushed the boundaries of contemporary photography.
Included in the installation are two of his most celebrated early pictures: London (1952–1953), of a child running away from a hearse, and Trolley—New Orleans (1955), his poignant yet searing depiction of racism from his seminal book The Americans. Also displayed are three of his later pictures: Hold Still—Keep Going (1989), which alludes to the ways in which photography seeks to hold back the passage of time; End of Dream (1992), a unique composite work consisting of multiple color and black-and-white prints made at his home in Nova Scotia; and New York City, 7 Bleecker Street (1993), a self-portrait he made for the Gallery's 1994 exhibition Robert Frank: Moving Out.
Robert Frank (1924–2019)
Robert Frank was one of the most influential photographers of all time. Born in Switzerland in 1924, he emigrated to the United States in 1947, where he lived for most of the rest of his life. His 1959 book The Americans, with an introduction by Jack Kerouac, is one of the most influential photography books of the 20th century. It looked beneath the surface of life in the United States to reveal a country plagued by racism, ill served by its politicians, and rendered numb from a culture of consumerism that promised great choice but offered little satisfaction. But Frank also saw novel areas of beauty in the country—in its cars, diners, and even the road itself; in its music; and in those on the margins of its society. After the book's publication Frank turned to filmmaking, helping to initiate a new era in independent American cinema with such works as Pull My Daisy (1959), The Sin of Jesus (1961), and Me and My Brother (1969). In the 1970s he and his second wife, the painter and sculptor June Leaf, began to divide their time between New York City and Mabou, Nova Scotia, where Frank made both films and still photographs. Often scratching into his negatives and painting on his prints, his later photographs, which are very different from his earlier work, looked inward, focusing on his life in New York and Nova Scotia with June, and on the loss of his two children, Andrea and Pablo.
In 1990 Frank selected the Gallery to be the repository of his work, giving to the museum all of his negatives, contact sheets, and work prints related to The Americans, as well as numerous exhibition prints from throughout his life and several hand-bound volumes of photographs. The Gallery has mounted two monographic exhibitions of his art: Robert Frank: Moving Out (1994), which traveled internationally, and Looking In: Robert Frank's The Americans (2009), which traveled to the Metropolitan Museum of Art and the San Francisco Museum of Modern Art.
For additional press information please call or send inquiries to:
Department of Communications
National Gallery of Art
2000 South Club Drive
Landover, MD 20785
phone: (202) 842-6353
e-mail:
[email protected]
NEWSLETTERS:
The Gallery also offers a broad range of newsletters for various interests. Follow this link to view the complete list.