East Building to Reopen on June 30, 2022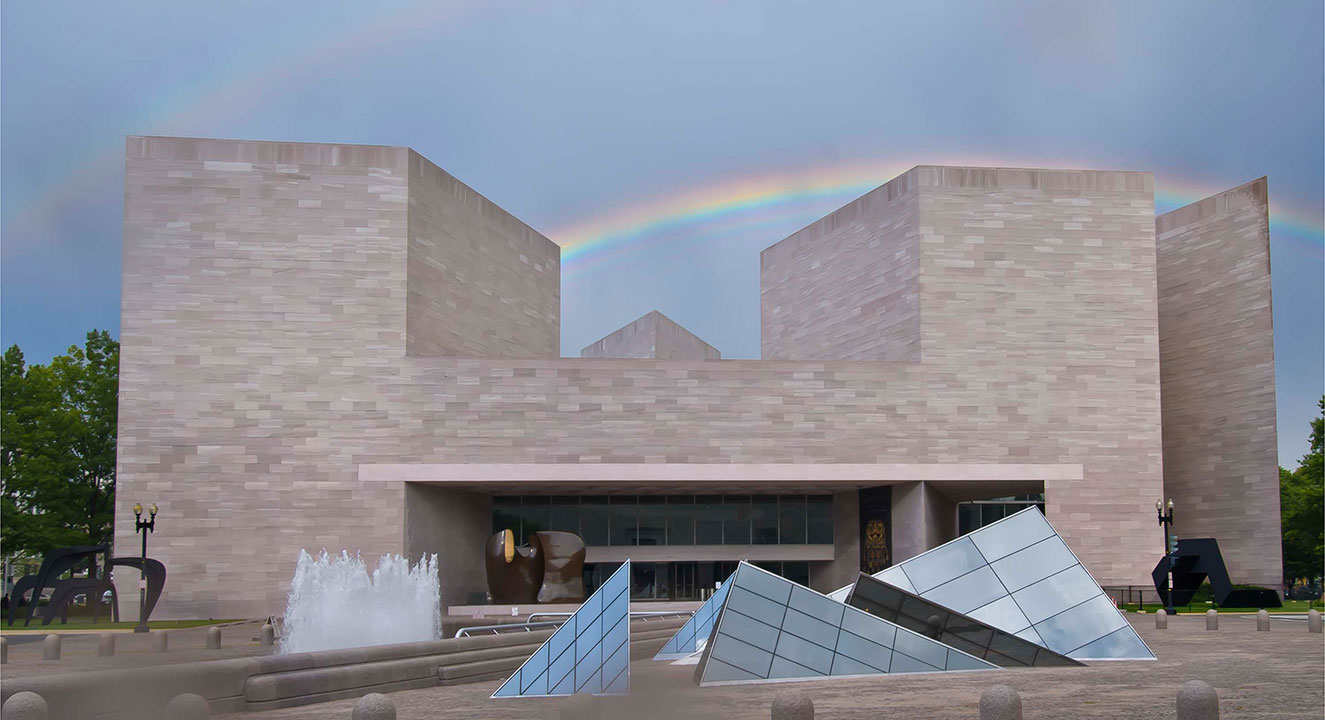 Washington, DC—The National Gallery of Art announced today that its iconic, I. M. Pei-designed East Building will reopen to the public on Thursday, June 30, 2022. The building has been closed since February 28, 2022, to accommodate the final stages of replacing its Atrium skylight.
"The modern and contemporary works shown in the East Building are beloved and an important part of any visit," said Kaywin Feldman, director of the National Gallery of Art. "We're thrilled to welcome visitors into I. M. Pei's magnificent light-filled Atrium once again to enjoy these works in person."
When the East Building reopens, the Atrium will appear brighter due to new panes of glass that have restored light to levels originally seen when the building first opened on June 1, 1978. Visitors will now enter through a more accessible main entrance, find a separate elevator lobby within the newly refurbished auditorium, and access additional or updated restrooms on the Mezzanine, Ground Floor, and Concourse. Additionally, a lactation room will be available near the auditorium. Artworks that have been under protective coverings since summer 2020 will once again adorn the Atrium space, including Isamu Noguchi's Great Rock of Inner Seeking (1974), Richard Serra's Five Plates, Two Poles (1971), Max Ernst's Capricorn (model 1947, cast 1975), Anthony Caro's National Gallery Ledge Piece (1978), and David Smith's Voltri VII (1962). Alexander Calder's iconic mobile—a site-specific sculpture created for the East Building opening in 1978—continues to undergo conservation and will be reinstalled this fall.
The East Building will welcome two new exhibitions within the first month of reopening. On July 3, The Woman in White: Joanna Hiffernan and James McNeill Whistler will bring together for the first time nearly all of Whistler's depictions of Hiffernan, including the three renowned "Symphony in White" paintings. The Double: Identity and Difference in Art since 1900, which opens on July 10, is the first major exhibition to consider how and why artists have employed doubled formats to explore perceptual, conceptual, and psychological themes.
Additional amenities in the East Building include the Terrace Café, open daily from 10:00 a.m. to 4:00 p.m., serving beverages and light fare and offering views of the National Mall. On the Concourse, the East Shop offers a wide variety of merchandise, with a focus on items inspired by modern and contemporary art. The National Gallery of Art Library continues to offer appointments for researchers and the general public, Monday through Friday, 11:00 a.m. to 4:00 p.m.
For more information on East Building renovations, visit nga.gov/renovations.

Contact Information
General Information
For additional press information please call or send inquiries to:
Department of Communications
National Gallery of Art
2000 South Club Drive
Landover, MD 20785
phone: (202) 842-6353
e-mail: [email protected]
Related Resources