April 29, 2016
(February 11, 2022)
Catalogue Raisonné of Mark Rothko's Works on Paper in Progress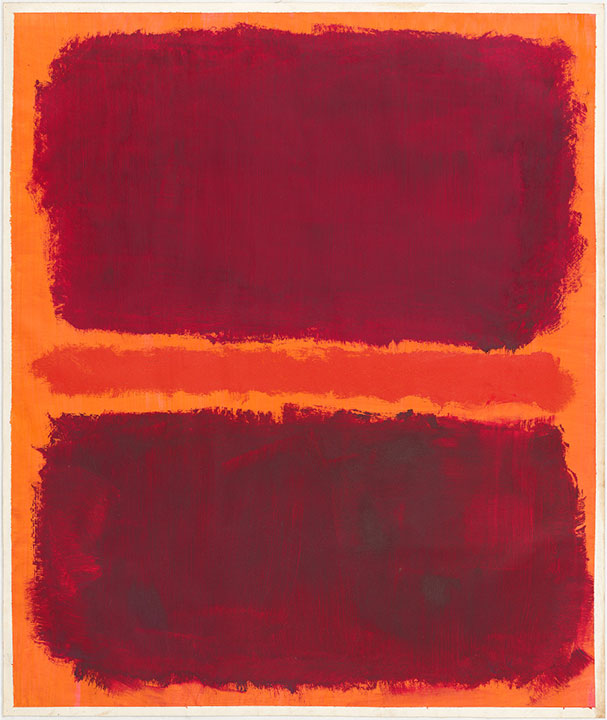 Online Resource Launched at rothko.nga.gov; Print Publication to Follow
Washington, DC—The National Gallery of Art maintains the largest public collection of art by the American artist Mark Rothko (1903–1970). Following the publication in 1998 of its landmark catalogue raisonné of Rothko's works on canvas, the National Gallery embarked on research into Rothko's works on paper. The culmination of this decades-long process of cataloging will be an online resource compiling the drawings and paintings on paper. In February 2019, the National Gallery launched the online resource at rothko.nga.gov with 900 works, all in the collection of the National Gallery. As of February 2022, the resource has grown to include 1,903 works, having incorporated works in the collections of the Rothko family. Works in other public and private collections will continue to be added through 2023. A print publication of the catalogue raisonné will follow.
Mark Rothko: The Works on Paper will document and illustrate some 2,600 works by Rothko located in public and private collections worldwide. Demonstrating the range of the artist's creative achievements, the online and print publications will be the definitive scholarly references for Rothko's works on paper, a body of work largely unknown to art specialists and the public alike. The National Gallery continues to seek information about drawings and paintings on paper to be considered for inclusion in the catalogue raisonné. Those with information can contact [email protected] or 202.842.6779. All information associated with the ownership of works of art documented in the catalogue raisonné is held in confidence by the National Gallery, and all wishes for anonymity will be fully respected.
Mark Rothko: The Works on Paper follows the award-winning catalogue raisonné Mark Rothko: The Works on Canvas by David Anfam, published in 1998 by the National Gallery of Art and Yale University Press, which documented 834 known paintings.
Rothko's Works on Paper
During the 1920s and 1930s Rothko produced more than 1,500 figurative works in watercolor, ink, and graphite on loose sheets of paper and in sketchbooks. These include landscapes of various locations, most prominently Portland, OR, where he immigrated in 1913 from Dvinsk, Russia (now Daugavpils, Latvia), and places where he frequently summered, such as Lake George, NY, and Cape Ann, MA. From 1924, when Rothko settled in New York City, the geometries of the metropolis feature in urban views and subway scenes. Throughout this early phase of his career, Rothko also produced dozens of nude studies, intimate domestic scenes, and portraits of family and friends. Very few of these early works have ever been reproduced.
In the 1940s Rothko's work entered an experimental phase as he explored a range of styles rooted in expressionism, symbolism, and surrealism and used subject matter drawn from mythological, classical, biblical, ethnographic, scientific, and other sources. At mid-decade, he produced a remarkable body of luminous surrealist watercolors featuring biomorphic shapes; the fluidity of these works was integral to Rothko's transition toward complete abstraction.
Between 1947 and 1949 Rothko's works, which later came to be known as multiforms, eschewed figural associations and were marked by asymmetrically arranged patches of color hovering within a chromatic field. The artist would eventually develop the multiforms into his signature style: soft-edged rectangles set against a ground of uniform color in a vertical format.
Rothko worked on paper throughout the 1950s and 1960s, often mounting paintings executed in acrylic, oil, watercolor, or some combination thereof on hardboard panels or stretched canvases. In the final two years of his life Rothko made nearly 350 paintings on paper, compared to just 25 on canvas. This late turn to paper is usually explained with reference to his health problems, but this is belied by the fact that some of these works are as big as 84 by 59 inches, easily the size of his larger canvases.
The Authors and Advisors
The catalogue raisonné is being compiled and written by Adam Greenhalgh, associate curator, National Gallery; Laili Nasr, project coordinator and contributing author, who has been involved with the Rothko catalogue raisonné project at the National Gallery since its inception; and Michaela Milgrom, research assistant, with guidance from an advisory committee.
Mark Rothko and the National Gallery
In 1986 the Mark Rothko Foundation determined that its mission to conserve its collection of Rothko's art and to enhance and promote Rothko's legacy through scholarly research and exhibitions would best be served by strategically placing his canvases and works on paper in major museums internationally. The foundation designated 35 institutions to receive the art, among them the Art Institute of Chicago; the Harvard University Art Museums, Cambridge, MA; the Menil Collection, Houston, TX; the Metropolitan Museum of Art, New York, NY; the Museum of Modern Art, New York, NY; and the Tate, London. As the principal recipient of the Mark Rothko Foundation's gift, the National Gallery received more than 1,100 works—paintings on canvas and panel and works on paper—as well as research materials, including conservation records and exhibition reviews.
In 2007, Rothko's children, Kate Rothko Prizel and Christopher Rothko, further enhanced the National Gallery's holdings by donating to its library the manuscript for their father's book, The Artist's Reality: Philosophies of Art, which was edited by Christopher Rothko and published in 2004 by Yale University Press.
The National Gallery has presented the works of Mark Rothko in several special installations and exhibitions. In 1984, Mark Rothko: Works on Paper 1925-1970, organized by the Mark Rothko Foundation and circulated by the American Federation of Arts, opened at the National Gallery and traveled throughout the United States. In 1998, Jeffrey Weiss, then a National Gallery curator of modern and contemporary art, organized the retrospective Mark Rothko. The 2003–2007 installation Rothko's Mural Commissions marked the centennial of Rothko's birth. In 2010–2011, In the Tower: Mark Rothko presented seven of Rothko's black-on-black paintings from 1964 and nine earlier works, while in 2011–2012, an installation featured three paintings derived from Rothko's Seagram Murals project.
Additionally, since receiving the gift from the Mark Rothko Foundation in 1986, the National Gallery's National Lending Service has lent more than 240 works by Rothko to more than 200 museums, galleries, and embassies worldwide.
When the National Gallery's East Building reopened in 2016 following renovations, it added a new gallery that became the museum's first space dedicated to the work of Mark Rothko. Since then, the skylit space on the Tower Level has consistently featured a rotating selection of paintings from the National Gallery's collection and become a beloved destination of visitors to the museum.
Catalogue Raisonné Scholarship at the National Gallery
The Rothko catalogues raisonnés join similar scholarly projects undertaken by the National Gallery, including The Prints of Roy Lichtenstein: A Catalogue Raisonné, by Mary Lee Corlett with Ruth Fine (1994; 2nd ed., 2002); Georgia O'Keeffe: Catalogue Raisonné, by Barbara Buhler Lynes (1999; in collaboration with the Georgia O'Keeffe Foundation); Gemini G.E.L., one of the first online catalogues raisonnés, compiled by Charles Ritchie, Claude L. Elliott, and Jonathan F. Walz, under the direction of Ruth Fine and Judith Brodie (2001); and Alfred Stieglitz: The Key Set, by Sarah Greenough (2002; Online Edition, 2019).
Contact Information
General Information
For additional press information please call or send inquiries to:
Department of Communications
National Gallery of Art
2000 South Club Drive
Landover, MD 20785
phone: (202) 842-6353
e-mail: [email protected]
Related Resources