National Gallery of Art Announces New Artle Archive as Game Surpasses Six Million Plays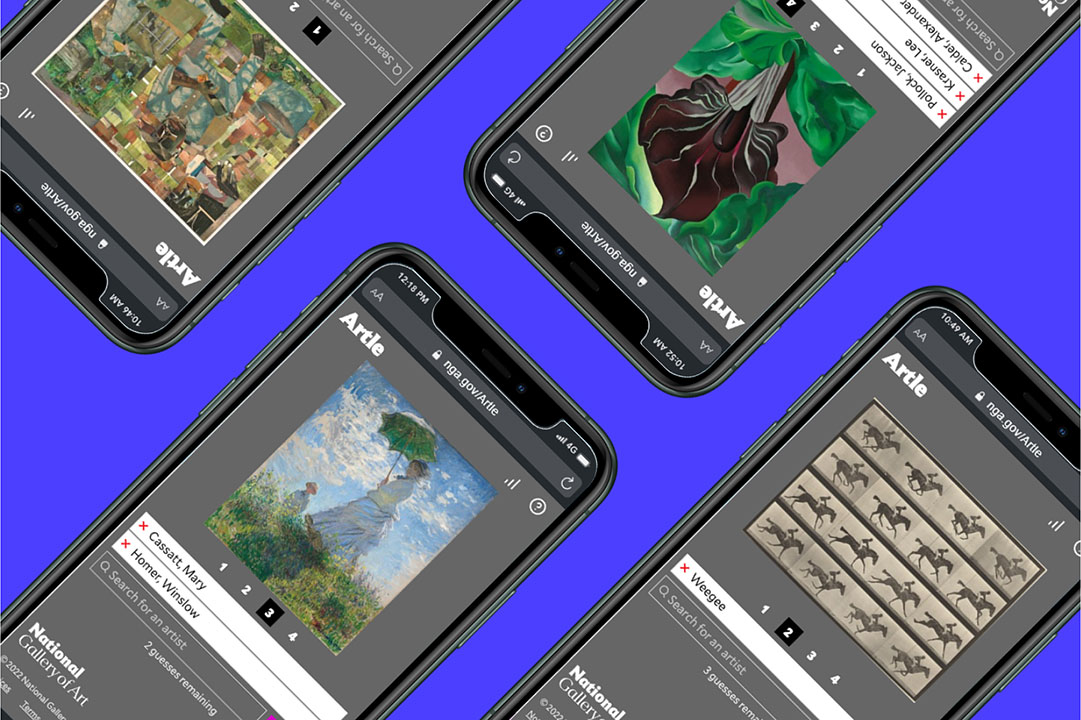 Key facts:
· Artle has been played by over one million people from nearly every country across the globe for a total of over six million plays—more than doubling nga.gov traffic.
· Building on the game's popularity, the National Gallery of Art has now launched Artle Archives—a collection of more than 200 puzzles with exciting new features.
· Players can now filter puzzles by difficulty, by the artist's nationality and century and create their own collection.
· The artists most likely to be guessed correctly include Vincent van Gogh, Pablo Picasso, and Andy Warhol.
· The artists players found most difficult to guess include Palestinian artist Samia Asaad Halaby, American photographer Wayne Miller, and Washington, DC, artist Lou Stovall.
· In collaboration with National Museum of Women in the Arts, the game will feature women artists every Friday starting February 17 and through Women's History Month

Washington, DC—The popular National Gallery of Art daily guessing game, Artle, recently launched Artle Archive, a collection of more than 200 past Artle games. The Archive lets new players discover artists previously highlighted on Artle since its launch, while returning players can test their memories.
You can now view the full list of more than 200 games, or filter by difficulty, artist's nationality, and century. Feeling confident after correctly guessing a few? Up the ante and play "hard" games. Looking for a fun way to brush up on your American art history? Play through the full catalog of American artists featured on Artle.
Using the filter feature, you can also create your own custom Artle collection of multiple puzzles and share the link with others to challenge them to your unique Artle collection. The feature is a useful tool for educators, allowing them to share collections of games with students.
In October, the National Gallery also began to include a weekly game with works from the collection of the Art Institute of Chicago. Artle will feature works from the National Museum of Women in the Arts every Friday in March, a collaboration with the #5WomenArtists campaign, which challenges people to name five women artists.
Background and Impact
The National Gallery of Art launched Artle on May 9, 2022, as a fun way to discover new artists and interact with art daily. Taking inspiration from Wordle, the popular word-based guessing game acquired by the New York Times, Artle was immediately popular after launch and continues to engage thousands of art lovers and learners around the world. Since its launch, the game has been played more than six million times by one million people from nearly every country across the globe.
Drawing on the depth of the National Gallery's collection of more than 150,000 works, Artle has highlighted artists from all nationalities and time periods, including Romare Bearden, Lee Krasner, Albrecht Dürer, Berthe Morisot, Nam June Paik, Käthe Kollwitz, Ilse Bing, Sandro Botticelli, and dozens of others.
The game has also broadened players' awareness of artists. When presented with an artist they didn't know, players were twice as likely to click through to nga.gov to learn more about them, resulting in 1.2 million additional website sessions.
How the game works
Artle shows players four artworks by a single artist, offering them four chances to guess the artist's name. The game starts with a lesser-known work and progresses to more recognizable works or includes hints. After four guesses, players can share their results and click through to the National Gallery's website to learn more about the artist. The daily games vary by artists' recognizability, genres, mediums, and time periods.
Artle is accessible at nga.gov/artlearchive
"Artle" is a trademark of the National Gallery of Art.
Players can also sign up to receive a daily email reminder to play.

Contact Information
General Information
For additional press information please call or send inquiries to:
Department of Communications
National Gallery of Art
2000 South Club Drive
Landover, MD 20785
phone: (202) 842-6353
e-mail: [email protected]
Related Resources