National Gallery of Art Appoints Genia Reaves as Chief of Protection Services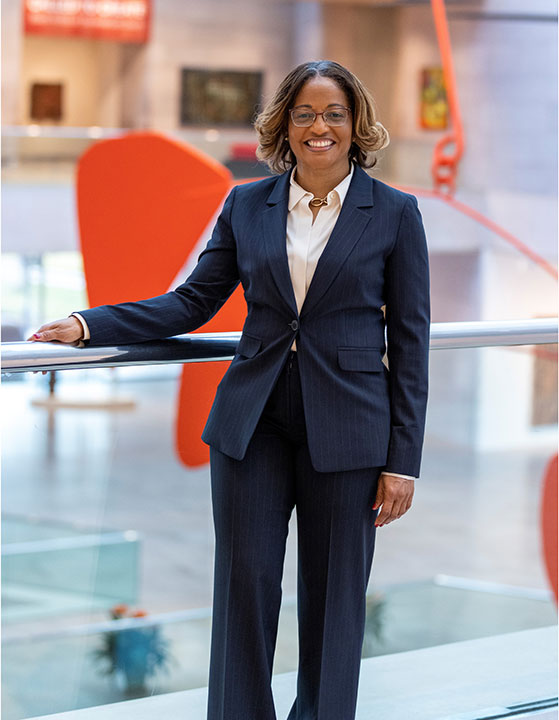 Washington, DC–The National Gallery of Art announced today the appointment of Genia Reaves as chief of protection services. Chief Reaves has been with the National Gallery since 2016, serving as assistant chief and acting chief of the same division.
Housed within the Office of the Administrator, the chief of protection services leads all National Gallery efforts related to the security, protection, and health of our staff, visitors, and collection. In this position, Chief Reaves will continue to lead a staff of over 300 people and will be responsible for ensuring that these employees are best prepared to provide protection services to the National Gallery. She will also act as the museum's senior advisor in day-to-day and special relations with law enforcement and with the security details of senior officials visiting our facilities, from the president to foreign dignitaries.
"In the past 18 months, Chief Reaves has proven herself to be an empathetic and people-centered acting chief, with an uncanny ability to balance strategic thinking with logical and care-driven leadership. This, coupled with her long and impressive law enforcement background, make her the ideal person to lead the National Gallery's protection services into the future," said Sheila McDaniel, Administrator at the National Gallery Art.
"The work of our department has a huge impact, not just for the visitors but for the nation. It is a great honor to lead this team and make sure they have all the resources they need to best protect our staff, visitors, and collection," said Chief Reaves.
Genia Reaves
Chief Genia Reaves joined the National Gallery of Art in 2016 after retiring from the Prince George's County Police Department in Maryland. She served in several positions during her 22 years with that department. She began her career as a patrol officer and community oriented policing officer, later working as a recruiter. Chief Reaves was then assigned to the Criminal Investigation Division as an investigator, where she held various supervisory and managerial positions and achieved the ranks of sergeant, lieutenant, and captain.
In her final position prior to retirement, she was the acting deputy chief of the Bureau of Administration and Homeland Security. Chief Reaves' other positions included district commander, assistant district commander, assistant commander of the Criminal Investigation Division, commander of Advanced Officer Training, commander of the Special Crimes Section, and supervisor of the Child and Vulnerable Adult Abuse Unit.
As the assistant chief and acting chief of protection services at the National Gallery, Chief Reaves has contributed her expertise to the department she will now run. She has played a crucial role in everything from the safe movement of art and developing and coordinating both practical and leadership training for security staff and supervisors to acting as a point person for all security-related matters at the museum.
Chief Reaves holds a bachelor's degree in criminal justice from the University of Maryland and an associate's degree in business management from Prince George's Community College.
Contact Information
General Information
For additional press information please call or send inquiries to:
Department of Communications
National Gallery of Art
2000 South Club Drive
Landover, MD 20785
phone: (202) 842-6353
e-mail: [email protected]
Related Resources