National Gallery of Art Receives $500,000 Grant to Advance Latinx Art with New Associate Curator Position and Funds for Acquisitions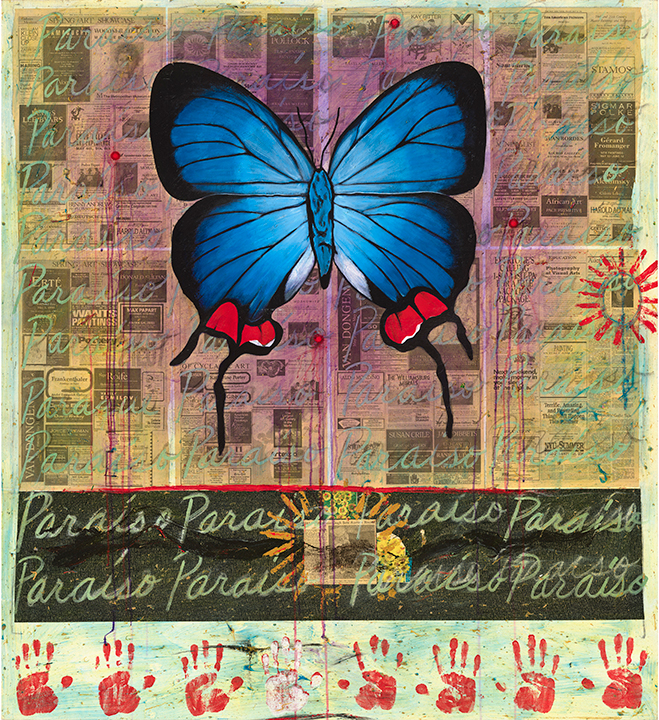 Washington, DC— (Leer en español) The National Gallery of Art announced today that it has received a $500,000 grant from the Getty Foundation as part of the Advancing Latinx Art in Museums (ALAM) initiative. This multi-year funding collaboration, which seeks to nurture and prioritize Latinx art in the United States, is supported by the Mellon, Ford, Getty, and Terra foundations. The National Gallery is one of ten participating institutions in the US and Puerto Rico.
This critical funding supports the National Gallery's creation of the position of an associate curator with expertise in Latinx art. The establishment of this position recognizes our commitment to reflecting the nation in our staff and collection, specifically by engaging Latinx artists and audiences. Applications for this National Gallery curatorial position open on February 17.
"We are honored and grateful to receive a significant grant as part of the Advancing Latinx Art in Museums initiative. This new curatorship will help further our mission to serve the nation by welcoming all people to explore and experience art, creativity, and our shared humanity, a nation that includes a rapidly growing Latinx population. We extend our deepest thanks to our ALAM foundation partners for their generosity and commitment to Latinx art," said Kaywin Feldman, director of the National Gallery of Art.
Under the leadership of chief curatorial and conservation officer E. Carmen Ramos, a leading voice in the study of Latinx art, the associate curator will identify potential works for acquisition into the permanent collection. A portion of ALAM grant funds is designated to support the purchase of art by Latinx artists. Informed by their expertise in the field, the associate curator will also organize exhibitions and contribute to scholarship that will deepen our understanding of the important yet understudied field of Latinx art.
Ramos said of the opportunity, "The establishment of an associate curator position in Latinx art represents a resounding public statement by the National Gallery of Art to embrace Latinx art more fully in all we do. Our renowned collection offers opportunities for Latinx art to be presented in dialogue with both the national and the global, and we anticipate that the curator's work will benefit from the breadth and depth of our expanding holdings. With this new curatorial position, we will affirm the importance of Latinx art and artists in the wider story of art and reinforce our commitment to engage and serve Latinx audiences."
The National Gallery's revived mission, vision, values, and strategic priorities, articulated in 2021, call on us to reflect and attract the changing nation that we serve by centering diversity, equity, access, and inclusion in our work and by diversifying the stories we tell, the ways in which we tell them, and ourselves. During Kaywin Feldman's first three years as director, more than half of the works of art acquired by purchase were by artists of color, and nearly a third of total exhibitions and installations approved and planned through 2026 feature artists of color. In addition to the new curatorial position in Latinx art, in 2021 the National Gallery established a new curatorial position in African American and Afro-Diasporic art. All curatorial staff are now actively engaged with a range of leading voices in the field as they develop expanded collecting plans and consider how to present inclusive historical and contemporary narratives. The Center for Advanced Study in the Visual Arts has welcomed new fields of art historical inquiry and has made key appointments of fellows and lecturers in underrepresented areas, such as Middle Eastern, African American, Native American, and Latinx art and architecture. Meanwhile, the National Gallery leadership team and elected trustees have gone from 0% to 60% and 40% BIPOC, respectively, and small but measurable progress has been made at all levels of the organization in building a staff that more closely reflects the local and national workforce.
For more information on Advancing Latinx Art in Museums, visit www.getty.edu/news/new-initiative-allocates-5m-for-latinx-art-in-museums/.
About The Andrew W. Mellon Foundation
The Andrew W. Mellon Foundation is the nation's largest supporter of the arts and humanities. Since 1969, the Foundation has been guided by its core belief that the humanities and arts are essential to human understanding. The Foundation believes that the arts and humanities are where we express our complex humanity, and that everyone deserves the beauty, transcendence, and freedom that can be found there. Through our grants, we seek to build just communities enriched by meaning and empowered by critical thinking, where ideas and imagination can thrive. Learn more at www.mellon.org.

About the Ford Foundation
The Ford Foundation is an independent organization working to address inequality and build a future grounded in justice. For more than 85 years, it has supported visionaries on the frontlines of social change worldwide, guided by its mission to strengthen democratic values, reduce poverty and injustice, promote international cooperation, and advance human achievement. Today, with an endowment of $16 billion, the foundation has headquarters in New York and 10 regional offices across Africa, Asia, Latin America, and the Middle East. Learn more at www.fordfoundation.org.
About the Getty Foundation
The Getty Foundation fulfills the philanthropic mission of the Getty Trust by supporting individuals and institutions committed to advancing the greater understanding and preservation of the visual arts in Los Angeles and throughout the world. Through strategic grant initiatives, the Foundation strengthens art history as a global discipline, promotes the interdisciplinary practice of conservation, increases access to museum and archival collections, and develops current and future leaders in the visual arts. It carries out its work in collaboration with the other Getty Programs to ensure that they individually and collectively achieve maximum effect. Additional information is available at www.getty.edu/foundation.
About the Terra Foundation for American Art
The Terra Foundation for American Art, established in 1978 and having offices in Chicago and Paris, supports organizations and individuals locally and globally with the aim of fostering intercultural dialogues and encouraging transformative practices that expand narratives of American art, through the foundation's grant program, collection, and initiatives. Learn more at www.terraamericanart.org.
Contact Information
General Information
For additional press information please call or send inquiries to:
Department of Communications
National Gallery of Art
2000 South Club Drive
Landover, MD 20785
phone: (202) 842-6353
e-mail: [email protected]
Related Resources