National Gallery of Art Appoints Steven Mann as Head of Exhibitions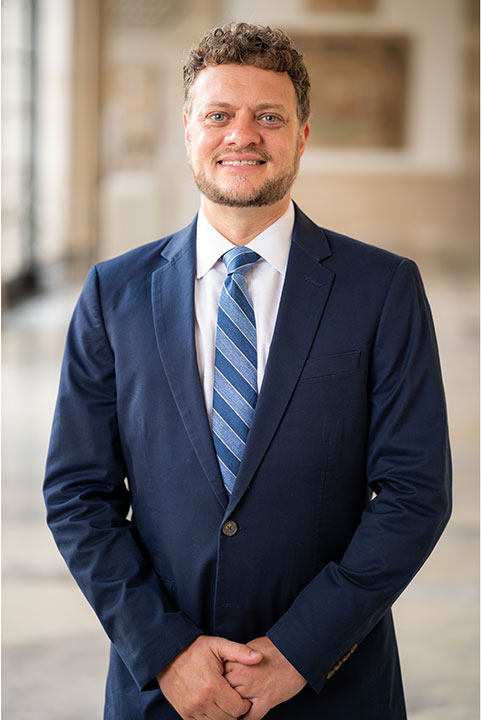 Washington, DC—The National Gallery of Art announced today the appointment of Steven Mann as head of exhibitions. Mann hails from the Baltimore Museum of Art, where he has been the senior director of exhibitions and program alignment since 2019. He begins his National Gallery post on March 27, 2023.
The position of head of exhibitions is in the Division of Collections, Exhibitions, and Programs. Special exhibitions and temporary collection installations, including loan exhibitions, collection-based exhibitions, and smaller installations, are all planned and executed by the National Gallery's seasoned exhibitions department. As a member of the senior staff, Mann will collaborate with colleagues from across the museum to execute a program that meets our vision to be of the nation and for all the people, capitalizing and expanding on the National Gallery's outstanding collection of European and American art. He will also be a key figure in exhibition partnerships with museums across the country and around the world.
"Steven has an impressive 25-year track record as a leader in art museums, organizing and realizing exhibitions seen by millions of visitors. We are thrilled to welcome him to the National Gallery, where his depth of knowledge and experience will complement and enhance that of our excellent staff, with whom he will work to advance our mission, vision, values, and strategic priorities through exhibitions," said Kate Haw, executive officer for collections, exhibitions, and programs at the National Gallery of Art.
"Art has long served to document and analyze the nature of our society. As our country evolves, so do the ways in which audiences seek to engage with artwork and cultural institutions. It is an honor to support this evolution through the vision and mission of the National Gallery of Art under Kaywin Feldman's leadership and to help ensure the museum and its exhibitions program reflect the nation and its current realities. I am thrilled for this opportunity to reach new and existing audiences in our nation's capital, across the country, and around the world," said Mann.
Steven Mann
During his multi-decade career as an exhibitions planning lead at the Baltimore Museum of Art, the Museum of Arts and Design in New York, the American Federation of Arts in New York, and Mondo Mostre in Rome, Mann has collaborated with renowned curatorial staff, esteemed private collectors, and cultural organizations around the globe.
While at the Baltimore Museum of Art, where he served in several positions and most recently as senior director of exhibitions and program alignment, Mann oversaw the selection, planning, and implementation of all the museum's artwork displays, from special exhibitions to collection reinstallations, rotations, commissions, sculpture gardens, offsite projects, and traveling exhibitions. Mann led the exhibition design and installation departments as well as the museum's facility rental program and auditorium.
Mann also has deep experience in the field of traveling exhibitions. At Mondo Mostre, Mann led their division of North American projects, where he expanded the exhibitions program in the United States and Canada. As associate director of exhibitions and programs at the American Federation of Arts in New York, Mann led the development and implementation of the highest-profile projects at that traveling exhibitions firm.
For many years Mann has volunteered for the Institute of Museum and Library Services (IMLS) and currently serves on the steering committee of American Exhibitions Organizers. He holds an MA in museum studies from Harvard University, received his BS in art education from the University of Vermont, and is a certified project management professional (PMP).
Contact Information
General Information
For additional press information please call or send inquiries to:
Department of Communications
National Gallery of Art
2000 South Club Drive
Landover, MD 20785
phone: (202) 842-6353
e-mail: [email protected]
Related Resources