National Gallery of Art Launches New Video Series Exploring Contemporary Artists and Their Communities Across the Nation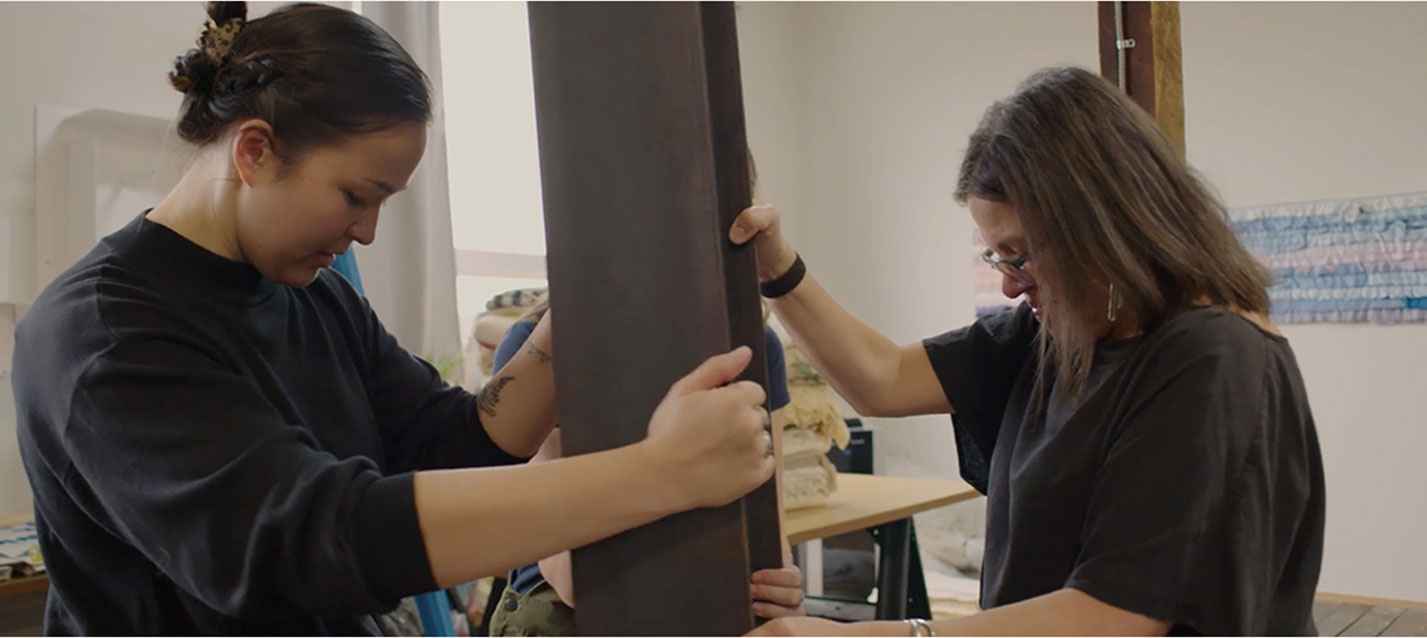 Washington, DC—The National Gallery of Art has launched West to East, a new cross-country video series about contemporary artists whose work actively explores connections to their distinct communities and to the nation at large. Through interviews and extensive footage captured on location, the series will focus on artists working outside of well-known "art hubs."
Episode 1 of West to East, "Turtle Island," features Marie Watt (Seneca Nation of Indians/European descent, b. 1967). In her artistic practice, which draws from Native histories, knowledge, biography, and belief systems, Watt investigates past, present, and future in community. "I think in a lot of my work, I use our stories that have, for me, cultural resonance. In our community, Turtle Island is considered North America. But in some tribes, Turtle Island is the planet Earth, and is an integral part of our creation story," said Watt.
Episode 1: Turtle Island
In episode 1, Watt shares the story of Turtle Island and its connection to her work, family, and Native American history. Interwoven with Watt's story is the story of Tomanowos, a sacred meteorite that shaped the geology and history of the Willamette Valley, where Watt lives and works. The story of Tomanowos was nearly lost until the Confederated Tribes of Grand Ronde reclaimed it and restored it to prominence. This episode reminds us that Indigenous teachings, stories, and culture are vital guides in reshaping how we connect with places, one another, and the universe, and asserts histories that existed long before this land was known as the United States of America. Viewers will discover the ways that meteorites, steel, and blankets carry stories into the future.
West to East was produced by RAVA Films in partnership with the National Gallery of Art.
The Land Carries Our Ancestors: Contemporary Art by Native Americans
Watt is included in the National Gallery's upcoming exhibition The Land Carries Our Ancestors: Contemporary Art by Native Americans, on view from September 24, 2023, through January 15, 2024. Curated by artist Jaune Quick-to-See Smith (Citizen of the Confederated Salish and Kootenai Nation), the exhibition of some 50 living Native artists will powerfully visualize Indigenous knowledge of land/landbase/landscape. The National Gallery recently announced the acquisition of Watt's sculptures that will be on view in the exhibition: Antipodes (2020), a two-part beaded work that addresses the temporal, material, linguistic, and spatial constructs of distance in Indigenous culture.
Contact Information
General Information
For additional press information please call or send inquiries to:
Department of Communications
National Gallery of Art
2000 South Club Drive
Landover, MD 20785
phone: (202) 842-6353
e-mail: [email protected]
Related Resources