Acquisition: Rashid Johnson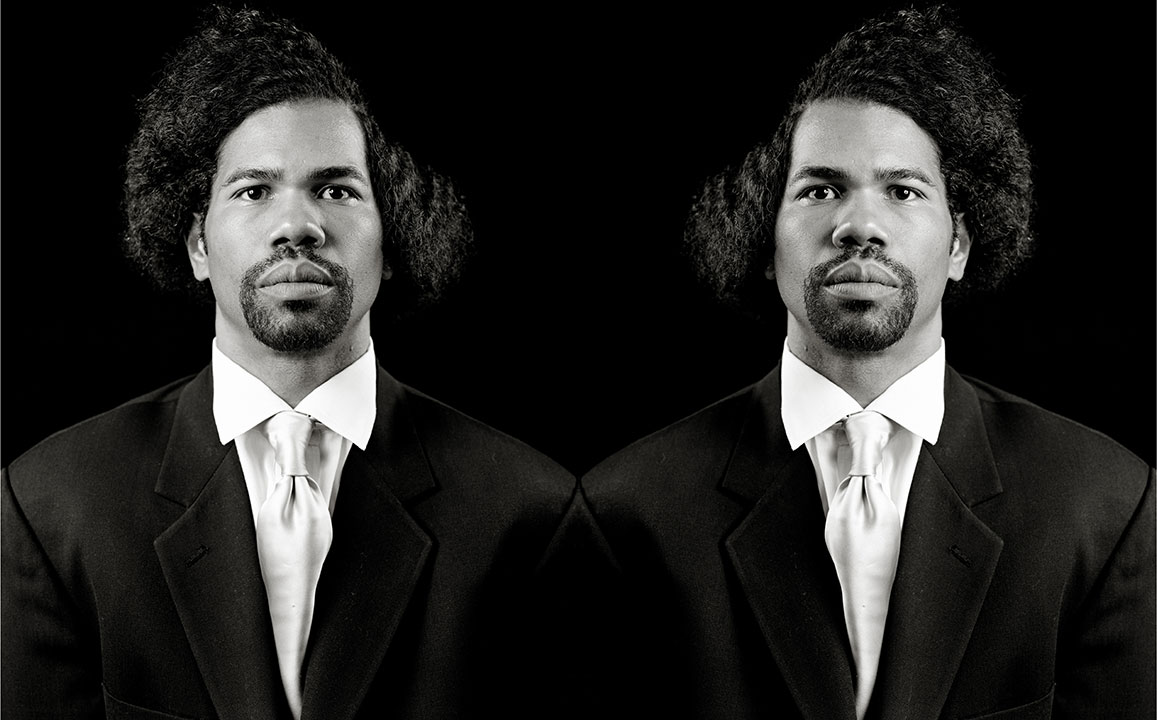 Rashid Johnson (b. 1977) is a highly celebrated contemporary artist who explores African American themes and issues of racial, cultural, and gender identity in a range of media. The National Gallery of Art has acquired its first photograph by Johnson, The New Negro Escapist Social and Athletic Club (Emmett) (2008, printed 2022), which depicts two portraits of one individual (one inverted left to right from the other).
In 2008, inspired by Black middle-class clubs formed in the early 20th century to aid fellow African Americans as well as by Afrofuturist thinkers such as Sun Ra, Johnson invented a mystical secret society—The New Negro Escapist Social and Athletic Club. The name references the term "New Negro," coined by critic Alain Locke in 1925 to describe a rising generation of self-confident, assertive, and socially aware Black intellectuals. Johnson made a series of portraits from 2008 to 2009 that depicts the members of this fictional men's club.
This picture's title also refers to Emmett Till, the 14-year-old African American boy who was brutally murdered by white supremacists in Mississippi in 1955. The devastating photograph of Till's mangled body published in Jet magazine at the insistence of his mother may seem disconnected from Johnson's portrait of a well-dressed, well-groomed sitter. But this extraordinarily multilayered work offers yet another reference: the model's parted hair and goatee recall portraits of the abolitionist Frederick Douglass, reputedly the most photographed man of the 19th century.
Contact Information
General Information
For additional press information please call or send inquiries to:
Department of Communications
National Gallery of Art
2000 South Club Drive
Landover, MD 20785
phone: (202) 842-6353
e-mail: [email protected]
Related Resources