Acquisition: The Ross J. Kelbaugh Collection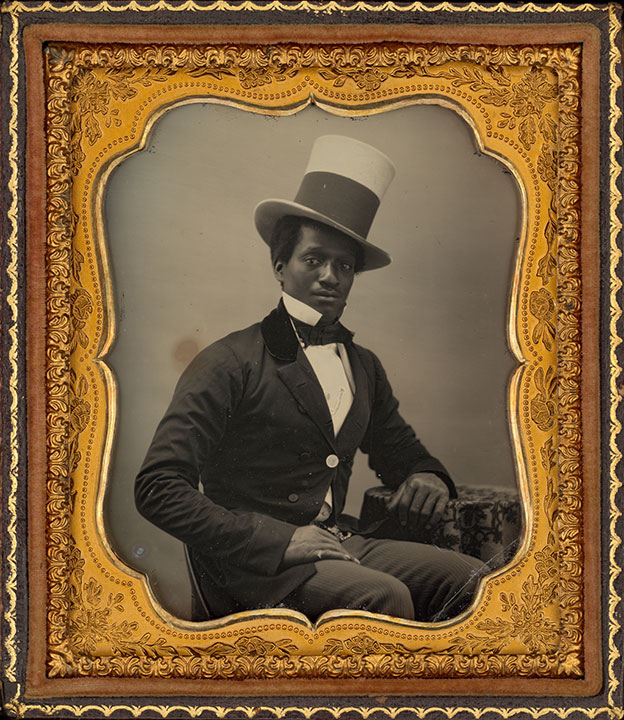 The National Gallery of Art has acquired the Ross J. Kelbaugh Collection, one of the most important holdings of 19th- and early 20th-century American vernacular photographs, purchased with support from the Ford Foundation. Formed over 50 years, it includes 248 photographs of and by African Americans made from the 1840s through the early 20th century that provide compelling insights into the nature of the American experience through an examination of the lives of everyday people. The pictures in this collection contribute to our understanding of the forces that have helped shape modern America. The collection will be featured as part of the National Gallery's commemoration in 2026 of the 250th anniversary of the nation's founding, presenting an opportunity to reflect on our past as depicted and lived by artists and look to the future.
The Kelbaugh collection contains many pictures of African Americans—several were made without the consent of their subjects, often to support white concepts of family, wealth, and status. Among these images are disquieting photographs of African American women shown attentively caring for their white charges while they were denied the ability to form their own stable family units. In one haunting picture of two young African American girls holding hands, a label pasted on the front states "Peculiar Institution"—the euphemism used by John C. Calhoun and other defenders of slavery in the South. Other images were taken to aid abolitionist causes and sold to support the education of newly freed people; for example, the carte de visite entitled Wilson Chinn, a Branded Slave from Louisiana depicts a man wearing a spiked neck collar, ankle chains, and an iron leg brace. While the purpose of other photographs is not known, the picture of two men—one Black, one white—holding hands could reflect the widely embraced abolitionist slogan "Am I not a Man and a Brother?"
Most of the pictures in the Kelbaugh collection were made to bear witness to Black pride and accomplishment. Although the identity of several of the people depicted is unknown, their elegant clothing and determined, self-confident expressions suggest that they were freemen and freewomen eager to record their prosperity. Many were made to ensure that history remembered their subjects, such as the tintype with color applied by an unknown artist that included a slip of paper inscribed "Annie/Remember Me." Several images celebrate acts that were previously denied to African Americans. For example, an unknown Civil War soldier paid extra for the photographer to highlight with gold not only his ring, brass buttons, and belt buckle, but also his knife and revolver, which he, like other African Americans, had previously been prohibited from possessing. After Emancipation, in an important rebuttal to the practice of depicting enslaved women with white children, some prosperous African American women had themselves recorded with their own children, while others had their children depicted carrying haversacks, as if on their way to school, another right previously denied to African Americans. Still others depicted themselves with books, proudly projecting an air of defiance.
The Kelbaugh collection includes 11 rare photographs by the three most celebrated early Black photographers: James Presley Ball (1825–1905), Glenalvin Goodridge (1829–1867), and Augustus Washington (1820/1821–1875) as well as photographs of celebrated African Americans, such as Frederick Douglass and Josiah Henson (whose courage and resilience inspired Harriet Beecher Stowe's portrayal of the hero in her book Uncle Tom's Cabin). Several pictures directly address the history of enslavement, recently freed enslaved people on the Bullard Plantation, Louisiana, as well as Reconstruction. The collection extends into the 20th century, with compelling portraits of distinguished African American members of the Knights of Pythias and World War I and II soldiers.
Now retired, Ross Kelbaugh began collecting photographs in the 1970s when he was a young social studies teacher in the Baltimore public schools. He found that he could use these photographs as a springboard for learning in his classroom. Just as important, he knew that the numerous photographs of African Americans that he discovered as he built his collection—pictures that were largely overlooked by other collectors at the time—could engage his racially diverse students, allowing them to see that everyone's past, as he has written, "is an integral part of this nation's story of E pluribus unum, out of many, one."
Contact Information
General Information
For additional press information please call or send inquiries to:
Department of Communications
National Gallery of Art
2000 South Club Drive
Landover, MD 20785
phone: (202) 842-6353
e-mail: [email protected]
Related Resources