ASR, TNC, uff. 11, 1590, pt. 1, vol. 15, fol. 628r
Summary
1590/04/05
Archivio di Stato di Roma (ASR)
The mason Giovanni Barili gives quittance to the Società di San Luca for the sum of 50 scudi. He receives the money for work completed in the church of Santa Martina.
Transcription
[fol. 628r]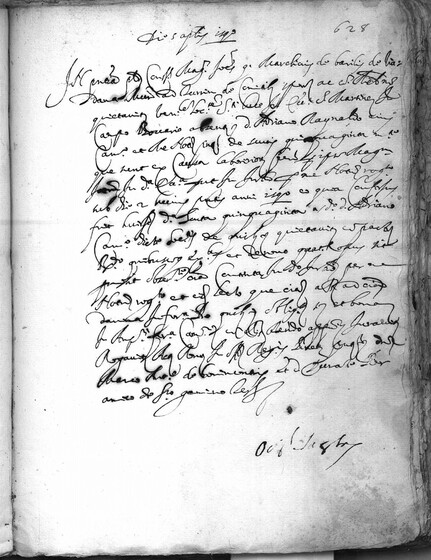 Die 5 aprilis 1590
IN presentia personaliter Constitutus Magister Io.es q. Marchionis de Barilis de Via-
dana Murator ad Turrim de Comitibus sponte ac omni Meliori modo etc.
quietavit Venerabilem Societatem Sancti Luce In Ecclesia S. Martinae In
Campo Bovario absentem d. Adriano Raynaldo eius
Camerario et Me Notario presente de scutis qui[n]quaginta[1] [1]
Brackets denote illegible passages due to ink spots on paper. monete
que sunt ex Causa laboreriorum factorum per ipsum Magistrum
Io'em In dicta Ecclesia prout In Instrumento per me Notarium rogato
sub die 2 huius presentis anni 1590 eo quia Confessus
fuit [...] [2] [2]
Unclear. dicta Scuta quinquaginta a dicto d. Adriano
Camerario dicte Societatis de quibus etc. quietavit cum pacto
Renuntiando quibuscumque expensibus et de novo quatenus opus sit
prosit observare omnia Contenta In dicto Instrumento per me
Notarium rogato et eidem Lecto que omnia etc. alias etc. ad omnia
damna In forma Pro quibus etc. obligavit etc. se etc. et bona etc.
In Ampliori forma Camerae etc. cum clausulis Renunciando appellationi etc. Iuravit etc.
Rogavit etc. Actum Rome etc. In officio etc. Regionis Pineae presentibus etc. dictis etc
Marco Antonio de Bonincontris et d. Durate Pier-
amico de Sancto Gemino testibus etc.
Oct.s Saravezzius [...] [2] [2]
Unclear. [3] [3]
Unclear. etc.