ASR, TNC, uff. 11, 1598, pt. 2, vol. 38, fol. 67r
Summary
1596/01/24
Archivio di Stato di Roma (ASR)
On behalf of the Compagnia di San Luca, Antonio Orsini receives 4 scudi from stone carver Francesco (whose surname is not mentioned in the document) for work completed on a site behind the church of San Luca. In addition, Francesco pays 5 scudi to Orsini as rent for a site near the church, from the first of May until the end of September.
Transcription
[fol. 67r]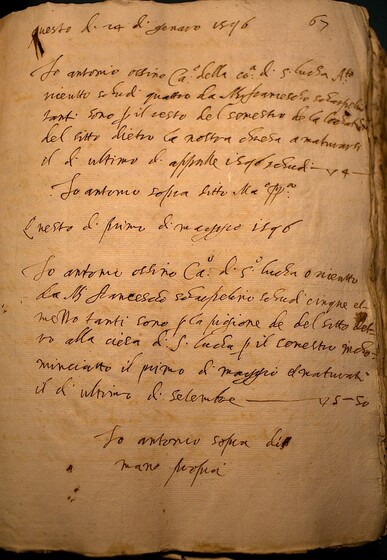 Questo di 24 di genaro 1596 [1] [1]
Document year is 1596 but interpolated into 1598 volume.


Io Antonio Orsino Cavaliero della compagnia di S. Lucha Allegato
riceutto schudi quattro da Messer Francescho scharpelino
tanti sono per il resto del semestre de la lochatione
del sito dietro la nostra chiesa a maturarsi
il di ultimo di apprile[2] [2]
Sic. 1596 schudi 14
Io Antonio sopra ditto mano propria
Questo di primo di maggio 1596
Io Antonio Orsino cavaliero di S. Lucha o riceutto
da messer Francescho scharpelino schudi cinque et
mezzo tanti sono per la pigione de del sitto det-
to alla ciesa[3] [3]
Sic, for "chiesa". di S. Luca per il canestro[4] [4]
Uncertain. incho-
minciato il primo di maggio et maturati
il di ultimo di Setembre 5-50
Io Antonio sopra ditto
mano propria