ASR, TNC, uff. 11, 1598, pt. 4, vol. 40, fol. unpaginated
Summary
1598/11/08
Archivio di Stato di Roma (ASR)
Tomasso Laureti has consigned the book of chapters to the vice director of the Società di San Luca. The vice director must undersign and return the chapters to the Compagnia di San Luca, as promised.
Transcription
[Fol. unpaginated]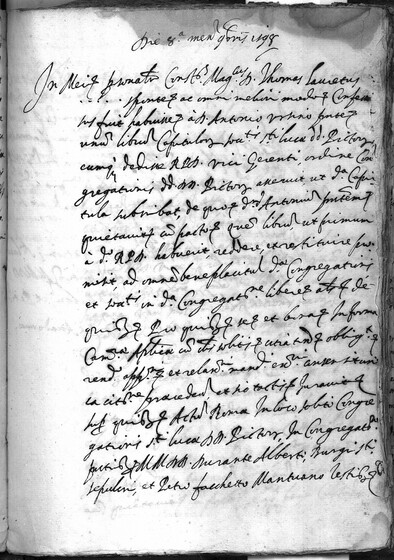 Die octa mensis Novembris 1598
In Mei etc. personaliter Constitutis Mag.cus D. Thomas Lauretus.
. . . . sponte etc. ac omni meliori modo etc. Confes-
sus fuit habuisse etc. à D. Antonio Ursino presente etc.
unum librum Capitulorum societatis Sancti Luca dd. Pictorum
eumque dedisse RPD. Vici Gerenti, ordine Con-
gregationis dd. DD. Pictorum asseruit, ut dicta Capi-
tula subscribat, de quo etc. dictum d. Antonium presentem etc.
quietavit etc. cum pacto etc. Quem librum, ut primum
à dicto RPD. habuerit, reddere, et restituire pro-
misit, ad omnem beneplacitum dictae Congregationis
et societatis in dicta Congregatione libere etc. alias etc. de
quibus etc. Pro quibus etc. se etc. et bona etc. In forma
Camerae Apostolicae cum clausulis solitis etc. citra tamen etc. obligavit etc.
renunciando appellationi etc. et relaxari mandati executivi consensit uni-
ca citatione praecedente, et sic tactis etc. Iuravit etc.
Super quibus etc. Actum Romae In loco solito Congre-
gationis sancti Lucae DD. Pictorum In Congregatione
presentibus etc. MM DD. Durante Alberti, Burgi Sancti
Sepulcri, et Petro Facchetto Mantuano Testibus etc.