ASR, TNC, uff. 11, 1609, pt. 2, vol. 81, fol. 194r
Summary
1609/05/28
Archivio di Stato di Roma (ASR)
Lorenzo Torri, treasurer of the Congregazione di San Luca, rents a house to Simone Paroti. The house is next to the church of San Luca and is to be used as a tavern.
Transcription
[Fol. 194r]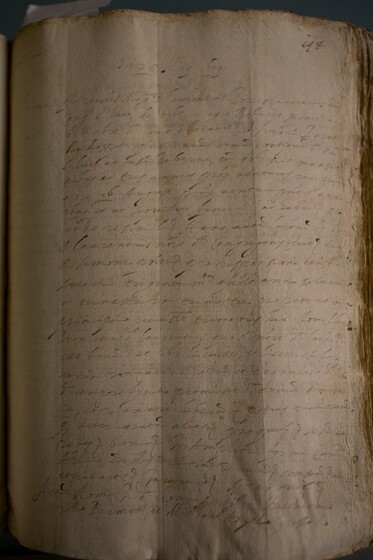 Locatio domus
Die 28 Maii 1609
In mei etc. personaliter constitutus Magnificus D. Laurentius Torres Camerarius Venerabilis
Congregationis Sancti Lucae de Urbe in agro Bobario sponte etc. ac
omni etc. nomine dictae Congregationis etc. locavit etc. D. Simoni Parosi
Romano hospite presenti etc. unam domum contiguam dictae Ecclesiae
Sancti Lucae ad usum tabernae cum omnibus suis mansio-
nibus ad tres annos proximos venturos incipientes
a die 16 Augusti proximi venturi presentis anni
1609 et ut sequitur finientes etc. ad habendum etc. pro
ut de re simili etc. Hanc autem locationem etc. dictus
D. Laurentius nomine dictae Congregationis fecit etc. eidem
D. Simone presenti etc. pro responsione, et affictu
scutorum triginta monetae quolibet anno solvendorum
de trimestri in trimestre pro rata et in
principio cuiuslibet trimestris hic Romae liber[e etc.][1] [1]
Brackets denote words cut off at margin.
Promictens dictus Laurentius quo supra nomine dicta locatione
esse bonam etc. et sibi licuisse, et licere eam locare etc.
et contra non facere etc. alias etc. et è converso dictus Simo[ne]
dicto tempore finito promisit dictam domum dimicte-
re, et relaxare liberam etc. potius melioratam
quam deterioratam alias etc. pro quibus etc. se se etc. he-
redes etc. bona etc. In Ampliori forma Camerae
Apostolicae cum clausulis etc. citra etc. renunciantes etc. consentientes etc. […]
et sic tactis etc. Iurarunt etc. Super quibus etc.
Actum Romae In dicta domo presentibus Marchionne Mo-
rello Parmense, et Michael Angelo Grosso Romano testibus etc.