ASR, TNC, uff. 15, 1613, pt. 2, vol. 57, fols. 231v, 264r
Summary
1613/05/23
Archivio di Stato di Roma (ASR)
Marco Mosca declares that he has knowledge of the loan with interest (società d'ufficio) agreed on the same day with Antiveduto Gramatica, for the sum of 200 scudi. He declares also that he is the guarantor of the loan.
Transcription
[Fol. 231v]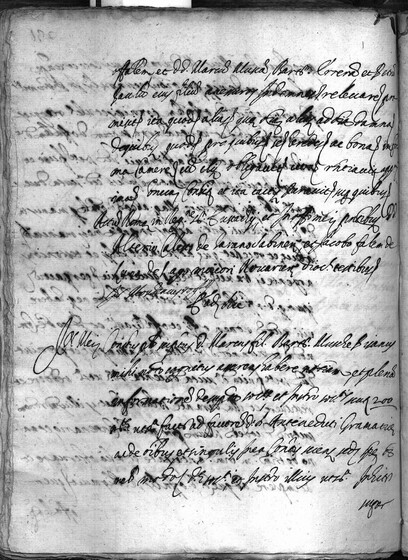 Eadem Die [1] [1]
It refers to documents 1613/05/23 and 1613/05/23.
IN Mei etc. Constitutus personaliter supradictus d. Marcus filius Bart. Musche Pisanus
mihi notario cognitus asserens habere notitiam, et plenam
informationem de supradicta societate, et Instrumento societatis scutorum 200
monetae ut supra factae ad favorem d. D. Antiveduti Gramaticae
ac de omnibus, et singulis In ea Contentis sciens etc. sed etc. sponte etc. omni
meliori modo etc. dictae societati, et Instrumento illius ut supra Inhitae
super
[Fol. 264r]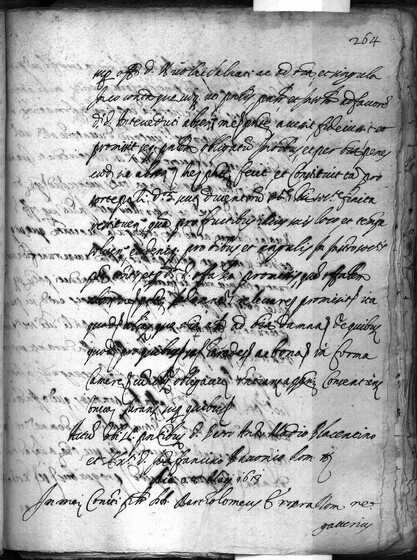 super officio d. Nicolai Salvati ac ad omnia, et singula
In eo contenta quaecunque uti personalis, personaliter, et Insolidum ad favorem
dicti d. Anteveduti absentis me etc. presente etc. accessit, fideiussit et
promisit, seque personalem obligatum In omnibus, et per omnia penes
eumdem sic absentem etc. me etc. presente etc. fecit, et Constituit tam pro
sorte personali dictorum scutorum ducentorum monetae huiusmodi societate finita
restituendi, quam prò fructibus illius suis loco, et tempore
solvendis, et denique pro omnibus, et singulis In Instrumento societatis
predictae contentis, et per dictum d. officialem promissis, quem officialem
absentem me etc. presente etc. Indemne etc. relevare etc. promisit etc. ita
quod etc. alias etc. quae omnia etc. alias etc. ad omnia damna etc. de quibus etc.
quod etc. pro quibus etc. se etc. heredes etc. ac bona etc. in forma
Camerae etc. cum clausulis obligavit etc. renuntians etc. appellationi etc. Consentiens etc.
Unica etc. Iurans etc. super quibus etc.
Actum Ubi supra presentibus d. Petro Ant'o Madio Placentino
et Ex.ti d. Io'e Francisco Pavonio Romano testibus etc.