ASR, TNC, uff. 15, 1616, pt. 3, vol. 69, fols. 29r-v
Summary
1616/07/02
Archivio di Stato di Roma (ASR)
Andrea Lazzari promises the Accademia di San Luca that he will celebrate several masses in the church of San Luca, including those stipulated in the will of the deceased Girolamo Muziano, over the course of the following year. He also promises to serve the church during the feast days of Saint Luke, Saint Martina, and the Assumption of the Virgin Mary. In exchange, Ottavio Mario Leoni, on behalf of the Accademia, consigns to Lazzari rooms near the church of San Luca where he can be housed.
Transcription
[fol. 29r]
Obligatio pro Academia Sancti Lucae

Die secunda Iulii 1616
R' D. Andreas q. D. Equitis Ostilii Lazzari de terra Du-
rantis nullius diocesis sponte etc. omnibus etc. promisit, et se ob-
ligavit etc. Academiae Sancti Lucae Pictorum , et scultorum Urbis
absenti Ill tamen D. Octavio Le[on]io [1] [1]
Unless otherwise noted, brackets denote illegible passages due to holes in paper or ink spots. Romano illius ad presens
Principe, meque etc. presentibus etc. Celebrare per annum
proximum In quolibet die f[e]sto missam In Ecclesia Sancti Lucae
In foro Bovario, dictae Academiae, ac etiam missas, et officia
debita pro legat[o] facto per q. D. Hieronimum Mutia-
num, et In eadem e[cc]lesia Inservire In festivitati-
bus Sancti Lucae, Sanctae Martinae, Assum[pt]ionis Mariae Virginis
et Ultra predicta In eadem Ecclesia c[e]lebrare miss[a]s
etiam In diebus ferialibus Iuxta e[le]mosinas per ipsum
D. Andream percipiendas à Pictoribus, et scultoribus
ad hunc effectum. quas elemosinas ipse R. D. Andreas
requirere, et exigere teneatur à predictis Pictoribus
et Scultoribus, eaque annotare debeat In quod
liberculo ad hunc effectum per ipsum retinendo
de eisdemque sibi Inservire valeat per emenda
cera, et alio necessaris pro dicta Ecclesia, et In fine dicti
anni bonum, et fidele compotum de omnibus in suis
manibus perveniendis, et In Inventario per ipsum
subscribandis adnotandis reddere promisit etc.
liberé etc. alias etc. Et hoc quia Vice versa dictus Ill D.
Octav-
ius
[fol. 29v]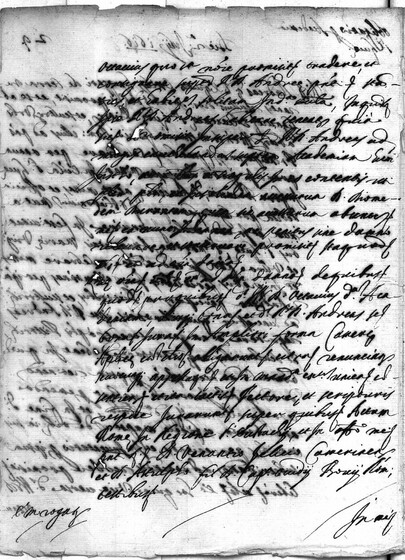 Octavius quo supra nomine promisit etc. tradere, et
consignare supradicto Andreae presenti etc. stan-
tias, et habitationem Solitam In dicta Ecclesia , In quibus
Ipse R. D. Andreas habitare teneatur quia
sic etc. [P]romisit In super Idem R. D. Andreas ad
magis cauthelandas supradictam Academiam huiusmodi
Instrumento, ac [omn]ibus, et singulis In eo contentis uti
personalem, personaliter, et Insolidum accessurum D. Diome-
dem Durantem, [q]uem sic accessurum absentem etc.
me etc. ex nunc I[nd]emnem, ac penitus sine damno
relevare, et conservare promisit etc. Ita quod etc.
alias etc. eam ad omnia damna etc.
Quae omnia etc. [alias] etc. etiam ad omnia damna etc. dequibus etc.
quod etc. proquibus etc. dictus Ill D. Octavius dictam Aca-
demiam, illiusque bona etc. et dictus R.s D. Andreas se etc.
bona etc. Iura etc. In Ampliori forma Camerae
Apostolicae cum clausulis etc. obligarunt etc. citra etc. renuncians
cuicunque appellationi etc. et In mandatum executivum unica etc. con-
sentiens etc. et ita tactis etc. Pectore, et scripturis
respective Iurarunt etc. super quibus etc. Actum
Romae In Regione Sancti Eustachii, et in officio mei etc.
presentibus etc. D. Venantio Felicio Camerinense,
et D. Astulpho filio D. Cap.i Ovidii Bovii Romano
testibus etc.
E.M. rogat' In mei etc.