ASR, TNC, uff. 15, 1618, pt. 2, vol. 76, fols. 248r-v
Summary
1618/04/23
Archivio di Stato di Roma (ASR)
Ambrogio Buonvicino states that he is familiar with the chapters of the Accademia, in particular that which concerns appraisals. He must appraise the sculptures of Aloisio and Ferdinando de Rucellai and promises to pay 2 percent of the sum of the appraisals to the Accademia and the church of San Luca.

Transcription
[fol. 248r]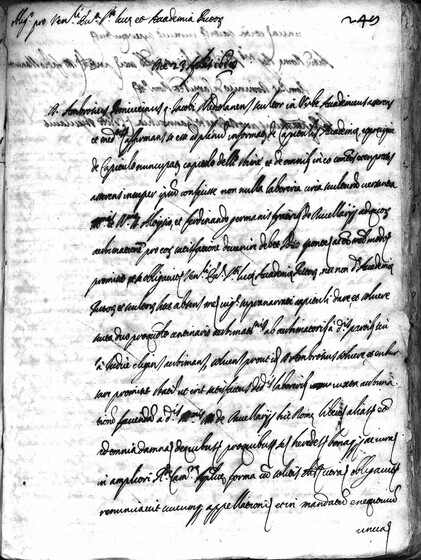 Obligatio pro Venerabili Ecclesia Sancti Lucae et Accademia Pictorum
Die 23 Aprilis 1618
D. Ambrosius Bonvicinus q. Iacobi Mediolanens scultor [1] [1]
Sic. in Urbe Accademicus asserens
et medio iuramento tac tis etc. affirmans se esse ad plénum informatum de Capitulis Accademiae, et praecipue
de Capitulo nuncupato capitolo delle stime, et de omnibus in eo contentis et expressis
asserens in super ipsum confecisse non nulla laboreria circa sculturas [2] [2]
sculturam. versantia
Ill.mis et R.mo D. Aloysio, et Ferdinando germanis fratribus de Rucellariis ad quorum
aestimationem pro eorum satisfatione devenire debet Id[eo][3] [3]
Unless otherwise noted, brackets denote illegible passages due to holes in paper or ink spots. sponte etc. ac omni meliorimodo etc.
promisit, et se obligavit etc. Venerabili Ecclesiae Sancti Lucae Accademiae Pictorum , nec non dictae Accademiae
Pictorum et scultorum [4] [4]
Sic. hinc absenti me etc. vigore supranarrati capituli dare, et solvere
scuta duo pro quolibet centinario aestimationis ab aestimatoribus à dictis partibus seù
à Iudice eligenda aestimanda , solvenda prout idem D. Ambrosius solvere, et exbur-
sare promisit statim ut erit satisfactus de dictis laboreribus iuxta aestima-
tionem faciendam à dictis Ill.is DD de Rucellariis hic Romae libere etc. alias etc. etiam
ad omnia damna etc. dequibus etc. proquibus etc. se etc. heredes etc. bonaque etc. ac iura etc.
in ampliori Reverende Camerae Apostolicae forma cum solitis clausulis etc. citra etc. obligavit etc.
renunciavit cuicumque appellationi etc. et in mandatum exequtivuum
unica etc.
[fol. 248v]