ASR, TNC, uff. 15, 1618, pt. 2, vol. 76, fols. 554r-v
Summary
1618/05/15
Archivio di Stato di Roma (ASR)
Andrea Lazzari, chaplain of the church of San Luca, receives 15 scudi from Giacomo Galli. The sum is part of a debt of 31 scudi and 25 baiocchi that Galli owes the Accademia di San Luca (according to the notarial act of December 1, 1615). Andrea Lazzari receives the money and makes quittance.
Transcription
[fol. 554r]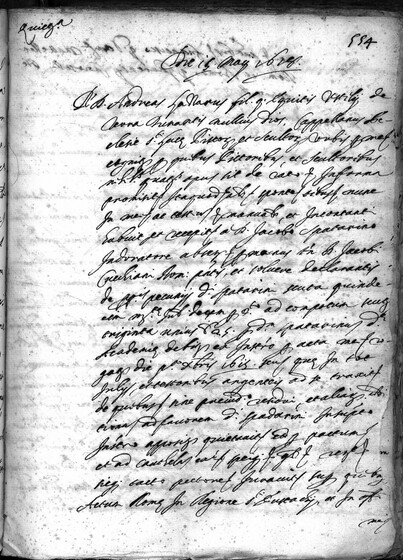 Quietantia
Die 15 Maii 1618
R' D. Andreas Lazzarus filius q. Equitis Ustilii de
Terra Durantis nullius diocesis Cappellanus Ec-
clesie sancti Lucae Pictorum, et Scultorum[1] [1]
Sic. Urbis per me etc.
cognitus pro quibus Pictoribus, et Scultoribus [2] [2]
Sic.
nihilominus quatenus opus sit de rato etc. Informa
promisit etc. Ita quod etc. alias etc. sponte etc. omnibus etc. nunc
In mei etc. ac testium etc. manualiter, et Incontanti
habuit, et recepit etc. à D. Iacobo Spatarino
Indoratore absente etc. per manus tamen D. Iacobi
Cucchiani Romani presentis, et solvere declarantis
de propris pecuniis dicti Spatarini scuta quinde-
cim monetae Iuliorum decem pro scuto ad compotum scut-
orumtriginta unius [baiocchi] 25 per dictum Spatarinum dictae
Academiae debita ex Instrumento per acta mei etc. Ro-
gata die prima decembris 1615 seu etc. quae In tot
Iuliis, et testonibus argenteis ad se traxit etc.
de quibus etc. sine preiudicio residui, et aliarum [...]-
tionum ad favorem dicti Spadarini In supradicto
Instrumento apposuit etc. quietavit etc. etiam per pactum etc.
et ad cauthelam exempli [3] [3]
Uncertain. etc. speique etc. generaliter etc. renunciavit etc.
sicque tacto pectore etc. Iuravit etc. super quibu[s etc.][4] [4]
Brackets at end of lines denote illegible passages due to words cut off at margins.
Actum Romae in Regione Sancti Eustachii, et In offitio
mei etc.
[fol. 554v]