ASR, TNC, uff. 15, 1620, pt. 1, vol. 83, fols. 301r-v, 308r
Summary
1620/01/31
Archivio di Stato di Roma (ASR)
Following the notarial act of January 31, 1620, Antonio Mancini, executor of the Curia Capitolina, allows Marco Antonio Amati, procurator, to take possession of two rooms on behalf of the Confraternita di San Luca. The procurator performs the acts of possession. The tenant, Maria de Cassia, recognizes the Confraternita as possessor of the rooms and agrees to pay a monthly rent.
Transcription
[Fol. 301r]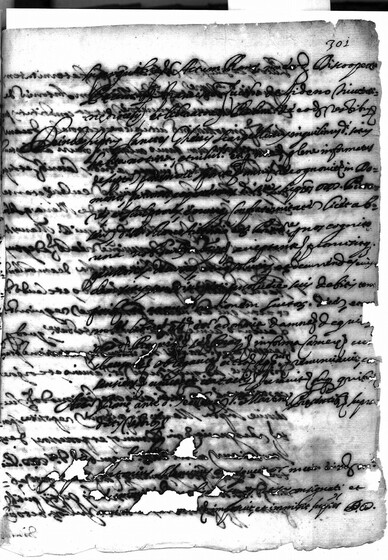 Eadem [die] [1] [1]
Reference to document 1620/01/31.
S[u]p[radict]us Antonius Mancinus e[x]equutor in vim eiusd[em] [2] [2]
Brackets denote illegible passages due to holes in the document or ink spots on paper.
[...] immictendo nobis [n]otariis ut supra consignati, et
[omn]i ali[o] meliori modo etc. imposuit, et immisit Supradictos D.D.
[Fol. 301v]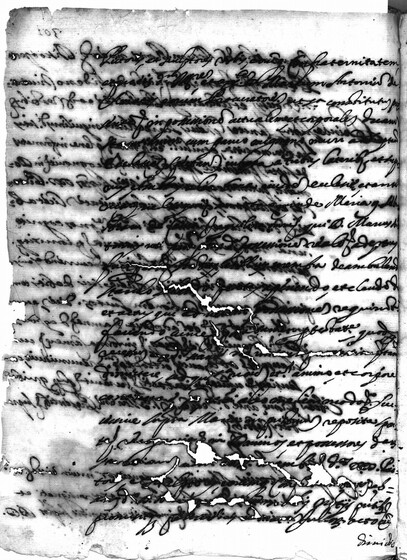 Pictores, et Sculptores Urbis, eorumque Confraternitatem,
et pro eis dictum Ill. rem et Ex. tem D. Marcum Antonium de
Amatis eorum Procuratorem ut supra constitutum prae-
sentem etc. in possessionem actualem, et corporalem duarum
stantiarum cum parvo mignano muri ad Supradictam
Ecclesiam Spectantem iuxta à tribus lateribus, et supe-
rius, et subtus [3] [3]
Uncertain. alia bona eiusdem ecclesiae, et ante
viam, vel si qui etc. amota ex inde Maria q. Seba-
stiani de Cassia Inquilina omni etc. qui D. Marcus An-
tonius uti procurator predictus dictam possessionem realem etc. adeptus
fuit per eosdem Stantias, et illius membra deambulando
Stando, Sedendo portas apriendo, et claudendo,
et actus qui ad veram possessionem requiruntur
faciendo, cum expressa tamen protestatione, quod per
recessum ex dictis stantiis non intendit possessionem predictam
dimictere, sed quo supra nomine etiam animo, et corpore
continuare predicto, et omni alio meliori modo etc. Suc-
cessive Supradicta Maria in pristinum reposita Spon-
te etc. recognovit etc. in Dominos, et possessores dictarum
stan[ti]arum [...] earum membri[...] dictos D.D. Pic-
tores, et Sculptores, eorumque Conf[raternita]tem ab-
sentem dicto D. [M]arco Ant.o etiam no[b]is notariis presentibus etc.
promisitque etc. pensiones adi[...] Iuliorum octo cum
dimidio
[Fol. 308r]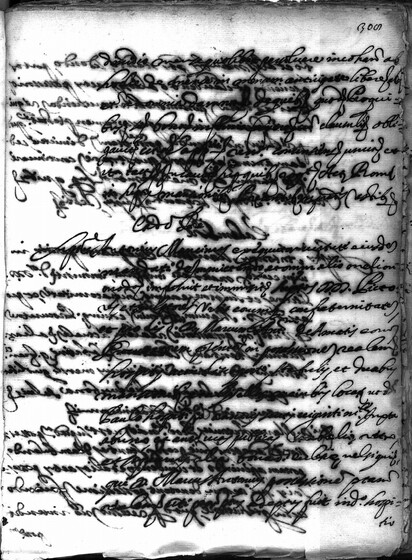 dimidio mense quolibet persolvere incohando ab
hodie de mense in mensem anticipate libere etc. [alias etc.]
etiam ad omnia damna etc. dequibus etc. quod etc. Proqui-
bus etc. se etc. bona etc. in forma Camerae etc. cum clausulis etc. obliga-
vit etc. citra etc. appellationi etc. renunciavit consensiens etc. unica etc. et
ita tactis etc. Iuravit etc. Super quibus etc. rogavit etc. Actum Romae
in Supradictis mansionibus Praesentibus Supradictis Testibus etc.