ASR, TNC, uff. 15, 1621, pt. 3, vol. 89, fols. 788r-v, 789r
Summary
1621
Archivio di Stato di Roma (ASR)
This document constitutes an inventory of the transferable goods that exist in the church of San Luca.
Transcription
[Fol. 788r]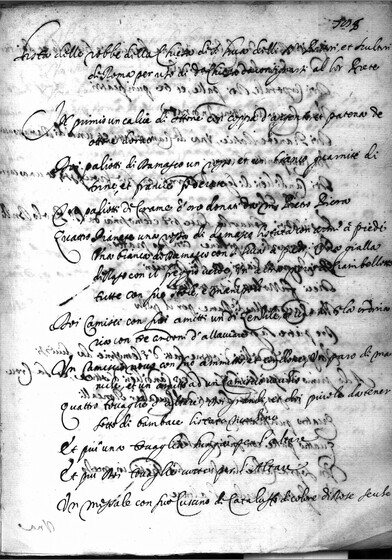 Lista delle robbe della Chiesa di S. Luca delli Signori Pittori, et Scultori
di Roma per uso di detta Chiesa da consignarsi al lor Prete
IN primis un calice di ottone con coppa d'argento, et patena de
ottone dorati
Doi paliotti di Damasco un rosso, et un bianco guarniti di
trine, et francie foderate
Tre paliotti di Corame d'oro donati da M. Pietro Piera
Quattro Pianete una rossa di damasco listata con armi à piedi
Una bianca di Damasco con S. Luca à piedi; Una gialla
di Raso con il freggio verde, Un' altra nera de Ciambellotto
tutte con sue stole, e manipoli
Doi Camisci con Suoi amitti un di Zenzile, et una di tela ordina-
ria con tre cordoni d'allacciare
Un Camiscio novo con suo ammitto, et cordone, Un paro di ma-
niche, et un amitto ad un Camiscio vecchio
Quattro tovaglie d'altare, Doi grandi, et doi piccole da tener
sotto di bambace listate turchine
Et piu una tovaglia lunga per l'altare
Et piu Doi tovaglie curte per l'Altare
Un messale con Suo Cuscino di Cataluffo di colore di Rose secche [1] [1]
Uncertain.
[Fol. 788v]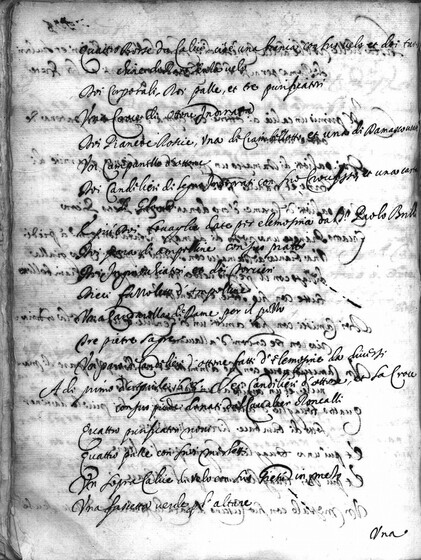 Quattro Borse da Calici ciòè, una bianca con Suo velo et doi tur-
chine di Raso senza velo
Doi Corporali, Doi palle, et tre purificatori
Una Croce di Ottone Indorata
Doi Pianete Roscie, una di Ciambellotto, et una di Damasco usate
Un Campanello d'ottone
Doi Candelieri di legno Indorati con Suo Crocifisso, et una carta
di Gloria
E piu Doi tovaglie date per elemosina da S.r Paolo Brilli
Doi para di ampolline con suo piatto
Doi Inginocchiotori, et doi torcieri
Dieci fazzoletti d'Ampolline
Una Cardarella di Rame per il pozzo
Tre pietre sagre
Un paro di Candelieri d'ottone fatti d'elemosine da diversi
A di primo d'Aprile 1618. Sei Candelieri d'ottone, et La Croce
con suo piede donati dal Cavaliere Roncalli
Quattro purificatori novi
Quattro palle con suoi merletti
Un Sopra Calice di Velo con suo Giesù in mezo
Una fascetta verde per l'altare
[Fol. 789r]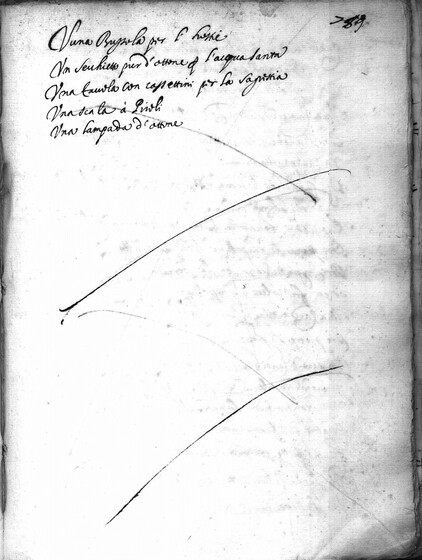 Una Bussola per l'hostie
Un Secchietto pur d'ottone per l'acqua Santa
Una tavola con cassettini per la Sagrestia
Una scala à Piroli
Una lampada d'ottone