ASR, TNC, uff. 15, 1622, pt. 1, vol. 91, fols. 627r-v
Summary
1622/02/10
Archivio di Stato di Roma (ASR)
Antiveduto Gramatica, treasurer of the Accademia di San Luca, receives 11 scudi from Giacomo Galli. The payment is the remainder of 31 scudi owed by Galli for an appraisal of work he completed for the Savelli family. Gramatica receives the 11 scudi and gives quittance.
Transcription
[Fol. 627r]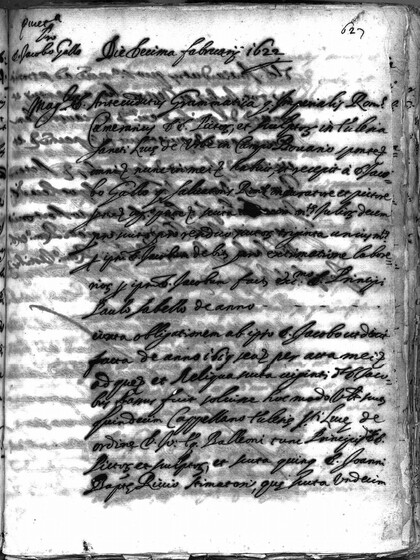 Quietantia Pro D. Iacobo Gallo
Die Decima februarii 1622
Mag.cus D. Antivedutus Grammatica q. Imperialis Romanus
Camerarius DD. Pictorum, et Sculptorum in Ecclesia
Sancti Lucae de Urbe in Campo Bovario sponte etc.
omni etc. nunc in mei etc. habuit, et recepit à D. Iaco-
bo Gallo q. Salvatoris Romanus induratore et pictore
per me etc. cognito presente etc. scuta [undec]im monetae Iuliorum decem
pro scuto pro residuo scutorum triginta unius monetae
per ipsum D. Iacobum debitorum pro extimatione labore-
riorum per ipsum D. Iacubum factis Exc.mo D. Principi
Paulo Sabello de anno . . .
iuxta obligationem ab ipso D. Iacobo ut dixit
facta de anno 1619 seu etc. per acta mei etc.
ad quae etc. et Reliqua scuta viginti dictus D. Iaco-
bus fassus fuit solvisse hoc modo Videlicet scuta
quindecim Cappellano Ecclesiae Sancti Lucae de
ordine D. Io: Equitis Balleoni tunc Principis dictuorum DD.
Pictorum et Sculptorum, et scuta quinque D. Ioanni
Bap'tae Riccio Stimatori, quae scuta Undecim
[Fol. 627v]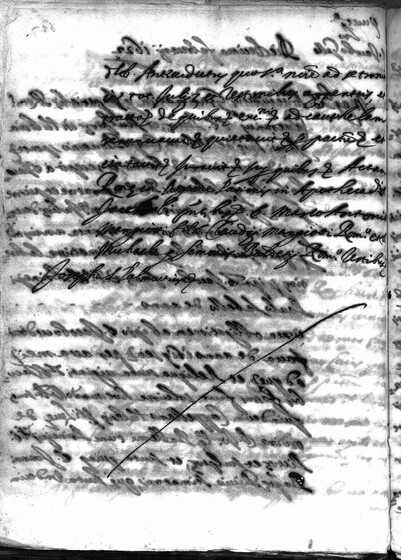 dictus D. Antivedutus quo supra nomine ad se traxit
in tot Iuliis, et testonibus argenteis, et
tracta etc. de quibus etc. exceptioni etc. ad cauthelam
renunciavit etc. quietavit etc. per pactum etc. et
ita tactis etc. Iuravit etc. super quibus etc. Actum
Romae in Regione Parionis in Apotheca dicti D.
Iacobi presentibus etc. D. Marco Antonio
Mangiotti filio Claudii Mangiotti Romano et D.
Michaele q. Simonis Baldesii Romano Testibus etc.
Iosephus Palmuctius etc.