ASR, TNC, uff. 15, 1622, pt. 2, vol. 92, fols. 593r-v
Summary
1622/05/17
Archivio di Stato di Roma (ASR)
The Accademia decides to borrow 200 scudi with an annuity (censo) in order to extinguish another one of the same sum; to appoint Mario Arconio to buy the house close to the church of San Luca; and to appoint Giovanni Contini supervisor in place of Domenico Conticello.
Transcription
[Fol. 593r]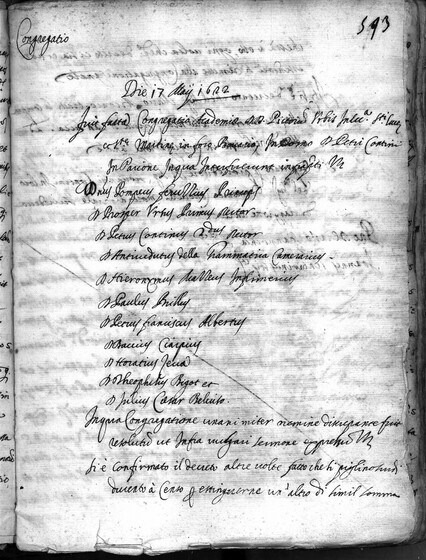 [Fol. 593v]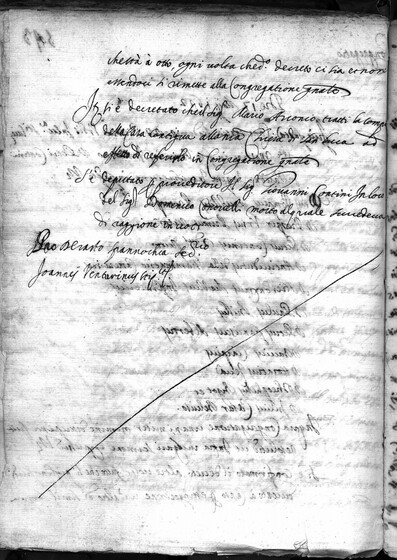 che stà à otto, ogni volta che detto decreto ci sia et non
essendoci si rimette alla Congregatione generale
Item si è decretato che il Sig.r Mario Arconio tratti la compra
della Casa Contigua alla nostra Chiesa di San Luca ad
effetto di referirlo in Congregatione generale
S'è deputato per proveditore Il Sig.r Giovanni Contini In loco
del Sig.r Domenico Conticelli morto al quale succedeva
di raggione in voti
Pro D Erasto Spannochia Secretario
Ioannes Venturinus stipulavit etc.