ASR, TNC, uff. 15, 1622, pt. 4, vol. 94, fols. 263r-v
Summary
1622/10/29
Archivio di Stato di Roma (ASR)
Pietro Alberti promises the Società e Accademia dei Pittori e Scultori and the second rector, Pietro Contini, to serve in the church as chaplain. The document contains the agreement between the two contractors.
Transcription
[Fol. 263r]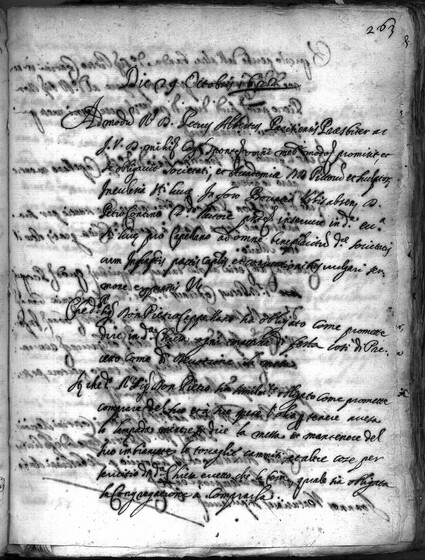 Die 29 Octobris 1622
Ad modum R.s D. Petrus Albertus Parisiensis Praesbiter ac
Iuris Utriusque Doctor mihi etc. Cognitus sponte etc. omni meliori modo etc. promisit, et
se obligavit Societati, et Accademiae DD Pictorum et Sulptorum
In ecclesia Sancti Lucae In foro Bovario Urbis absenti D.
Petro Contino Secondo Rectore presente etc. in servire in dicta Ecclesia
Sancti Lucae pro Capellano ad omne beneplacitum dictae Societatis
cum Infrascriptis pactis capitulis et conventionibus vulgari ser-
mone expressis Videlicet
Che detto R' Sig.r Don Pietro Cappellano sia obligato come promette
dire in detta Chiesa ogni mattina di festa così di Pre-
cetto come di Devotione la messa
Item che detto R. Sig.r Don Pietro sia similmente obligato come promette
comprare del suo et à sue spese l'olio per tenere accesa
la lampada mentre si dice la messa et mantenere del
suo imbiancate le tovaglie, cammisi, et altre cose per
servitio di detta Chiesa eccetto che la Cera, quale sia obligata
la Congregatione à Comprarla;
[Fol. 263v]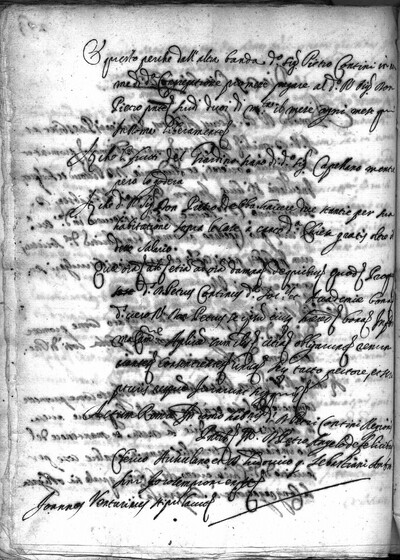 E questo perche dall'altra banda detto Sig.r Pietro Contini in no-
me di detta Congregatione promette pagare al detto R. Sig.r Don
Pietro presente etc. scudi duoi di moneta il mese ogni mese qui
In Roma liberamente etc.
Item che li frutti del Giardino siano di detto Sig.r Capellano mentre
però lo goderà
Item che detto R. Sig.r Don Pietro debba havere due stantie per sua
habitatione sopra le case à canto detta Chiesa gratis oltre il
detto Salario.
Quae omnia etc. alias etc. etiam ad omnia damna etc. dequibus etc. Quod etc. Proquibus etc.
dictus D. Petrus Continus dictae Societatis et Accademiae bona etc.
dictus vero R.s Don Petrus se ipsum eiusque heredes etc. bona etc. In for-
ma Camerae Apostolicae cum clausulis etc. citra etc. obligarunt etc. renun-
ciantes etc. consentientes etc. unica etc. Sicque tacto pectore, et scri-
pturis respective Iurarunt superquibus etc.
Actum Romae In domo habitionis dicti D Petri Contini Regionis . . .
Presentibus etc. Ill.i D Petro Angelo de Felicibus
Clerico Ausculano et D. Ludovico q. Sebastiani Ambro-
sini forosemproniense testibus
Ioannes Venturinus stipulavit etc.